Flash Survivor Stealth USB 3.0 Flash Drive
Military-style data transport with USB 3.0 and USB 2.0 compatibility
The Corsair Survivor Stealth USB 3.0 Flash Drive combines super-fast data transfer speeds, universal compatibility, and water-/ vibration-/shock-resistant design, giving you an ideal solution to back up, transfer and share your valuable files, photos, videos, and more. It supports plug-n-play function for easy setup. It's available in a range of capacities (16GB - 512GB), so it's easy to find the one that suits your needs.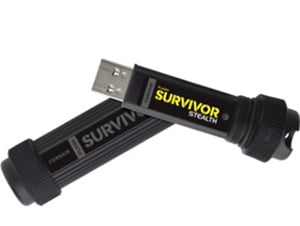 USB 3.0 Speed
If you move a lot of data, you've noticed that as convenient as USB flash drives are, they never seem to be as fast as you'd like. USB 3.0 changes the game. Flash Survivor Stealth USB 3.0 offers read speeds up to four times faster than traditional USB 2.0 drives. It's fast enough to view most videos directly from your Flash Survivor Stealth, without having to take the usual extra step of copying it to a hard drive first.
USB 2.0 Support
Not only is Flash Survivor Stealth USB 3.0 backward compatible with USB 2.0 — it offers great performance, too. No matter how up-to-date your PC is, you'll be able to quickly take care of moving your files and be off on your next adventure.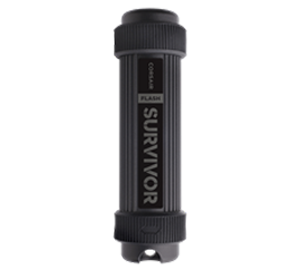 Universal Compatibility
Flash Survivor Stealth USB 3.0 works with Microsoft Windows, Mac OS X and even Linux - without drivers software installation required. Just plug it in, and go. If your computer has a USB 2.0 or USB 3.0 connector, you can use Flash Survivor Stealth USB 3.0.
Proven Reliability
With almost two decades of building enthusiast-grade memory and components, Corsair has earned a reputation for quality, compatibility, and performance. Need help? Corsair is available by phone call, email or web forum.