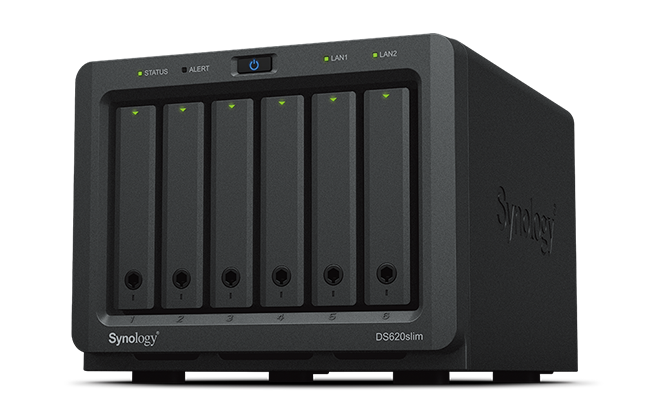 DiskStation® DS620slim
Secure digital content with a modern look
When performance meets style
DS620slim is a mini 6-bay NAS with a stylish chassis design, perfectly blending in modern workplaces or apartments. Supporting near-instantaneous snapshot technology, DS620slim is an all-around file management solution that fulfills professionals' needs of advanced data protection.
CPU
Dual-core 2GHz burst up to 2.5GHz
Memory
DDR3L 2GB, up to 6GB
Encryption Performance
Over 226 MB/s reading and 198 MB/s writing
Remain classic while shrinking footprint
The mini 6-bay design keeps DS620slim classic and saves deployment space. With six 2.5" drive support, DS620slim is able to boost performance by installing SSDs.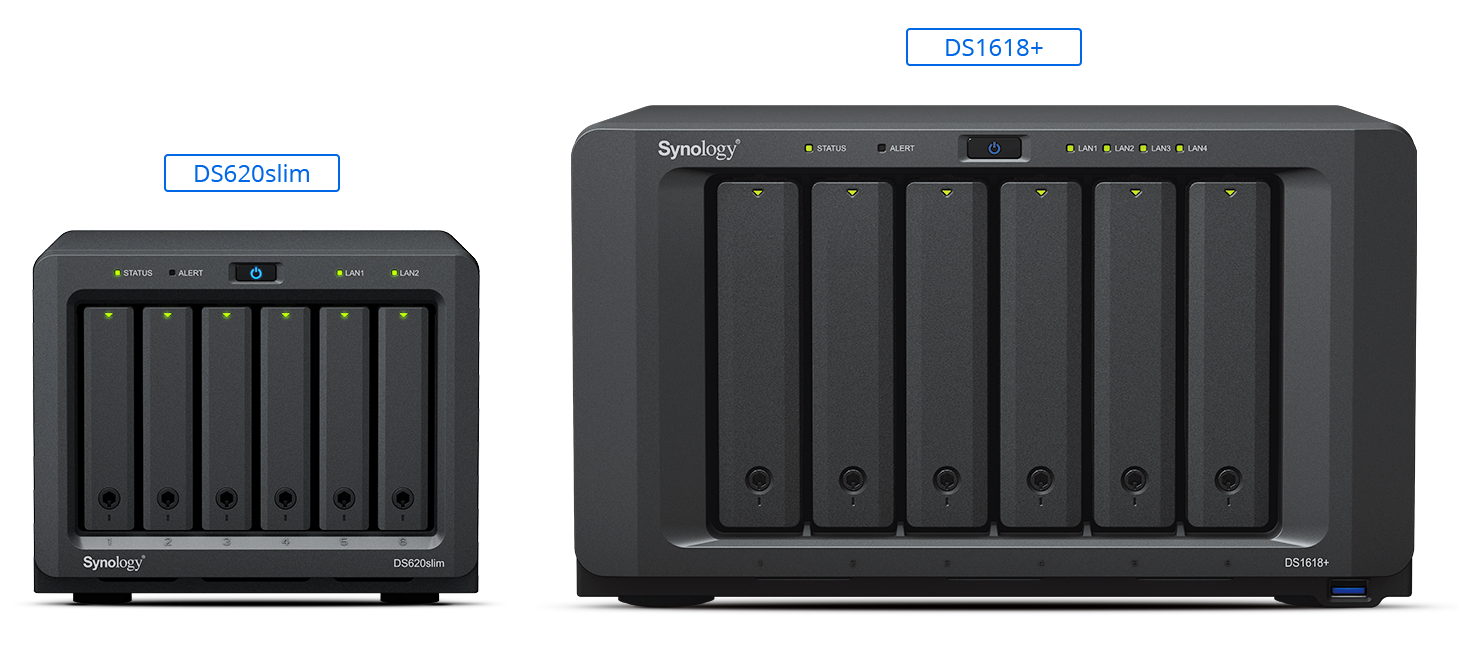 Compact Design
Mini design with the dimensions of 121 x 151 x 175 mm, flexible to fit in anywhere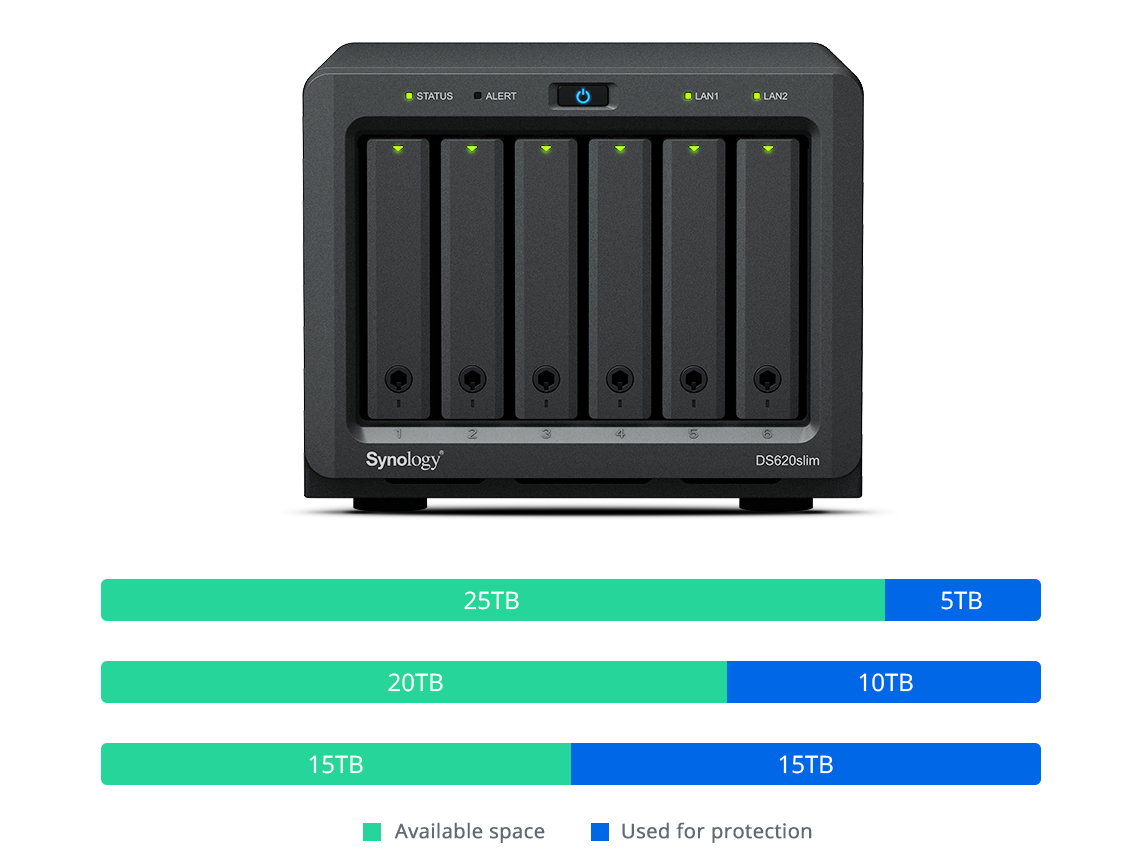 RAID Flexibility
Flexible in a variety of RAID configurations to realize maximum 30TB raw capacity or better data protection with RAID 5/6/10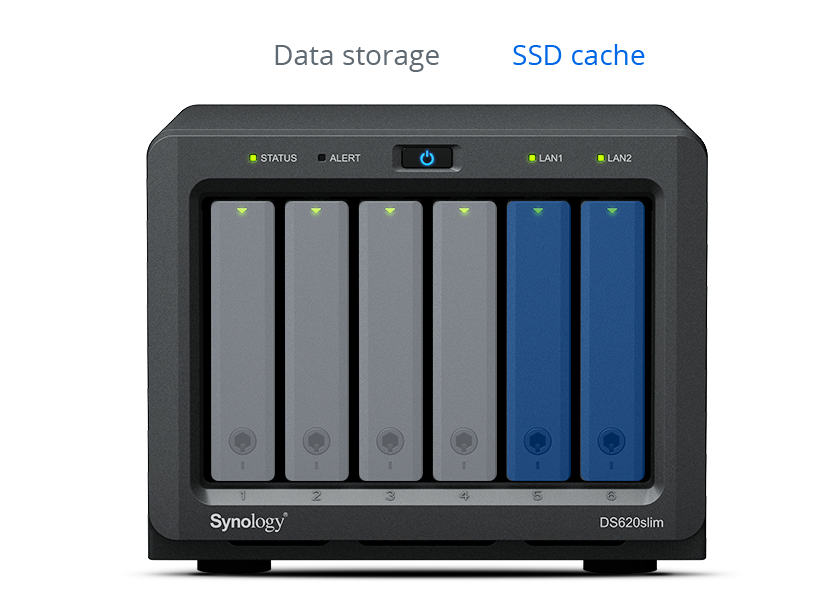 SSD Cache Support
Further enhance storage performance with SSD read/write cache while still having abundant drive bays for data storage
Btrfs: Next generation storage efficiency
The Btrfs file system introduces cutting-edge storage technologies and optimized snapshots to prevent data corruption and reduce maintenance overhead. While ensuring high-level data integrity, it also offers flexible, efficient data protection and recovery tools.
Flexible Shared Folder/User Quota System provides comprehensive quota control on all user accounts and shared folders

Snapshot Replication provides schedulable and storage capacity-saving data protection with 1,024 shared folder backups and 65,000 system-wide snapshots

File or folder level data restoration makes data recovery fast and flexible

Automatic file self-healing detects and recovers corrupted files without user intervention
Ultimate file management and sharing
File Station is a web-based, fast and secure management tool built to allow easy, drag-and-drop operations without requiring any complex setup on Mac or PC. Advanced search and filtering tools allow for easy organization and file sharing. For complete compatibility, DS620slim supports the following protocols: AFP, FTP, iSCSI, NFS, SMB, and WebDAV.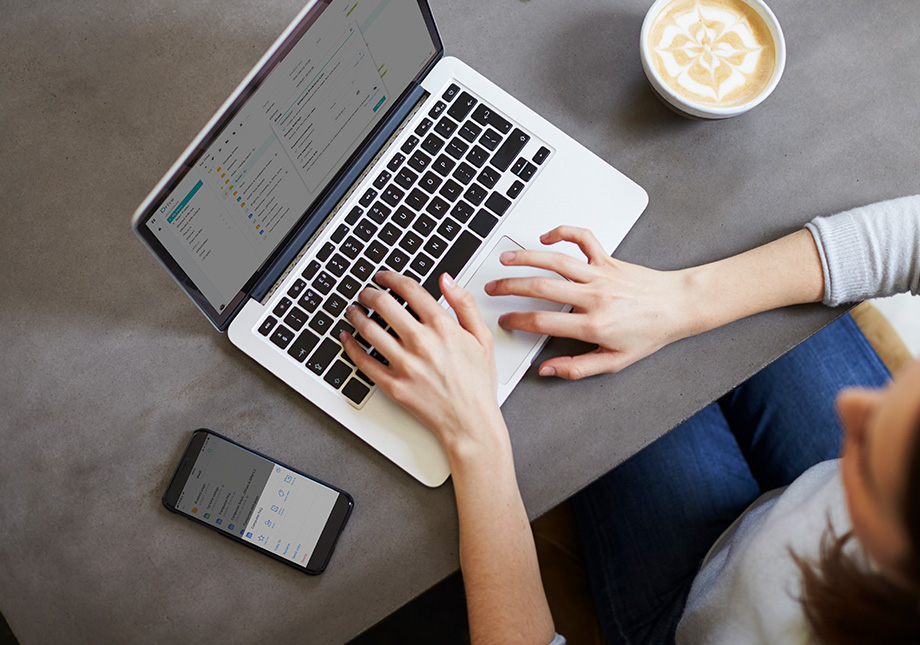 Access and sync your files seamlessly
Synology Drive provides a built-in universal portal to access your data anytime and anywhere, and synchronize all your files across platforms, including Windows, macOS, Linux, Android, and iOS.
Sync files on demand:

Save the storage space and network bandwidth of your PC.

Go back in time:

Easily retrieve previous versions of your shared files.

Back up your data:

Protect your files as scheduled or in real-time.

Stream content to your TV
Turn your Synology NAS into a home media hub and stream your digital contents to computers, mobile devices, Samsung TV, Apple TV, Google Chromecast, and DLNA devices.
Powered by Synology DiskStation Manager

File Server/Management
Powerful built-in file management and sharing services.
Snapshot Replication
Schedulable and instantaneous data protection for shared folders and iSCSI LUNs for disaster prevention.
Multimedia
Complete multimedia solution for management, streaming, and playback.
DSM UI
Award-winning operating system with an intuitive user interface and powerful capabilities.

Security
Secure data with comprehensive built-in security tools to protect your devices against evolving threats.

Public Cloud Integration
Back up and synchronize data easily between public cloud accounts and your NAS.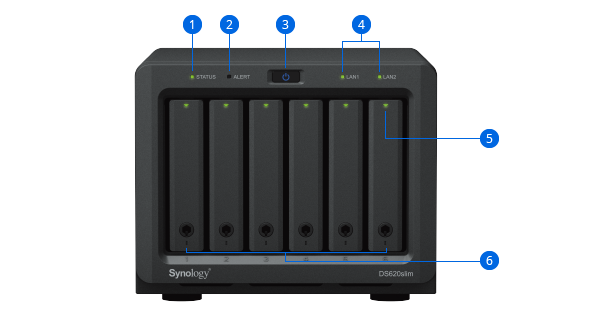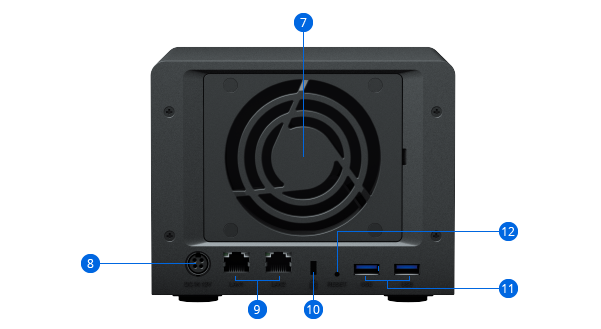 1 Status indicator
2 Alert indicator
3 Power button
4 LAN indicator
5 Drive status indicator
6 Drive tray
7 System fan
8 Power port
9 1GbE RJ-45 port
10 Kensington Security Slot
11 USB 3.0 port
12 Reset button