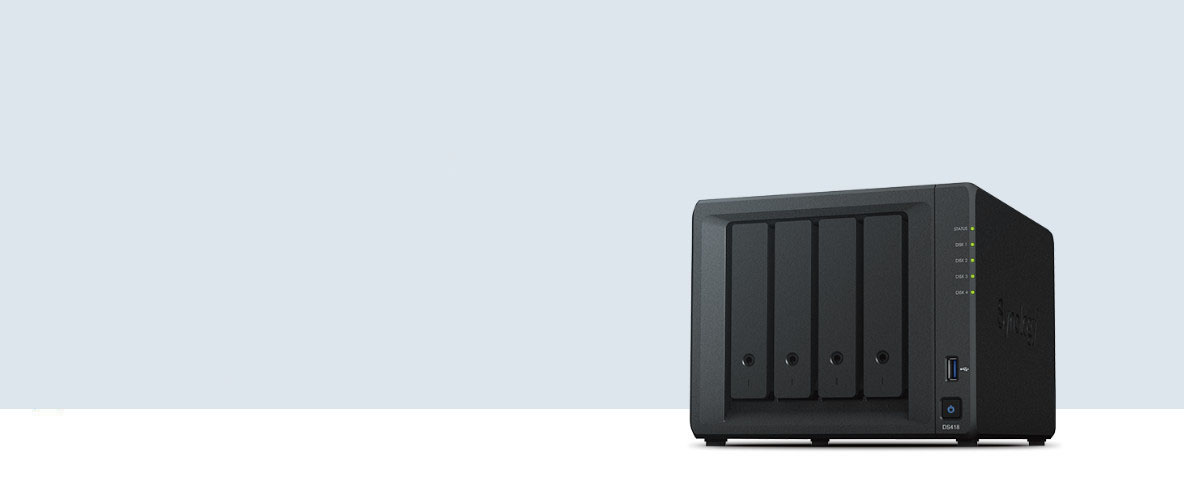 DiskStation DS418
Powerful 4-bay NAS for home and office users
Synology DiskStation DS418
Versatile NAS server for centralized file storage and real-time 4K H.265 video transcoding
The Synology DS418 is a four-bay NAS with dual GbE LAN ports that support Link Aggregation and Failover. Aimed at small office and home users, it offers centralized solution to manage, protect and share your data. A 64-bit quad-core processor delivers excellent performance to handle ultra fast data access, supports up to 200 concurrent connections, and performs 10-bit 4K H.265 video transcoding on the fly.
The DiskStation Manager (DSM) OS is a web-based operating system for every Synology NAS, offering intuitive interface, and a variety of add-on packages to expand the capability of your NAS. Two USB 3.0 ports are built onboard for use with external storage devices like flash drives and external HDDs.
Network
Dual 1GbE LAN ports
Performance
Over 226 MB/s and 170 MB/s sequential reading and writing
Synchronize files across your devices
Cloud Station Suite provides real-time data synchronization across all your devices and other Synology NAS. "Intelliversioning" keeps the most important file versions to better utilize storage space.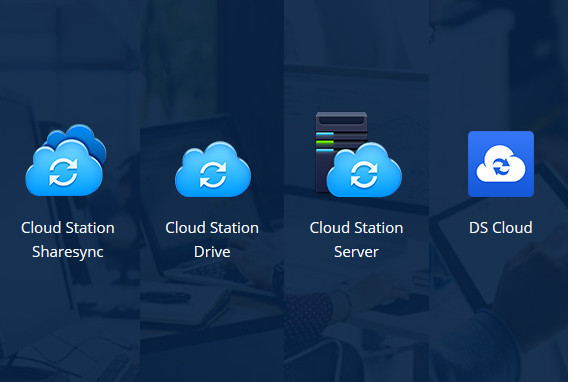 Real-time collaboration on your private cloud
Office is a collaboration package combining the convenience and usability of public clouds with the data privacy and security guaranteed by private clouds. It allows you to work seamlessly together on documents and spreadsheets in a protected environment.
4K Multimedia Server
Access and stream your favorite 4K content anywhere, anytime. DS418 supports 10-bit 4K H.265 online transcoding. With Video Station and DS video, you can convert and play 4K videos from any computer, mobile device, or other media players that don't support Ultra HD formats.
Synology Hybrid RAID (SHR) technology
Storage management is easy with Synology Hybrid RAID (SHR) technology. SHR is an automated RAID management system allowing you to easily create and expand storage volumes and migrate RAID types without requiring details on RAID. SHR provides 1 to 2-disk redundancy to safeguard your data during drive failures.

Cost-effective
SHR maximizes the data capacity of your RAID when different sizes of HDDs are used.

Easy Management
For novice users who have no technical background and still want to protect their data using RAID technology, a convenient installation wizard will guide you through all the steps during your first installation.

Scalability
You can add new disks on the fly in Storage Manager with a simple click.

Flexibility
While creating a volume, you can plan ahead and leave empty and unallocated space for future usage.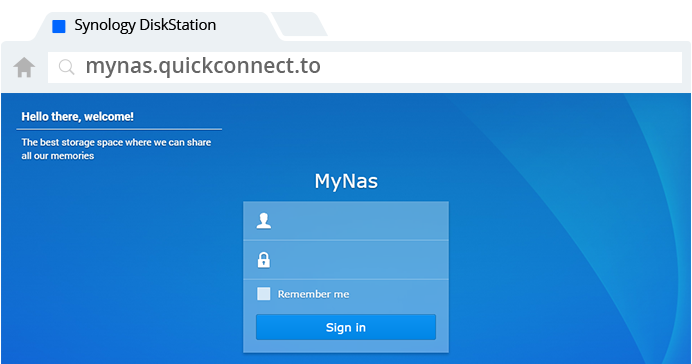 Easy file access with QuickConnect
Access files on your Synology NAS over the Internet without the hassle of setting up port forwarding rules, DDNS, or other complicated network settings. QuickConnect allows you to connect via a secure, customizable address, so that you can instantly access media and work files on any Internet-connected device with no additional charge.

Surveillance Station
Complete surveillance solution for recording, monitoring, and management.

Desktop Backup
Simplified backup solution for your Mac, PC, and mobile devices.

Public Cloud Integration
Backup and synchronize data easily between your public cloud accounts and your NAS.

DSM UI
Award-winning operating system with an intuitive user interface and powerful capabilities.

Security
Comprehensive built-in security tools are constantly updated to tackle evolving threats and protect your devices.
Multimedia
Complete multimedia solution for management, streaming, and playback.