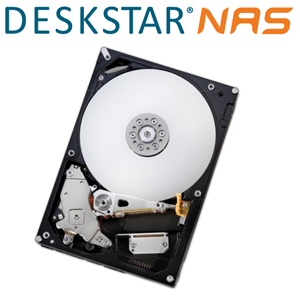 With a great blend of reliability and performance, the HGST Deskstar NAS 7200RPM 3.5" HDD is an ideal choice for consumer and commercial desktop NAS system. It operates over SATA III host interface, transfers data 20% faster than 5400RPM, and delivers seek time less than 12ms. The innovative rotational vibration sensor anticipates disturbances and counteracts them in multi-drive environments - maintain high input/output performance and achieve long MTBF. Trust your photos, videos, music and other files to the one who knows the value of your precious data.
Award-winning Performance - 7200 RPM, 128MB cache buffer and 6Gb/s SATA interface for fast data access
Colossal Capacity - Up to 8TB for room to grow
Outstanding Reliability - 1M hrs MTBF, Rotational Vibration Sensor, 24/7 availability
Rotational Vibration Safeguard (RVS)
One of the greatest hindrances to hard disk performance is vibration. Like a needle on a record, the disk drive's head must try to follow narrow data tracks in order to read (or write) information. These problems are particularly acute in multi-drive systems, because drives tend to be installed alongside each other, in arrays. The vibration caused by the rotation and seek activities of nearby drives can affect the whole array, progressively disturbing the operation of each drive in the system. The drop in performance can be significant. That's why the Deskstar NAS hard drive has an advance Rotational Vibration Safeguard (RVS) that anticipates disturbances and counteracts them, maximizing performance in the most arduous conditions. If the RVS sensors feel a vibration rippling through the drive, they send a signal to the actuator that controls the head's position. The actuator then compensates for the disturbance, counteracting it with an equal and opposite force. In this way, the head is able to 'ride' the vibration and stay on track, helping to prevent data loss or corruption.