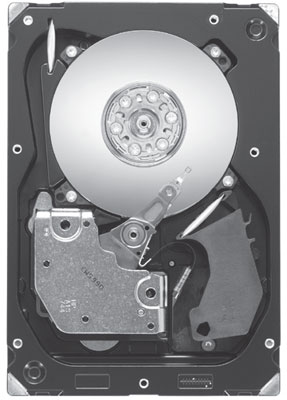 Seagate Cheetah 15K.7, Model# ST3600057SS
A high-performance, high-reliability enterprise-level storage solution for mission-critical applications. It features 15,000 RPM spinning speed and operates on SAS 6 Gbps host interface, delivering fast, consistent transfer speed with minimized CPU utilization. The Seagate PowerTrim technology provides a 62 percent improvement in GBs/W at idle over typical 3.5-inch hard drives. Read/write advances deliver nonrecoverable error rate of 1x10E16, ensuring unbeatable data integrity.
Best-Fit Applications
Business and transaction processing
Storage area networks and networked attached storage
E-mail, decision support, Internet and e-commerce
Lowest Cost of Ownership
Seventh-generation Seagate Cheetah 15K.7 drive is the fastest, highest capacity and most reliable ever.
Lower watts/GB ratio helps achieve reduced power and cooling costs while optimizing capacity requirements.
Higher performance with fewer drives—reducing support infrastructure, physical space requirements and storage management costs
The highest reliability of any 3.5-inch drive, with increased system reliability due to the need for fewer drives
Highest Reliability
Seagate continues to focus on reliability and data protection. MTBF is an industry-leading 1.6 million hours.
Seagate-exclusive enhanced Error Correction Code better maintains performance throughout the life of the drive and reduces the probability of lost data.
The third generation of Seagate-exclusive Background Media Scan proactively scans the media for potential defects during drive idle time. It enables incipient errors to be corrected before data is lost.
Quick and Robust Download feature loads new firmware in seconds, with built-in protection to ensure no corruption in the event of a power failure during firmware switch.