IOGEAR's GKM571R is the latest ergonomic palm-sized mini wireless 2.4 GHz wireless keyboard with built-in optical trackball, left and right click buttons and scroll wheel with LED backlight technology for the evolving digital living room. The wireless keyboard with built-in optical trackball allows you to work up to 33 feet away from your home theater living space to control and navigate your home theater computer / laptop and or video game console like never before. The intuitive wireless interaction changes the way you get and drive your multimedia and entertainment content.
In addition to its creative palm-size design it uses the latest LED backlight technology which automatically turns on and off when opening the keyboards stylized protective cover lets you see what you're typing and makes typing in low light or dark rooms effortless and convenient. It also incorporates 19 hotkeys for quick access to multimedia and Microsoft Media Center features and the ability to customize the trackball speed from 400 dpi, 800 dpi or at an amazing 1200 dpi. No driver needed, just plug in the included USB RF Receiver and you're ready to go.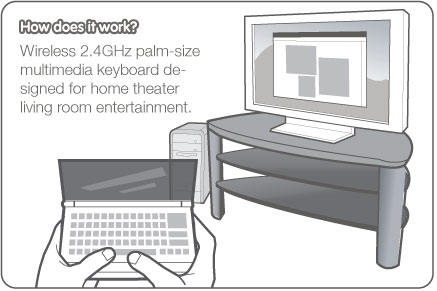 2011 CES Innovations and Engineering Award
The IOGEAR GKM571R wireless mini keyboard is named as Honorees by the Consumer Electronics Association as 2011 CES Innovations and Design and Engineering Showcase. Products entered in this prestigious program are judged by a preeminent panel of independent industrial designers, engineers and members of the media to honor outstanding design and engineering in cutting edge consumer electronics products across 35 product categories.

Wireless Keyboard
Utilizing advanced 2.4GHz technology, the IOGEAR GKM571R wireless keyboard offers you ideal convenience to drive the PC to TV content with great range of 33 feet.

Comprehensive Control
In addition to the multimedia shortcut keys for easy access to e-mail, volume control, play/pause, My Computer, Media Player and web browser, the palm-sized keyboard also integrates optical trackball with 400, 800, and 1200 dpi selections, left and right mouse buttons with built-in scroll wheel allowing you to enjoy complete mouse-like control on a single device.

LED Backlight
Open the protective keyboard cover, then the light sensor is activated. The backlight LED automatically turns on/off depending on the ambient lighting condition, allowing you to easily read and type in low light environments.