Samsung S22E200B - 21.5" SE200 Series LED Monitor for Business
The SAMSUNG S22E200BL monitor provides an environment-friendly, user-friendly and budget-friendly desktop monitor solution for your business. It features a Full HD 1080p resolution for tack-sharp, crystal-clear images. It adopts a low-glare commercial-grade TN panel and utilizes advanced MagicAngle technology, so you can enjoy a great viewing experience, even at off angles. Its stylish, slim design lets you break free from bulky designs and makes a standout statement in any room.
Impressive Picture Quality
The 21.5" LED-backlit LCD screen delivers tack-sharp, crystal-clear images at Full HD 1080p resolution. The mega infinity dynamic contrast ratio ensures subtle detail even in the lights and darks, while the MagicAngle technology delivers quality color even when viewed off-angle. With a fast response time of 5ms, you can watch videos or play games without missing a beat.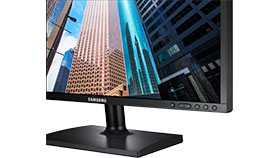 Slim Design That Fits Any Desk
The sleek, stylish design and low profile stand take up less desk space and contribute to a cleaner-looking office. The built-in cable management feature also adds to a clutter-free work environment.
Environmentally Friendly
With approximately 30% recycled plastic, less than 0.1W off-mode power consumption, Eco features to reduce power consumption when the monitor is in use, and fully recyclable packaging, this is the perfect value monitor for the environmentally-conscious business.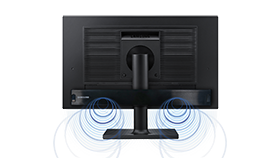 Option to Add Rich Stereo Sound
Add stereo sound to your business monitor without taking up any additional desk space. The SPU10 (Sold separately) speaker bar accessory features RMS output power of 2.5W and delivers full-range sound. So you can improve the quality of multimedia presentations, streaming videos or web-based seminars.