34" class (34" diagonal) 21:9 UltraWide Monitor
More Productive. More Immersive. More Comfortable. More Convenient.
Whether your priority is productivity or entertainment, the LG 34UM64-P 21:9 UltraWide monitor is the best bet. Offering a full range of performance features – like UltraWide 21:9 aspect ratio, stunning 2560 x 1080 high resolution, 4-screen split, flicker-safe & reader mode, intuitive joystick control, etc., it guarantees that your work and leisure experience will be better than ever before. With a stylish, modern design, it looks great in every room environment.
UltraWide 21:9 Aspect Ratio
The UltraWide 21:9 aspect ratio makes movies and games more immersive than ever. Need to get some work done, too? All of that UltraWide real estate makes it easy to view multiple documents at the same time, so you don't need to flip back and forth between them.
Optimal, Productive Working Space with Microsoft Office
The 34-inch display, with a 2560 x 1080 high resolution and 21:9 ratio, provides an efficient environment for Microsoft Office programs, such as Word, Excel, and OneNote. The UltraWide monitor shows 47 columns and 63 rows in Excel, so you can see all the content in full view without scrolling or hiding functions of columns and rows.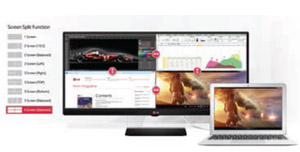 4-Screen Split
With a 21:9 wide screen ratio, now you can multitask with as many as four programs on one screen at the same time. This 4-Screen Split feature conveniently divides your screen from two to four customizable subscreens of your preferred size, without any overlapping of windows.
Compatible with Mac, it provides eight different screen ratios, changeable by a single click, and increases not only ease of use but also productivity. Graphic designers will surely appreciate the many features of LG's Mac-compatible UltraWide monitor.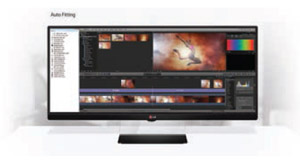 Perfect Environment for Efficient Multitasking
The 4-Screen Split software includes an auto fitting function. With a simple drag or a double click, a new window will automatically fit into the marginal room of the screen. The large 21:9 screen is a perfect environment for efficient multitasking, enabling you to open and run an editing program and its source clip folder without minimizing other programs.
Disclaimer: The 4-Screen Split software requires DVI-D(Dual Link), Display Port or HDMI connection with Windows XP/Vista/7/8 or Mac OS X 10.7(Lion)/10.8 (Mountain Lion) /10.9(Mavericks).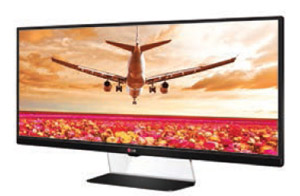 Recognized by Experts, LG IPS
The LG IPS monitor has won several prestigious awards for its utmost picture quality. It is the perfect solution for those who need the most lifelike color expression, bringing the original image to life on the screen.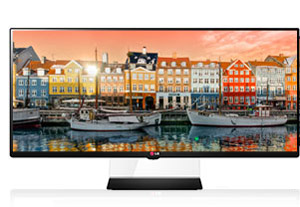 Stunning 2560 x 1080 High Resolution
With an amazing high resolution of 2560 x 1080, the 34-inch monitor displays text and images in stunning detail, making it perfect for advanced HD productivity and multimedia applications.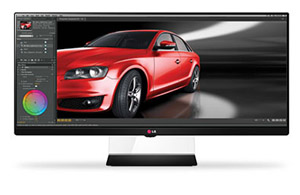 sRGB 99%
sRGB is the standard color space of ideal color reproduction. So, with over 99% coverage of the sRGB spectrum, this LG monitor is a great solution for professional photographers, graphic designers or anyone looking for highly accurate color.
Disclaimer: Color mode conversion between Adobe RGB and sRGB is available on the "Color Mode" menu.
5M:1 Dynamic Contrast Ratio
A dynamic contrast ratio of 5,000,000:1 is your assurance of strong video performance, with deep blacks, bright whites and pleasing colors.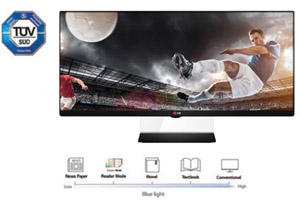 Flicker-safe and Reader Mode
Protect your eyes from exhausting flickers and blue lights. LG's new Flicker-Safe system is always on to reduce flicker level to almost zero. In addition, switch to Reader Mode with a simple touch of a hot key to minimize exposure to harmful blue light. Spend as much time as you want working, playing games, or watching movies without straining your eyes. Use the convenient and easy-to-use hot keys for increased satisfaction.
Control Functions with Ease by Using the Intuitive Joystick
The joystick is designed to ensure accurate menu controls and analogue sensitivity. Patterned after a conventional joystick, its modern technology and design enable simple touch controls. In addition, its intuitive UI has no overlapping functions, making it easier to understand and select desired menus.