3243L Open Frame Touchscreen
The Elo 3243L 32-inch full HD open-frame touchscreen delivers a professional-grade large-format display and sleek design at less than 2.3 inches (58 mm) in total thickness. Designed for touch from the start with proven Elo expertise and reliability built in, the 3243L offers a state-of-the-art slim design using LED backlighting, reducing power consumption and heat to enable thinner and smaller kiosk designs for various applications in retail, hotels, gaming, transportation and other commercial uses. The touchscreen glass is tested with robust UL60950 ball-drop requirements, supporting applications in demanding public access environments. The comprehensive range of features includes analog and digital interfaces, multi-lingual and cabled remote on-screen display (OSD), mounting VESA standard, mounting brackets, and worldwide compliance.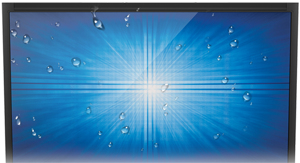 Easily integrated.
Featuring a compact form factor and optional rack- and front-mount bezels, the 3243L is easy to integrate. The touchscreen is sealed against dirt, dust and liquids, which simplifies integration into the final enclosure. TouchPro™ projected capacitive (PCAP) units can be sealed into a solution and obtain an IP65 rating on the front side of the unit. With the design and tooling being controlled by Elo, long-lasting product availability, as well as backwards compatibility, can be expected, helping minimize enclosure costs.
Touch ready.
The 3243L is available with a choice of dual- or multi-touch technologies. The zero-bezel TouchPro projective capacitive technology offers a fast and extremely sensitive response similar to the experience on mobile devices and is compatible with Windows 7, Windows 8 and Windows 10 with up to 10 touches recognized simultaneously. The IntelliTouch® surface acoustic wave (SAW) dual touch technology offers the ultimate in optical quality. All 3243L touchscreens provide pure glass construction to deliver a clear, bright and long-lasting performance. With the touchscreens being scratch-resistant, it is nearly impossible to wear them out.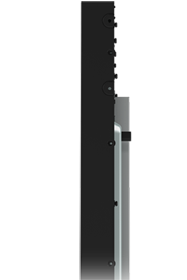 Commercial-grade.
The Elo open frame touchscreen display delivers the quality and reliability Elo is known for and is backed by our three-year standard warranty. We design, build and are responsible for the complete solution with touch integrated from the start. Using our own touchscreens combined with our software and drivers, everything is designed to work together and tested as part of our life-testing processes. All our products go through rigorous reliability testing (over 20 tests) to deliver 50,000 MTBF (demonstrated).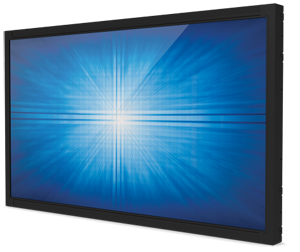 Other features.
1920 x 1080 full HD provides a bright, high contrast display with a wide viewing angle that easily attracts and holds the user's attention
Worldwide agency approvals and a three-year standard warranty extendable to five years
Multiple mounting options are available
Integrated power supply