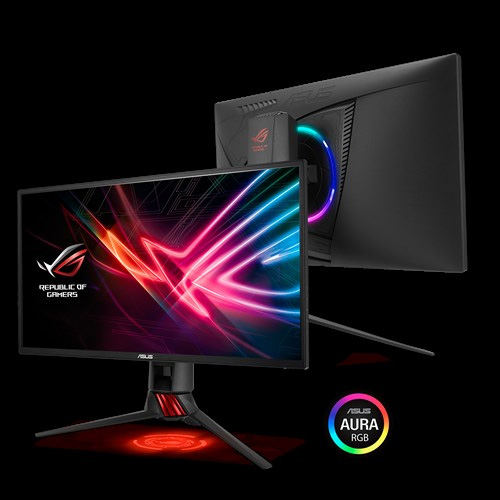 ROG Strix XG258Q Gaming Monitor – 25 inch (24.5 inch viewable) FHD (1920x1080), Native 240Hz, 1ms, Adaptive-Sync(FreeSync™), Asus Aura RGB
24.5-inch Full HD gaming monitor with a 240Hz native refresh rate for fluid gameplays
Ultra-fast 1ms response time and Adaptive-Sync(FreeSync™) to eliminate motion blur and tearing for super-smooth gameplay
ROG Strix XG Series gaming monitors feature ASUS Aura RGB lighting on the back and a customizable light signature projection for gaming-inspired aesthetics
VESA wall-mountable to save on desktop space plus ergonomically-designed stands with full tilt, swivel, pivot, and height adjustment
ONLY SPEED IS INVINCIBLE
ROG Strix XG258Q is all about speed — making it the perfect monitor for eSports and first-person shooters. This Full HD monitor is the fastest ever, with a 240Hz native refresh rate, 1ms response time and Extreme Low Motion Blur technology for silky-smooth gameplay and ultra-realistic visuals. Additionally, ROG Strix XG258Q has distinctive Strix-exclusive design elements and ASUS Aura RGB lighting that add ambiance to any gaming setup or LAN party.
ASUS-EXCLUSIVE EXTREME LOW MOTION BLUR TECHNOLOGY
ROG Strix XG258Q's astonishing 240Hz native refresh rate makes it twice as fast as conventional 120Hz monitors. You'll experience amazingly fluid gaming visuals, giving you the upper hand in first-person shooters, racing, real-time strategy and sports titles. It's all action and no breaks!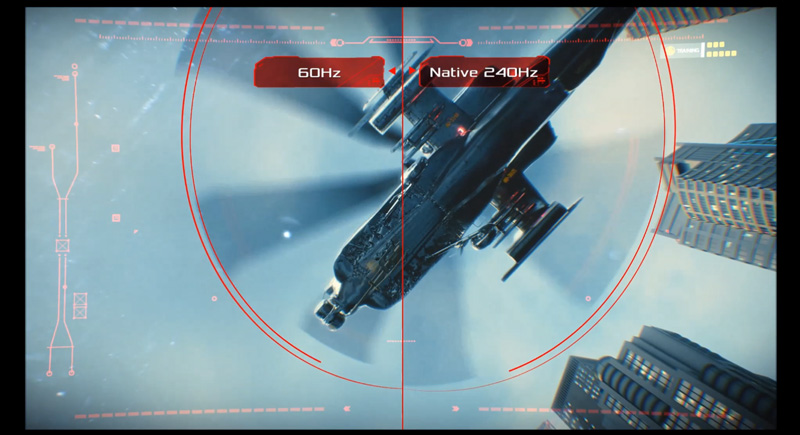 ASUS-EXCLUSIVE EXTREME LOW MOTION BLUR TECHNOLOGY
ROG Strix XG258Q features the latest ASUS Extreme Low Motion Blur technology, which eliminates smearing and motion blur, and makes objects in motion look sharper, so gameplay is more fluid and responsive.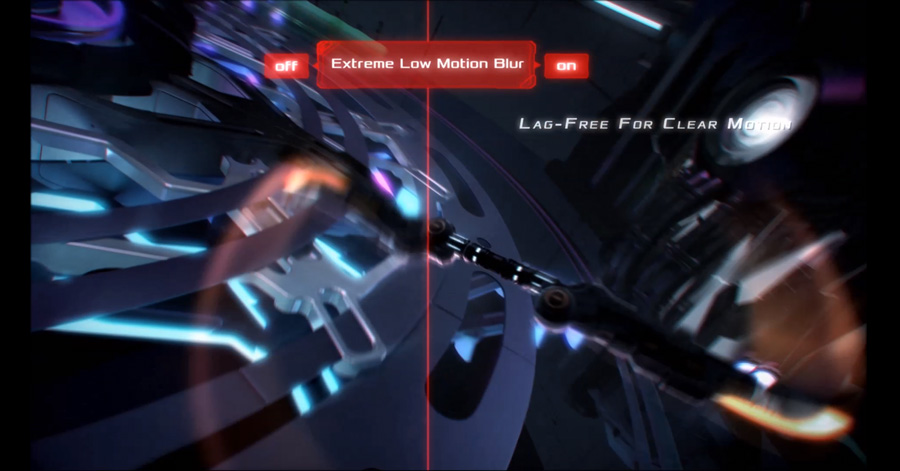 ADAPTIVE-SYNC (FREESYNC™) TECHNOLOGY FOR SMOOTH GAMEPLAY
Adaptive-Sync (FreeSync™) technology delivers the smoothest, fastest, and most breathtaking gaming visuals imaginable by eliminating screen tearing and choppy frame rates, and by minimizing display stutter and input lag. ROG Strix XG258Q gives you seamless, lag-free visuals when playing the latest fast-paced first-person-shooters, sports, or action-adventure games.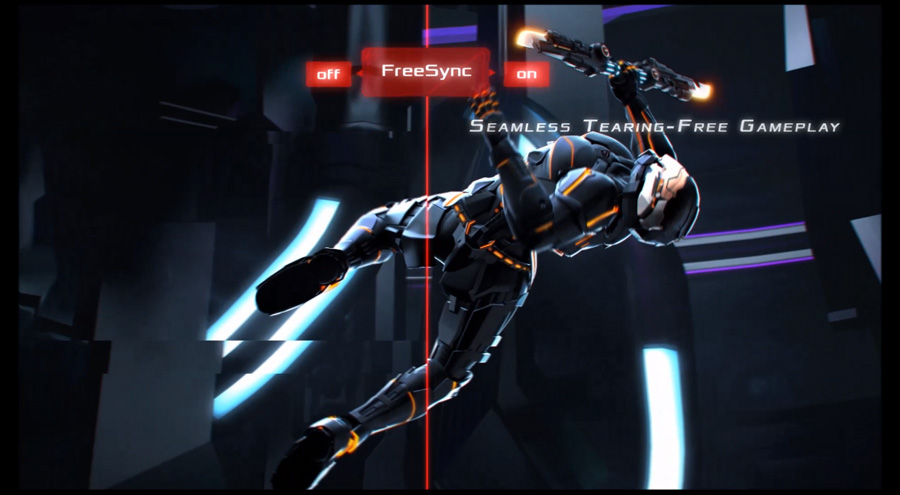 The ROG Strix series is a continuation of the ever-lasting legacy of ROG, with a bold, streamline design featuring the iconic tripod stand. The series is made using high- quality materials, skillfully crafted with the expertise and adventurous spirit synonymous with ROG.
ASUS AURA RGB LIGHTING
ROG Strix XG Series gaming monitors feature ASUS Aura RGB lighting on the back. It offers several lighting modes to provide a cool and stylish backdrop to any gaming setup.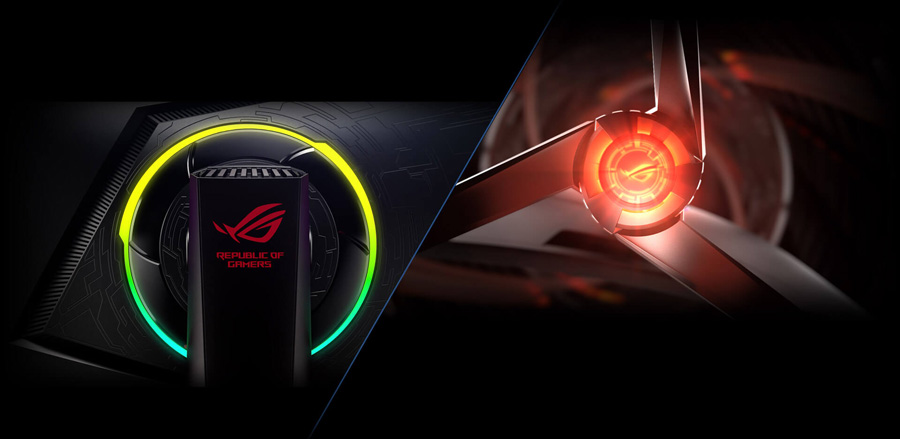 CUSTOMIZABLE LIGHT SIGNATURE
Light Signature lets you create and customize ROG Strix XG258Q's light-projection* effects. It includes two ROG logo covers and one blank covers that you can use to create customized, unique light projections to enhance your desktop surface.
*LED Lighting projection is patent pending.
SUPER-NARROW BEZEL
Strix XG258Q features a super narrow design, making it the ideal solution for almost-seamless multi-display setups. Build the ultimate battle station, and enjoy total immersion!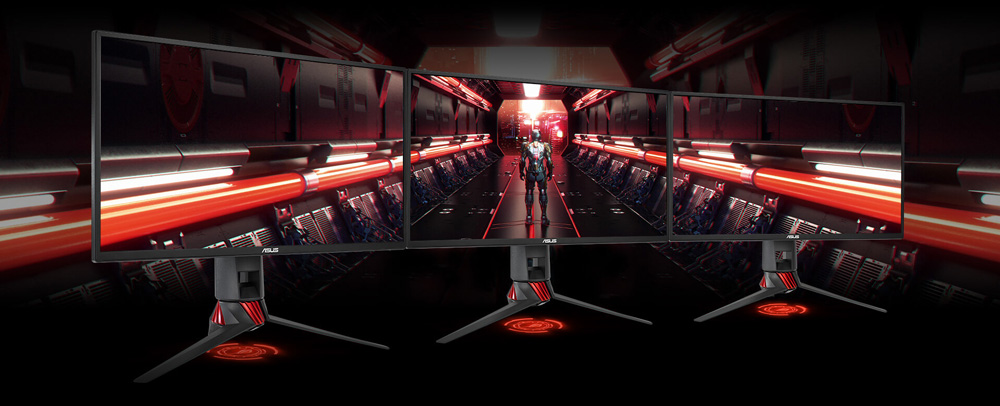 GAMEPLUS TECHNOLOGY
ROG Strix XG258Q features the ASUS-exclusive GamePlus hotkey with in-game enhancements that help you get more out of your game. This function is co-developed with input from pro gamers, allowing them to practice and improve their gaming skills.

ASUS-EXCLUSIVE DISPLAYWIDGET SOFTWARE
DisplayWidget is an intuitive software utility that lets users tweak settings or configure ASUS GameVisual, App Sync™, and Blue Light Filter. Adjustments to these utilities can be made via the On Screen Display (OSD) menu or the navigational joystick, but ASUS DisplayWidget makes accessing and using these various settings much faster and easier.

GameVisual
ASUS GameVisual gives you six preset display modes and one user mode tailored to suit different types of content.
App Sync™
Lets you assign specific ASUS GameVisual modes to individual applications and game titles to make sure the program you are using is in your preferred mode. You also have the option of changing these assigned settings quickly .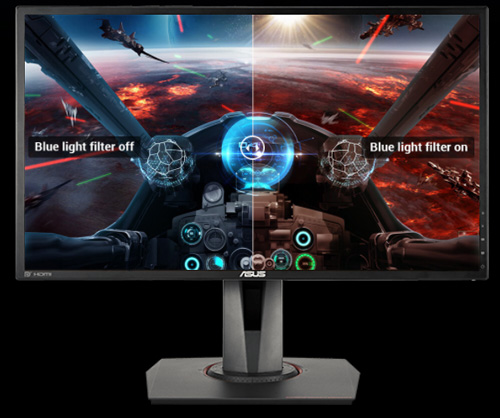 Ultra-Low Blue Light technology
DisplayWidget also lets users access different blue light filter settings. ASUS Ultra-Low Blue Light technology reduces the amount of blue light emitted by the display and features four different filter settings onscreen to suit the task at hand. These settings can also be easily accessed via the OSD menu.
Sharable display setting parameter
All customized GameVisual settings can be saved to an AXML file format that can be shared with other same monitor users.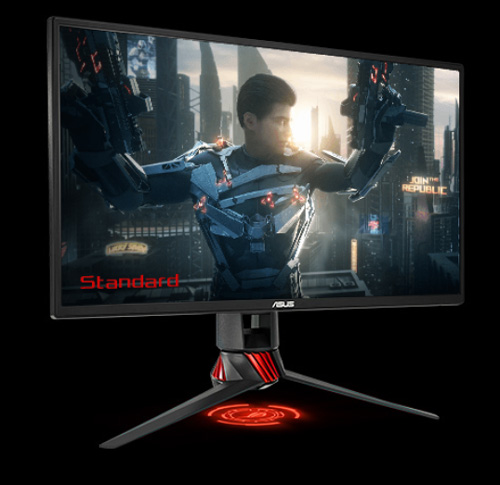 ULTRA-LOW BLUE LIGHT TECHNOLOGY
ROG Strix XG258Q comes with TÜV Rheinland-certified ASUS Ultra-low Blue Light filters to protect your eyes from harmful blue light. It's easy to access and select the four different filter settings via the OSD menu using the 5-way joystick.
FLICKER-FREE TECHNOLOGY
ROG Strix XG258Q reduces onscreen flicker to give you a more comfortable gaming experience. This minimizes eye strain during marathon gaming sessions.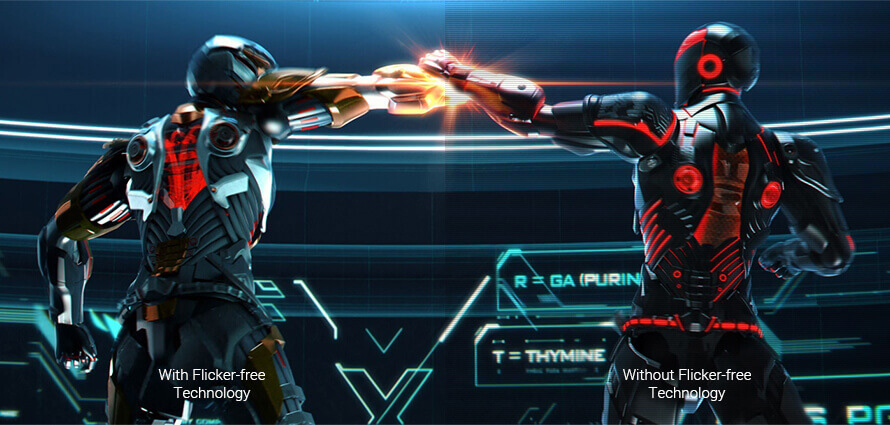 ERGONOMIC DESIGN
ROG Strix XG258Q features a stand that's ergonomically designed to offer extensive swivel, tilt, and height adjustment — so you can always attain that ideal viewing angle.