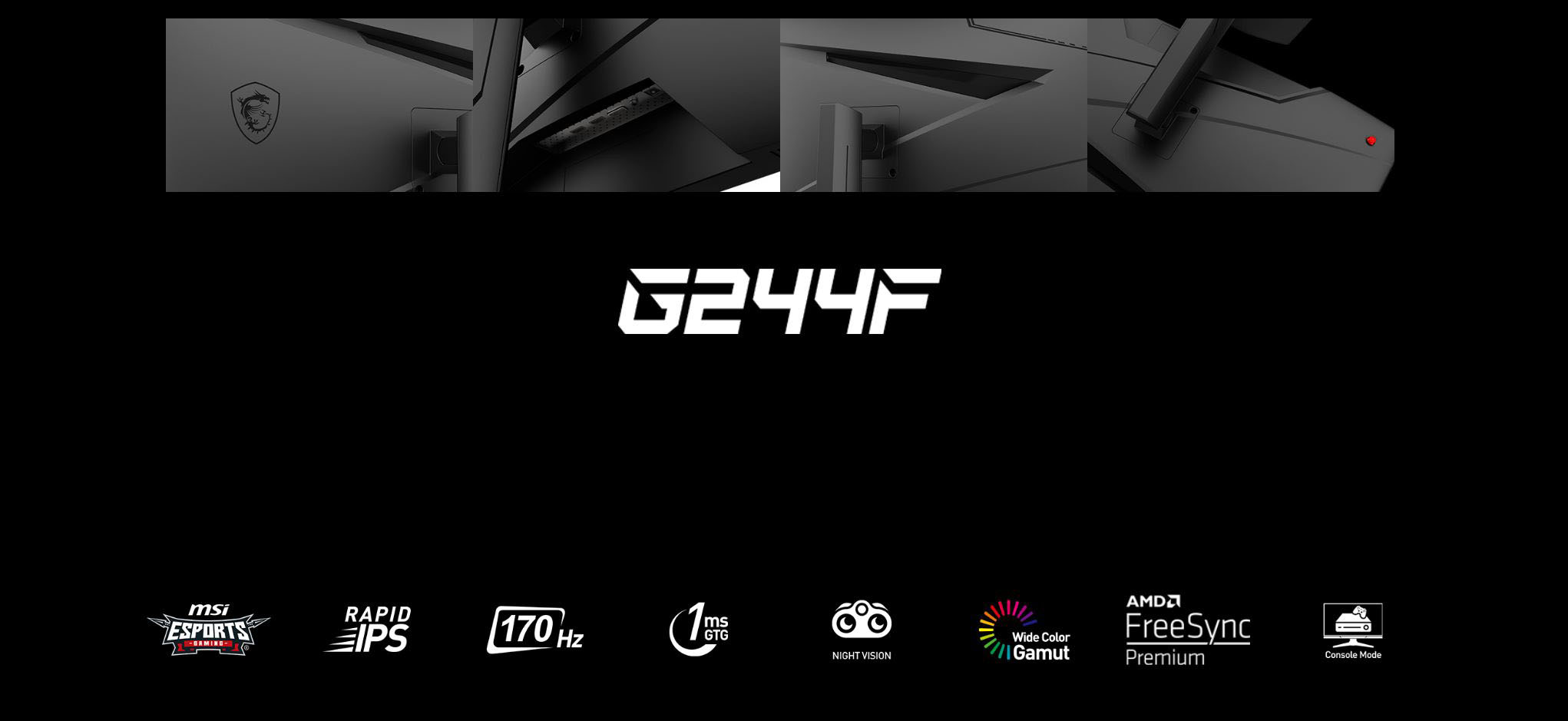 Visualize your victory with MSI G244F esports gaming monitor. Equipped with a 1920x1080, 170hz Refresh rate, 1ms response time Rapid IPS panel, MSI G244F will give you the competitive edge you need to take down your opponents. Built with AMD FreeSync Premium technology, the G244F can match the display's refresh rate with your GPU for ultra-smooth gameplay. Make sure you can hit your mark with all the latest technologies built-in the MSI Esports Gaming monitors for competitive play.
SEE EVERY MOMENT AT ITS CLEAREST
Rapid IPS display provides gamers with an ultra-fast 1ms GTG response time, which will significantly reduce monitor blur occurrence. The crystal clear image will certainly give you a competitive edge for precise decisions in fast-moving games.

170HZ REFRESH RATE + 1MS RESPONSE TIME
Equipped with a 170hz refresh rate and 1ms response time IPS panel which has the benefit in fast moving game genres such as first person shooters, fighters, racing sims, real-time strategy, and sports. These type of games require fast and precise movements, which an refresh rate and fast response time monitor will put you ahead of your competition.
TRUE COLOR
The MSI Esports Gaming Monitor has more gamut coverage compared to general monitors. Gameplay colors and details will look more realistic and refined, to push immersion to its limits.
TEAR FREE, STUTTER FREE, FLUID GAMING
Gaming shouldn't be a choice between choppy gameplay or broken frames. With MSI series gaming monitors, it doesn't have to be. Get fluid, artifact-free performance at virtually any framerate with AMD FreeSync™ technology.
* Note: FreeSync technology requires a monitor and AMD Radeon™ graphics, both with FreeSync support. Confirm capability with your system manufacturer before purchase.

NIGHT VISION
Whether your entire screen is dark, or just a few portions have heavy shadows. Let the world's first smart black tuner brighten your day by bringing out the fine details in dark areas.

From Edge to Edge
With a super narrow bezel, enjoy the best immersion possible in the latest games with a multi-monitor 180 degree setup. Enjoy better continuity between screens while playing games, working, or general computing.
Anti-Flicker Technology
Generic monitor displays normally have a flicker-rate of about 200-times per second, which is unnoticeable to the naked eye, but can cause fatigue over time. Certificated by TÜV Rheinland®, MSI Anti-Flicker technology provides a very comfortable viewing experience by reducing the amount of flicker.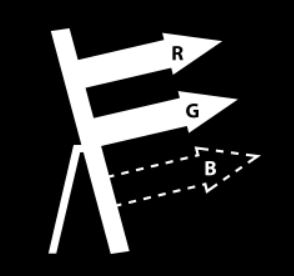 BLUE LIGHT REDUCTION
MSI Gaming monitors are optimized to produce less amount of blue light displayed by the monitor, so that you can game for longer periods of time without eye-fatigue.

Panel Size: 23.8" (60cm)
Panel Type: Rapid IPS
Aspect Ratio: 16:9
Panel Resolution: 1920 x 1080 (FHD)
Refresh Rate: 170 Hz
Response Time: 1ms GTG