Gifted in Music
The Beyerdynamic Amiron Home Tesla Over-Ear Headphones give you an invitation to pure musical enjoyment. Thanks to its open design, Amiron home turns the living room into a concert stage and fascinates through an excellent accuracy in detail. Utilizing the optimized Tesla technology, it provides an even more precise sound tuning. Made of high-quality Alcantara microfibre and microvelour, the earcups and headband are as soft as velvet, resulting in the maximum wearing comfort even during long listening sessions.
The name "Amiron home" represents high-end headphones that embody Beyerdynamic's boundless passion for music and epitomize the workmanship of being "handmade in Germany".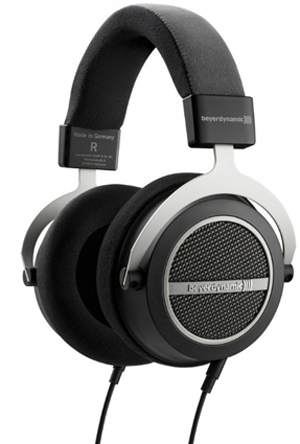 Key Features at a Glance
Highly efficient Tesla technology drivers
Hand crafted "Made in Germany"
High-resolution sound for a concert experience at home
Impedance 250 Ohms
velvety soft headband and ear pads out of Alcantara microfibres and Microvelour
3m long cable with 3.5 mm jack plug and screwed-on 6.35 mm jack adapter
double-sided and detachable cable
OPTIMISED TESLA TECHNOLOGY
A Superb Listening Experience
Tesla technology is a cutting-edge innovation from beyerdynamic, which has taken the music world by storm. The Tesla system has now been further refined for use in Amiron home. Modifications to the transducer have diminished unwanted vibrations to an absolute minimum and completely eliminated annoying treble resonances. More precise than ever, the sound tuning will amaze even the most discerning music enthusiasts.
HIGH-RESOLUTION SOUND
For Music You Can Reach Out and Touch
Amiron home brings you concert-quality sound, combining a very precise bass with transparent mids and pleasantly clear highs. This makes it a great choice for fans of a wide range of music genres. The precise and clear musical portrait these headphones paint of each and every instrument is sure to delight music lovers.
OPEN DESIGN
An Authentic Concert Experience in Your Own Living Room
As its name suggests, the Amiron home finds its natural habitat in the congenial setting of your own home where amid peaceful surroundings you can engross yourself in the music. The open design of these headphones produces a spacious, natural sound, and you feel an incredible closeness and transparency in the music. The bonds of time and space now broken, you are transported to your own personal concert hall. Escape from your daily routine and let your favorite concert surround you any time you like in your very own haven of tranquility.
PERFECT FIT
Optimum Wearing Comfort for Hours of Listening Pleasure
The balanced contact pressure exerted by the headband ensures the Amiron home remains securely and very comfortably positioned around your ears. This optimum fit contributes to creating an auditory space that lets the music unfold to its full potential. The use of highest-quality Alcantara microfibres and Microvelour mean the headband and ear pads are velvety soft, thus enhancing the sense of well-being produced by your favorite music. The comfort of your headphones lets you focus your full attention on the music itself – for hours on end.