XYZ Printing – Da Vinci 1.0 3D Printer
MAKE IT YOUR WAY
The da Vinci 1.0 3D Printer will revolutionize the way you live. da Vinci allows you to create and customize your home with the push of a button.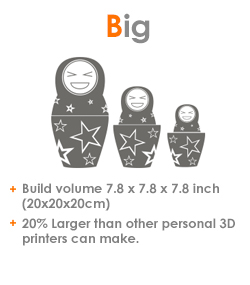 Build volume: 7.8 x 7.8 x 7.8 inches - 15 to 75% larger than others in its class.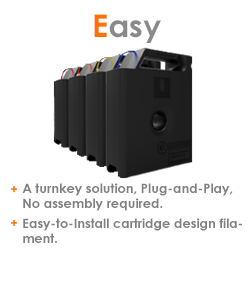 Plug-and-Play Printer. With easy-to-install filament cartridges, users can easily refill the printer.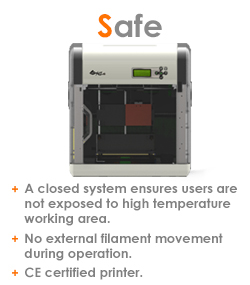 Da Vinci's all-enclosed design protects users from the high temperatures required to print.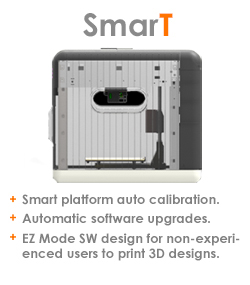 Smart Platform Auto Calibration. XYZWare EZ Mode makes it easy to use for inexperienced users.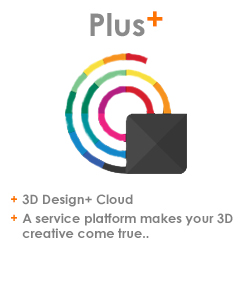 3D Design+ Cloud - A service platform makes your 3D dream come true.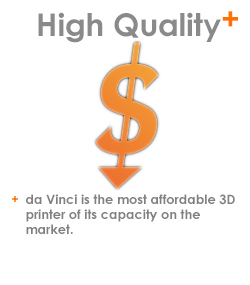 At less than $500, Da Vinci is the most affordable 3D printer of its capacity on the market.
Warranty: XYZprinting provides a one-year US limited warranty after product registration on XYZprinting's website within 30 days of invoice date.
Support: Please leave a message on XYZprinting support page.
Specifications & System Requirements:
Technology: FFF (Fused Filament Fabrication)
Maximum Build Volume (WxHxD): 7.8 x 7.8 x 7.8 inches (20 x 20 x 20cm)
Printing Mode: Fine (100 microns), Standard (200 microns), Speed (300 microns), Ultra Fast (400 microns)
Print Head: Single Nozzle
Nozzle Diameter: 0.4mm
Print Speed: 150mm/sec
Filament Diameter: 1.75mm
Print Material: ABS
File Type: .STL & XYZ Format
Panel Type: 4 x16 LCM
Language: English & Japanese
Connectivity: USB 2.0 Wire
OS Support: Windows XP (.net 4.0 required) / Windows 7 or above (for PC); Mac OSx 10.8 / 64-bit above (for Mac)
Hardware Requirements: X86 32/64-bit compatible PCs with 2GB+ DRAM (for PC); X86 64-bit compatible Macs with 2GB+ DRAM (for Mac)