System Mechanic Pro®
The Ultimate PC Performance Package™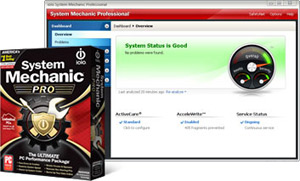 Patented technology for maximum speed, power and stability
Fixes frustrating errors, crashes and freezes
Triple-certified virus protection and data security
Whole Home License® for use on all your home PCs
Overview
Boosts Speed
Automatically accelerate PC startup, internet speed, program operation and gaming performance.
Repairs problems
Diagnose & fix over 30,000 different PC problems using intelligent live updates from iolo Labs™.
Cleans-up & protects privacy
Remove over 50 types of junk files, and wipe sensitive internet and chat history for a cleaner, faster PC.
Plugs Security Holes
Block dangerous program, system changes and faulty settings.
Features
LiveBoost™ boosts system responsiveness through real-time calibration of CPU, RAM and Drive.

Guided Recommendations™ taps into the System Mechanic community to help you gain even more PC speed.

Stability Guard™ intercepts stability threats to keep Windows fast and problem-free.

NetBooster™ speeds up internet, videos, downloads and games.

ActiveCare® uses set-and-forget patented technology to maintain your PC automatically

Total Registry Revitalizer™ resolves registry problems and stabilizes Windows.

AcceleWrite® real time technology optimizes file write speeds

PC Cleanup™ cleans up over 50 types of junk files.

Program Accelerator™ re-aligns disjointed program files.
EnergyBooster™ puts your PC in overdrive for max performance.

Memory Mechanic™ reclaims wasted RAM in real time.
CRUDD Remover™ locates and removes unused extra programs.

Startup Optimizer™ automatically accelerates PC startup 22 ways.

Privacy Cleaner™ permanently wipes internet and chat history, clutter and cache.
Security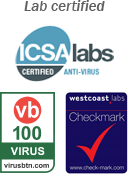 Includes System Shield AntiVirus & AntiSpyware
System Shield is triple-certified by the industry's three leading security labs: ICSA Labs, Virus Bulletin (VB100), and Westcoast Labs (Checkmark) to ensure the highest product performance and malware detection rates.
Protects against over 2.1 million different viruses and threats
Never gets in your way with annoying popups or confusing alerts
Permanently removes any stubborn infection
Invisible real-time protection uses less memory and CPU resources
Gamers and power users rejoice-you no longer have to disable your protection!
No-compromise intelligent design for absolute security and quick system response