System Shield™
Shield Your PC from Viruses and Dangerous Spyware™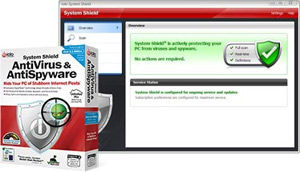 Protects against viruses and threats
Permanently removes infections
Provides invisible real-time protection
Whole Home License® for use on all your home PCs
Overview
Protects against viruses
Finds and removes stubborn and dangerous PC infections, and permanently protects your system from all future attacks.
Won't weigh down the system
Protects without unnecessary add-ons or background activities—and nearly zero resource consumption.
Neutralizes threats quietly
Uses revolutionary technology to ensure real-time threat protection without interruptions.
Permanently removes pests
Finds and exterminates computer pests and parasites, restoring system stability and freeing up resources.
Features

iolo AntiVirus™ to block viruses, malware, Trojans, rootkits, bots and all other dangerous programs and threats.
HyperScan™ Technology provides an invisible suit of armor for your PC that instantly nullifies external attacks in real-time.

iolo AntiSpyware™ to eradicate spyware, adware, keyloggers, and all other privacy-compromising and system-debilitating parasites.

Sentient Technology™ uses exclusive artificial intelligence heuristics to preemptively recognize malicious behavior and neutralize rogue or mutated programs and other yet-unclassified threats.
Why System Shield

Desktop/Server Anti-virus Detection Certified

Checkmark-certified for real world reliability

100% malware detection of In the Wild viruses

Designed for speed with near-zero resource usage
16 years of PC performance innovation
For use on All your home PCs

For Windows® 8, 7, Vista and XP

30 day money- back guarantee
Free product support

iolo AntiVirus
The powerful iolo AntiVirus engine detects, blocks, and removes computer viruses, rootkits, worms, bots, and all other malicious infections. With active protection, integrated email scanning, and hourly updates, your computer is effectively shielded from danger.

iolo AntiSpyware
Spyware silently installs itself on your PC, and then begins collecting and sending your personal and financial information back to its source. Your passwords, shopping habits, and even credit card or banking details can be compromised, resulting in identity theft, credit card fraud, and worse. In addition, spyware commonly causes system conflicts and errors, and wastes valuable memory, leading to overall sluggish performance, freeze-ups, crashes, and even data loss. Eliminate annoying, stubborn, and offensive pop-up windows and other unwanted ad content, tracking mechanisms that monitor Internet browsing, backdoors that enable covert control, keyloggers that record keyboard and mouse activity, and more.
HyperScan Technology
Performance-tuned through collaboration between System Shield engineers and rigorous velocity testing by iolo Labs researchers, HyperScan Technology is at the core of the revolutionary System Shield engine. It ensures and sustains peak PC performance, while at the same time represents the next generation of comprehensive threat protection.

Sentient Technology
Often the most dangerous and aggressive attacks use approaches that make them extremely difficult to identify through "signature-based" recognition techniques. Ultra-destructive bots, worms, Trojans, and other parasites can collaborate, morph, and disguise themselves in an attempt to outsmart known antivirus protection techniques. In these circumstances, standard security software is left defenseless as malicious programs slip through undetected because they don't match anything in a virus definition database. To combat these fast-emerging and more cunning techniques, System Shield uses Sentient Technology, an exclusive Artificial-Intelligence heuristics engine that actively observes, learns, and adapts to unclassified malicious attacks based on behavioral analysis. With Sentient Technology, your PC stays safe from harm and infection, regardless of how threats mutate or attempt to outsmart its defenses.