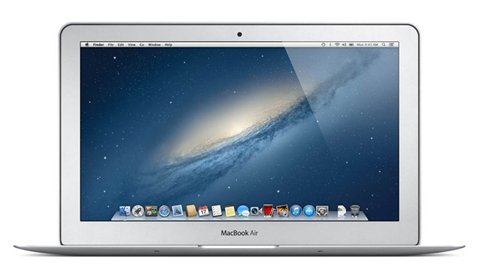 Apple MacBook Air MD711LL/A 11.6in. Laptop (Newest Version)

All the Power You Want. All Day Long.

The new MacBook Air is thin, light, and durable enough to take everywhere you go - and powerful enough to do everything once you get there. A fourth-generation Intel Core processor and Intel HD Graphics 5000 deliver high performance, while using less power. So you get remarkable battery life: up to nine hours on this 11.6in. model. And with up to 45% faster flash storage compared to the previous generation and new 802.11ac Wi-Fi for up to three times faster wireless, the new MacBook Air is quicker and more responsive than ever.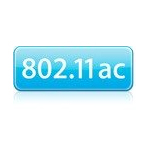 The MacBook Air also includes both a high-speed Thunderbolt port and two USB 3.0 ports, enabling you to easily connect to external displays and a wide variety of high performance peripherals.

This version of the MacBook Air (model MD711LL/A) sports an 11.6in. high-resolution display, 1.3GHz Intel Core i5 dual-core processor (with a Turbo Boost of up to 2.6GHz), 128GB of flash memory storage, and 4GB of RAM (see full specifications below). It also comes with the iLife software suite, which includes the latest versions of iPhoto, iMovie, and GarageBand.
---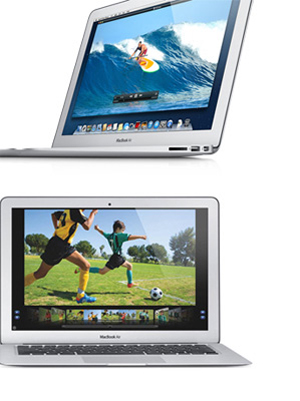 Key Features
Up to Nine Hours of Battery Life
Power through your whole work day with the 11in. MacBook Air, which delivers up to nine hours of battery life - more time power for word processing, presentations, email, and more. The increase is due to a larger battery (thanks to the compact all-flash storage in the MacBook Air) and the new power-efficient Intel Core processor architecture. Put the MacBook Air to sleep for more than three hours, and it enters standby mode to conserve battery life for up to 30 days.
802.11ac: The New Definition of Fast
The MacBook Air now supports ultrafast 802.11ac Wi-Fi. When connected to an 802.11ac base station - including the new AirPort Extreme and AirPort Time Capsule - wireless performance is up to three times faster than with the previous generation of MacBook Air. And your Wi-Fi range improves as well.
---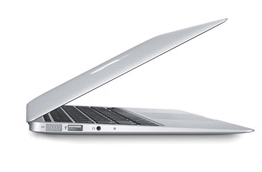 Flash Memory Storage
By replacing the standard spinning hard drive typically found in laptops (as well as desktop PCs) with flash memory, the MacBook Air delivers an almost instantaneous boot-up when you open the display, as well as faster application launches and snappier overall performance. Additionally, Apple has shed the enclosure that typically surrounds flash memory (usually about the same size as a standard hard drive), thus giving it a smaller footprint and helping to decrease the size of the MacBook Air.
---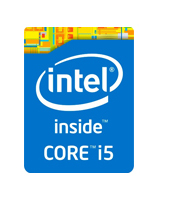 Fourth-Generation Intel Core i5 Dual-Core Processing
The ultra-efficient architecture of the fourth-generation Intel Core i5 processor was designed to use less power and still deliver high performance. It has a 1.3GHz speed, which can dynamically accelerate up to 2.6GHz to match your workload thanks to updated Intel Turbo Boost Technology.
And with the Intel HD Graphics 5000 processor, you get up to 40% faster graphics - performance you'll especially notice with games and other graphics-intensive tasks.
---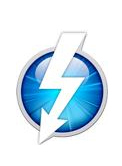 Revolutionary Thunderbolt Technology
Developed by Intel with collaboration from Apple, high-speed Thunderbolt I/O (input/output) technology delivers an amazing 10Gbps of transfer speeds in both directions. Built into the MacBook Air, the Thunderbolt port allows you to connect to new Thunderbolt-compatible peripherals as well as existing USB and FireWire peripherals using simple adapters. You'll be able to move data up to 20 times faster than with USB 2.0 and more than 12 times faster than with FireWire 800, and you can daisy-chain up to six high-speed devices without using a hub. Thunderbolt also supports DisplayPort for high resolution displays and works with existing adapters for HDMI, DVI, and VGA displays.
---

USB 3.0

With USB 3.0 built into the MacBook Air, you can connect your external hard drive and transfer large files in seconds instead of minutes. Every MacBook Air comes with two USB 3,0 ports - with speeds up to 10 times faster than USB 2.0 - and you can connect all your USB-compatible devices, including your iPhone, iPad, iPod, or digital camera.
---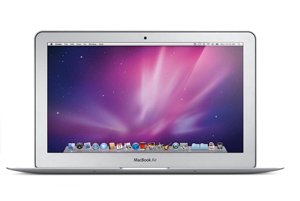 Integrated HD FaceTime Webcam
You'll be able to easily connect with friends, family, and business colleagues using the MacBook Air's HD 720p FaceTime camera, which is integrated into the thin bezel above the display and features three times the resolution of the previous FaceTime camera. And with Apple's FaceTime application, you're not limited to video chats with other Macs - you can now make video calls to iPhone and iPod touch users.
---
Specifications
Display
11.6in. (diagonal) LED-backlit glossy widescreen display with support for millions of colors
Processor
1.3GHz Dual-core Intel Core i5 (Turbo Boost up to 2.6GHz) with 3MB shared L3 cache
Storage
128GB flash storage
Memory
4GB of 1600MHz LPDDR3 memory (maximum of 8GB)
Graphics
Intel HD Graphics 5000 internal graphics processor with 512MB of GDDR5 memory
Video
Thunderbolt digital video output (native Mini DisplayPort output); compatible with DVI, VGA, and dual-link DVI output using optional adapters; HDMI audio and video output using third-party Mini DisplayPort to HDMI Adapter (sold separately)
Audio
Stereo speakers; dual microphones; headphone port; support for Apple iPhone headset with microphone
Connections

One Thunderbolt port (up to 10Gbps)
Two USB 3.0 ports (up to 5Gbps)
MagSafe 2 power port

Communications
802.11ac Wi-Fi wireless networking (802.11a/b/g/n compatible); Bluetooth 4.0
Camera
HD 720p FaceTime camera
Size and Weight
11.8in. x 7.56in. x 0.68in.; 2.38lbs
OS X Mountain Lion
Mac App Store, Safari, Mail, Messages, Calendar, Contacts, Reminders, Notes, Time Machine, FaceTime, Photo Booth, Game Center, iTunes, and more
Apple iLife suite
iPhoto, iMovie, and GarageBand
At the heart of every MacBook Air - and every Mac - is OS X Mountain Lion, the world's most advanced desktop operating system. Since the software built into every Mac is created by the same company that makes the Mac, you get a fully integrated system in which everything works together perfectly. OS X works with the processor in your Mac to deliver the best possible performance. Power Nap even takes advantage of the Mac hardware to keep the entire system up to date while it sleeps.
---
iLife helps you do more with photos, movies, and music than you ever thought possible. In iPhoto, you can browse, edit, and share your photos in stunning new full-screen views. Create epic Hollywood-style movie trailers from your home video in iMovie. And GarageBand gives you everything you need to make a great-sounding song - including tools for keeping your song in perfect rhythm and guitar and piano lessons.
---
What's in the Box

11.6in. MacBook Air, 45W MagSafe 2 power adapter, AC wall plug, power cord, printed and electronic documentation

Limited Warranty And Service

The MacBook Air comes with 90 days of free telephone support and a one-year limited warranty, which can be extended to three years with the AppleCare Protection Plan.

AppleCare Protection Plan

Because Apple makes the hardware, the operating system, and many applications, the Mac is a truly integrated system. And only the AppleCare Protection Plan gives you one-stop service and support from Apple experts, so most issues can be resolved in a single call. Extend the complimentary service and support on your Mac to three years from the original Mac purchase date with the AppleCare Protection Plan. You get direct telephone access to Apple experts for technical questions, and you get global repair coverage - including both parts and labor - for your Mac and select Apple peripherals.