Apple MacBook Pro ME293LL/A 15.4in. Laptop with Retina Display
The 15.4in. MacBook Pro with Retina Display from Apple is a powerful notebook computer with an innovative, ultrathin, ultraportable aluminum unibody design. It is loaded with advanced power management features and an integrated lithium polymer battery, which work together to provide up to eight hours of wireless web browsing.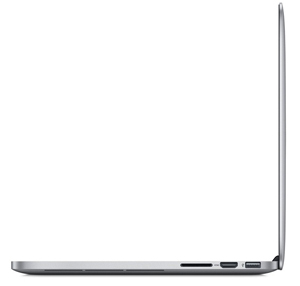 2.0GHz Intel Core i7 (Crystalwell)
8GB of Onboard 1600MHz DDR3L RAM
256GB PCIe-Based Flash Storage
Integrated Intel Iris Pro Graphics
15.4in. LED-Backlit IPS Retina Display
2880 x 1800 Native Resolution
802.11ac Wi-Fi, Bluetooth 4.0
Thunderbolt 2, USB 3.0, HDMI
FaceTime HD Camera, Dual Mics
Mac OS X Mavericks
This version of the 15.4in. MacBook Pro with Retina display (model ME293LL/A) features a 2.0 GHz Core i7 quad-core processor, 256GB of flash storage, and 8GB of onboard RAM.
It's powered by OS X Mavericks, the world's most advanced operating system and built to bring out the best in your Mac. And the MacBook Pro comes pre-loaded with the latest version of the iLife software suite (iPhoto, iMovie, and GarageBand) as well as the iWork productivity suite (Pages, Numbers, and Keynote).
The MacBook Pro also includes both a high-speed Thunderbolt port and two USB 3.0 ports, enabling you to easily connect to external displays and a wide variety of high performance peripherals. With up to 60% faster PCIe-based flash storage compared to the previous generation and new 802.11ac Wi-Fi for up to 3X faster wireless, the new MacBook Pro is quicker and more responsive than ever. You'll also get up to eight hours of battery life while on the go.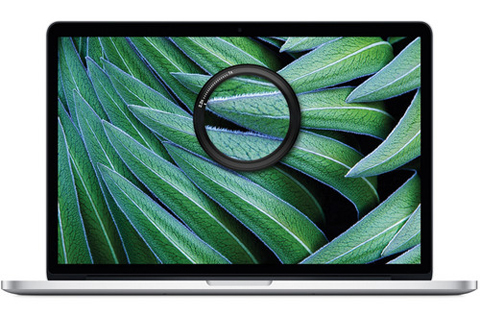 Features
Retina Display
The 15.4in. display of this MacBook Pro features over five million pixels. The pixel density is so high your eyes won't be able to discern individual pixels. Now with a 2880 x 1800 native resolution, you can see more of your high-resolution images onscreen with pixel-for-pixel accuracy. The Retina display also reduces glare while maintaining incredible color and quality. In fact, it has a 29% higher contrast ratio than a standard MacBook Pro display. Deeper black levels and vibrant color, everything is rich and beautiful. IPS technology gives you a wide, 178-degree view of everything on the screen, so you'll see the difference at practically any angle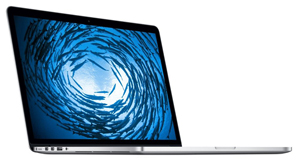 Fourth-Generation Intel Core Processor
Since OS X is designed to take advantage of each core, the fourth-generation Intel Core i5 dual-core processor (based on the latest Haswell architecture) captures every bit of performance from the processor. When you need more power for a processor-intensive application like Aperture or Final Cut Pro, Turbo Boost 2.0 automatically increases the speed of the active cores. And by shifting core frequency in small increments, Turbo Boost allows the processor to manage performance without sacrificing efficiency.
This model features a 2.0GHz dual-core Intel Core i5 processor with Turbo Boost speeds up to 2.9GHz. It's complemented by Intel Iris integrated graphics, which can boost performance by up to 90% (over the previous generation MacBook Pro with Retina display) — so it can handle both everyday tasks and graphics-intensive creative apps.
All Flash Storage
This MacBook Pro feels incredibly fluid and responsive. It's all thanks to its PCIe-based flash storage, which gives you up to 60% faster read and write performance than its predecessor. When you use apps like Final Cut Pro or Aperture, you can perform even the most demanding tasks right from your internal storage. And since this MacBook Pro comes with 128GB of flash storage, you can keep all your important files with you, including large video and photo libraries. Flash doesn't have any moving parts, which makes it reliable and quiet. And flash storage is extremely energy efficient, which means your MacBook Pro also has the ability to stay in standby mode for up to a month without having to be plugged in .

802.11ac: The New Definition of Fast
The MacBook Pro now supports ultrafast 802.11ac Wi-Fi. When connected to an 802.11ac base station — including the AirPort Extreme and AirPort Time Capsule — wireless performance is up to three times faster than with the previous generation of MacBook Pro. And your Wi-Fi range improves as well.
HDMI, USB 3.0, SDXC
The MacBook Pro with Retina Display also has dual USB 3.0 ports, an HDMI port and an SDXC card slot, you can build an entire professional studio with the MacBook Pro as its centerpiece.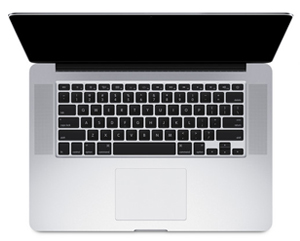 Thunderbolt and USB 3.0
Delivering an amazing 10Gbps of transfer speeds in both directions, the ultrafast and ultraflexible Thunderbolt port allows you to move data up to 20 times faster than with USB 2.0 and more than 12 times faster than with FireWire 800. You can also daisy-chain up to six Thunderbolt-compatible peripherals without using a hub. Thunderbolt also supports DisplayPort for high resolution displays and works with existing adapters for HDMI, DVI, and VGA displays.