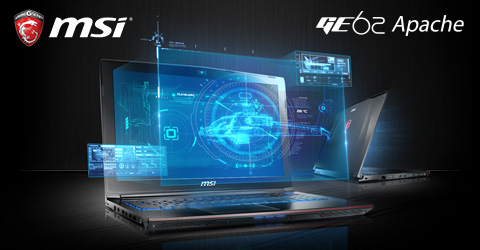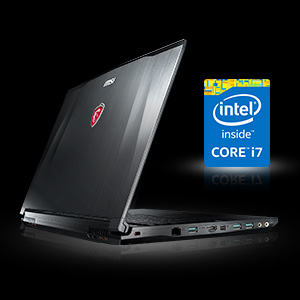 Made to Move, Ready for Battle
Refitted and rebuilt, the new GE62 Apache is a powerful and portable weapon in the hands of any gamer. A cutting-edge design, *46% improved battery life with the performance to back it up makes it a formidable machine and a force to be reckoned with.

*when compared with previous generation GE60 Apache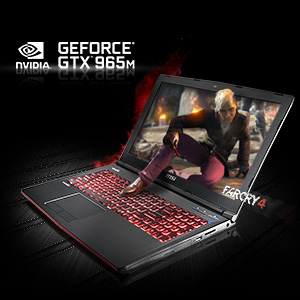 Advanced Desktop Gaming Performance Made Portable
The next-generation GeForce GTX 965M brings serious gaming performance to the notebook, driving impressive 1080p gameplay at ultra settings in sleek new designs.

• Get the power to play challenging games like Shadows of Mordor, Far Cry 4, and EVOLVE at ultra-settings at 1080p.

• Next-generation NVIDIA Maxwell™ architecture delivers advanced performance, power efficiency, and gaming features for truly unique ways to game.

• Enjoy an incredible 60% faster performance than the previous-generation GeForce GTX 860M.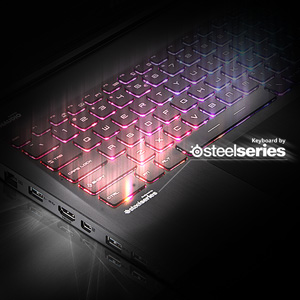 A Keyboard Built by the Pros for Gamers
Renowned for its legendary gaming peripherals, the gaming keyboard designed by SteelSeries has been integrated into the DNA of MSI's gaming laptops. Superb performance, accurate feedback and customizability gives gamers the edge in competitive play and the best gaming experience you can get on a notebook. Unlock the true potential of the keyboard with the SteelSeries Engine for limitless customization.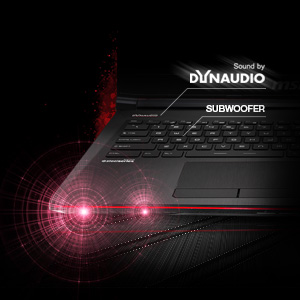 Unlike Anything You've Heard
Dynaudio sound technology brings your games to life with the perfect combination of HiFi speakers and a subwoofer for an incredible audio experience that is loud, clear and immersive.


Efficient Dual Fan Thermal Solution
Engage in constant battle without breaking a sweat with the super-efficient dual fan cooling design. Dedicated heat pipes for both graphics card and processor significantly reduces heat while maximizing dissipation maintains system stability and cool temperatures even after long sessions of gaming.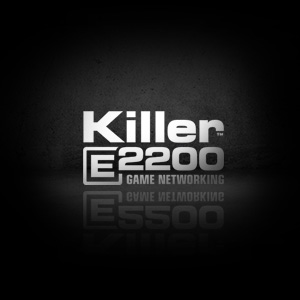 Killer Gaming LAN
The benefit of the Killer Gaming LAN is the "Advanced Game Detect™" technology, which recognizes online game data packs and processes them first, accelerating them in the process. The best weapon against stuttering characters, freeze-ups, and lagging, it vastly improves the entire online experience.


Streaming Made For Everyone
Designed to make the user experience exceptionally smooth with low resource usage, superior features, and intelligent UI, XSplit Gamecaster makes live streaming easier and more entertaining than ever.

*6 months free trial upon activation