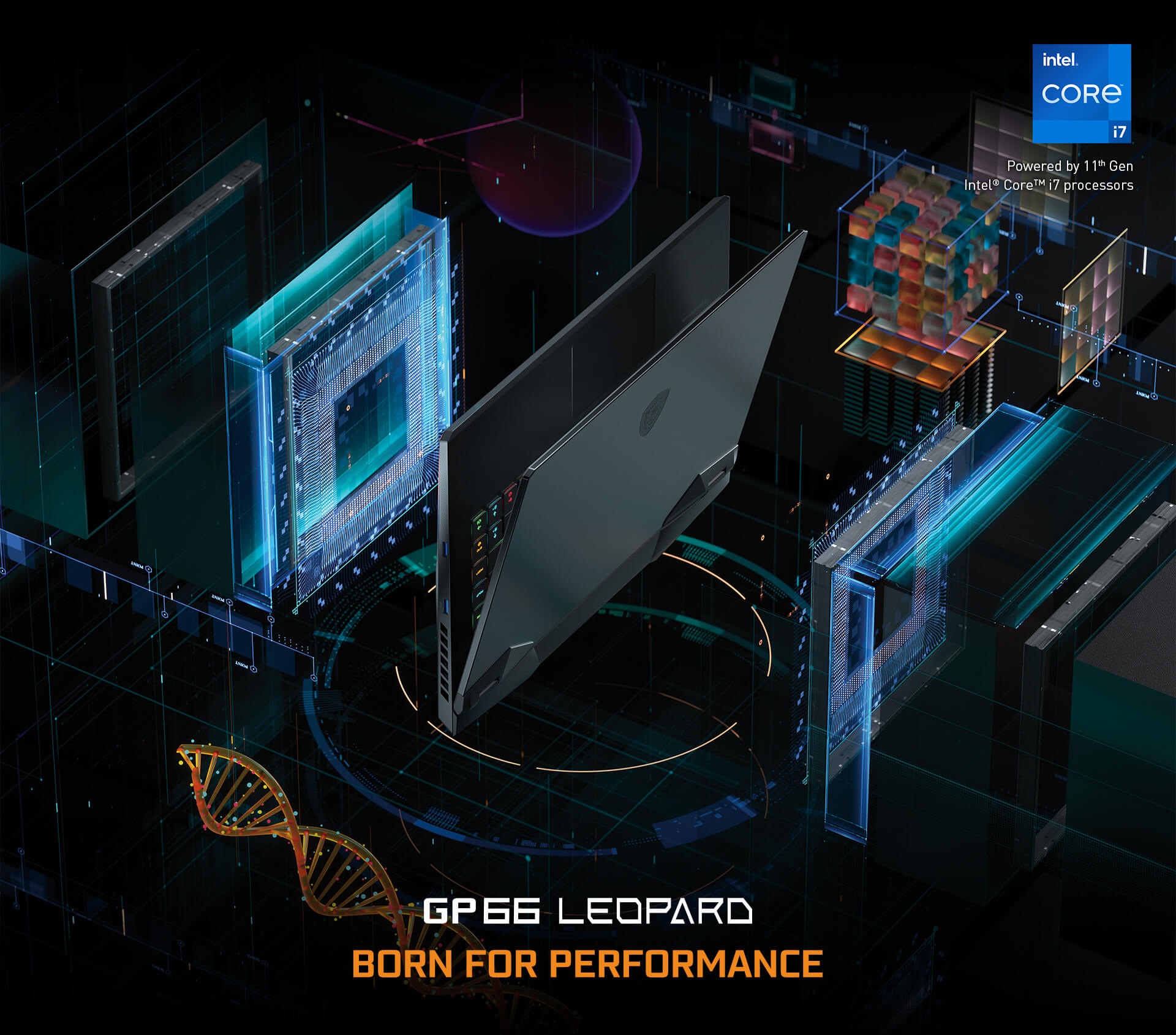 GP66 Leopard equipped with the latest 11th Gen. Intel Core i7 CPU processor and NVIDIA® GeForce RTX 30 series graphics that's especially tailored for engineering designers who need performance. Whether it's complex technical calculation, high-level engineering computations or complex design requirements, GP66 Leopard fulfills all demanding tasks.

POTENT PERFORMANCE TO GAME ON
Equips the latest 11th Gen. Intel Core i7 processor, it's up to 40% performance gains over the previous generation. Achieve greater power with this 8-core processor supporting up to 4.6GHz dual core turbo frequency to maximize efficiency in gameplay, multi-task work and productivity.
* Compared to previous gen i7-10750H. Specs varies by model.
Up to 40% Performance boost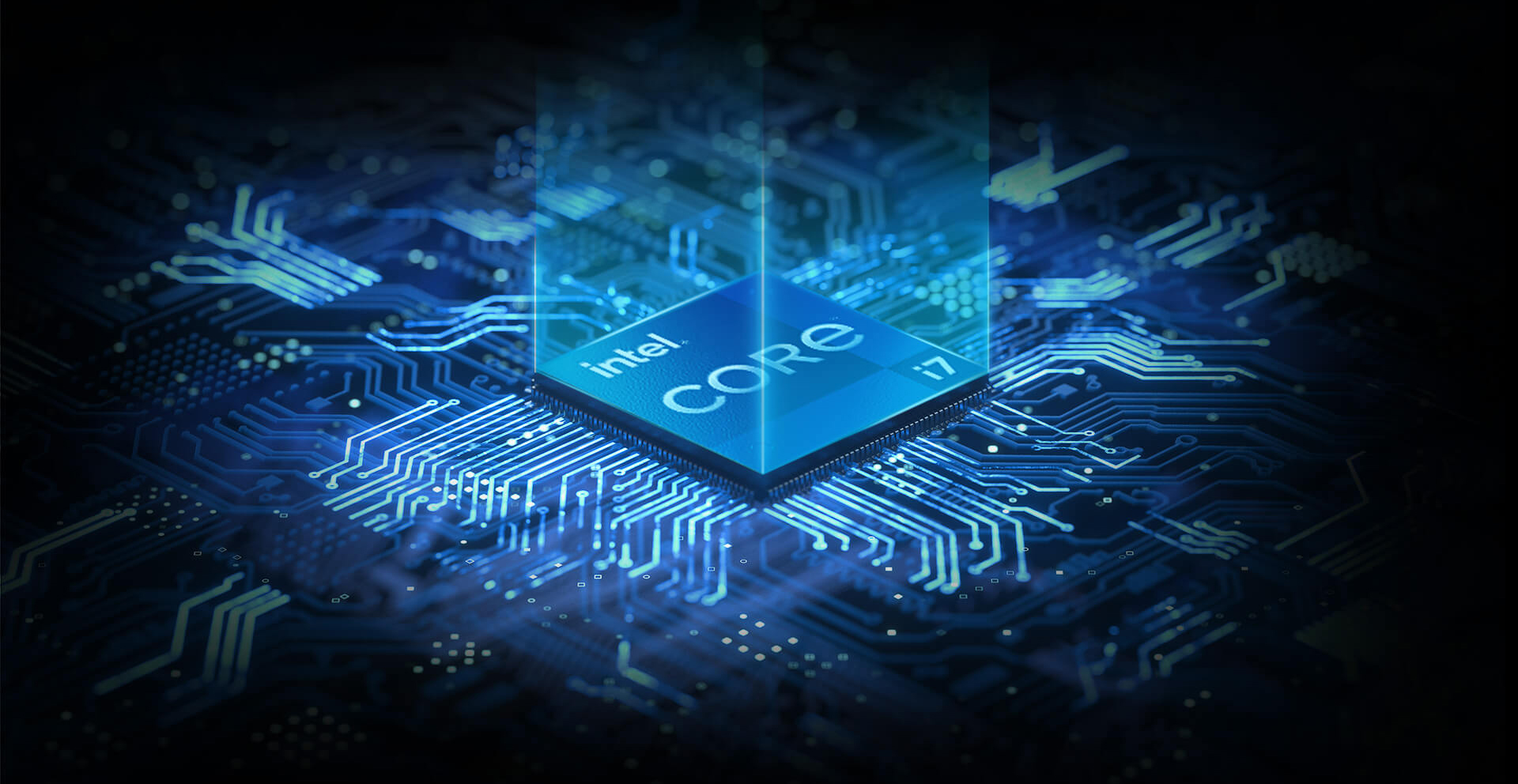 GEFORCE RTX 30 SERIES LAPTOPS, THE ULTIMATE PLAY EMPOWER THE FULL PERFORMANCE
GeForce RTX 30 Series GPUs deliver the ultimate performance for gamers and creators. They're powered by Ampere—NVIDIA's 2nd gen RTX architecture—with new RT Cores, Tensor Cores, and streaming multiprocessors for the most realistic ray-traced graphics and cutting-edge AI features.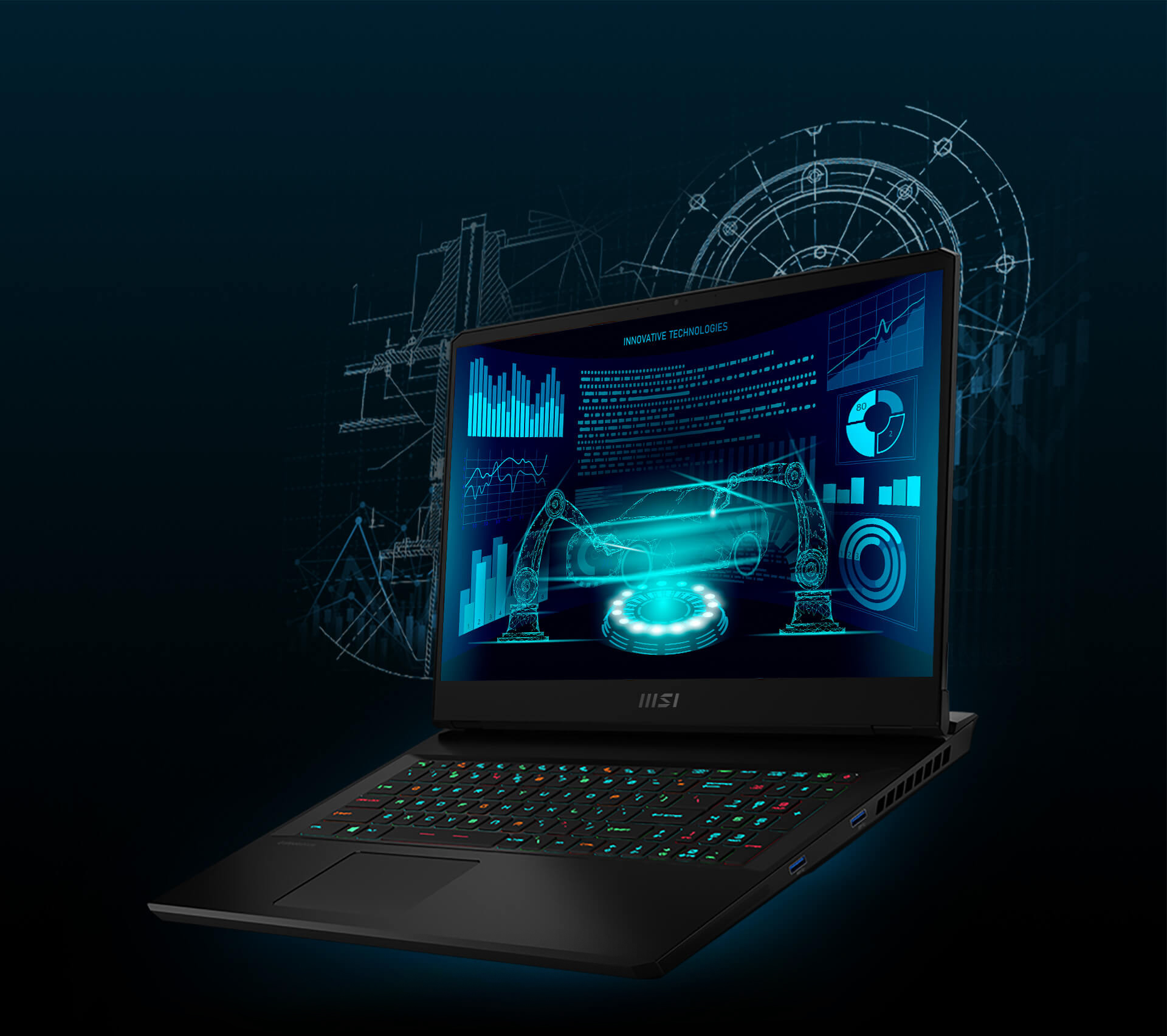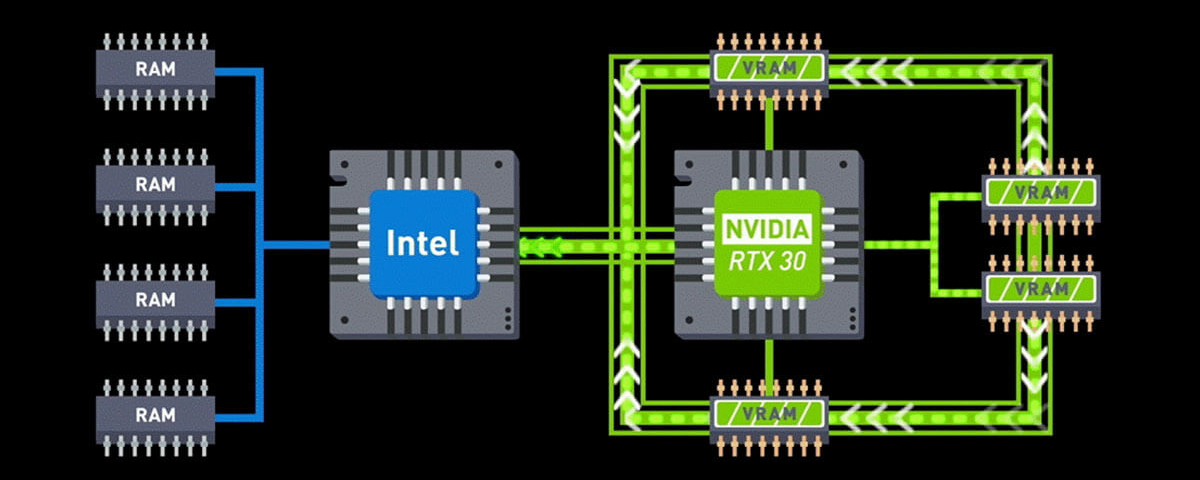 RESIZABLE BAR
Resizable BAR is an advanced PCI Express feature that enables the CPU to access the entire GPU frame buffer at once and improve performance.
* Function may differ due to version change. Please update the latest VBIOS/BIOS/Driver through MSI official website or consult service center.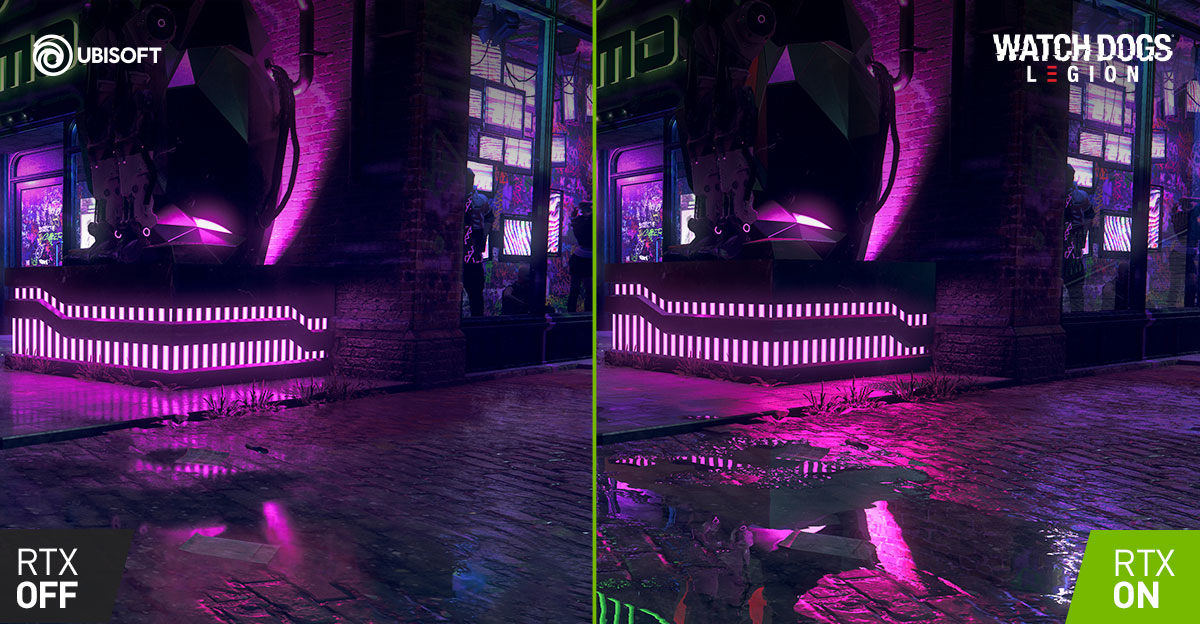 RAY TRACING
Ray tracing is the holy grail of gaming graphics, simulating the physical behavior of light to bring real-time, cinematic-quality rendering to even the most visually intense games.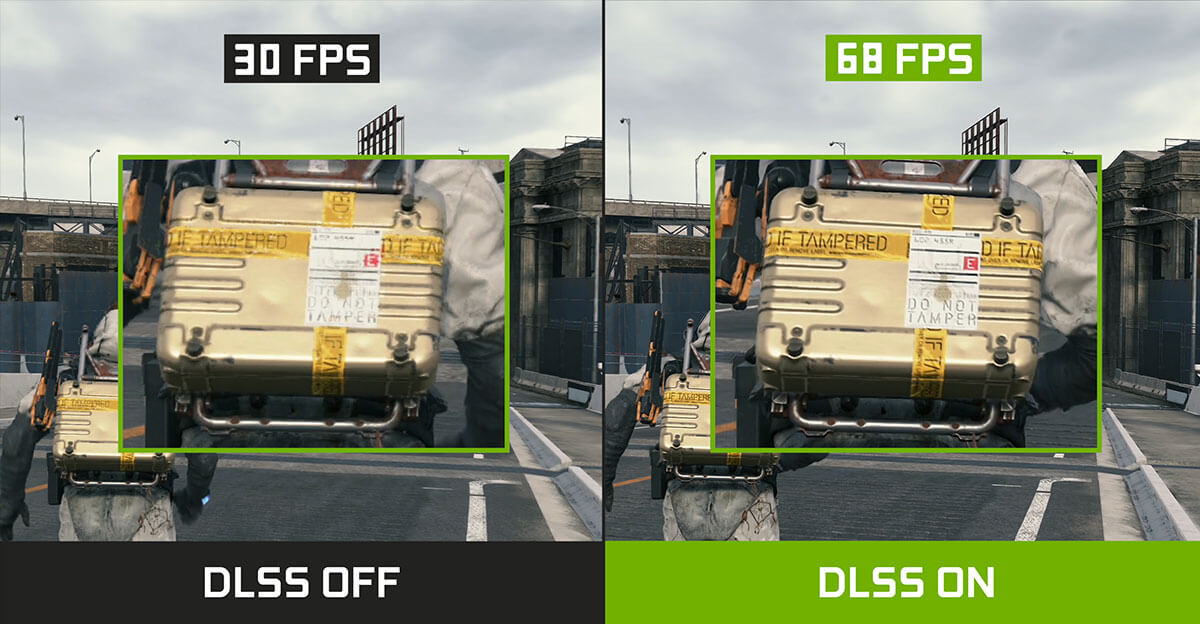 DLSS AI ACCELERATION
MAX FPS. MAX QUALITY. POWERED BY AI.
NVIDIA DLSS is groundbreaking AI rendering that boosts frame rates with uncompromised image quality using the dedicated AI processing Tensor Cores on GeForce RTX. This gives you the performance headroom to crank up settings and resolutions for an incredible visual experience. The AI revolution has arrived to gaming.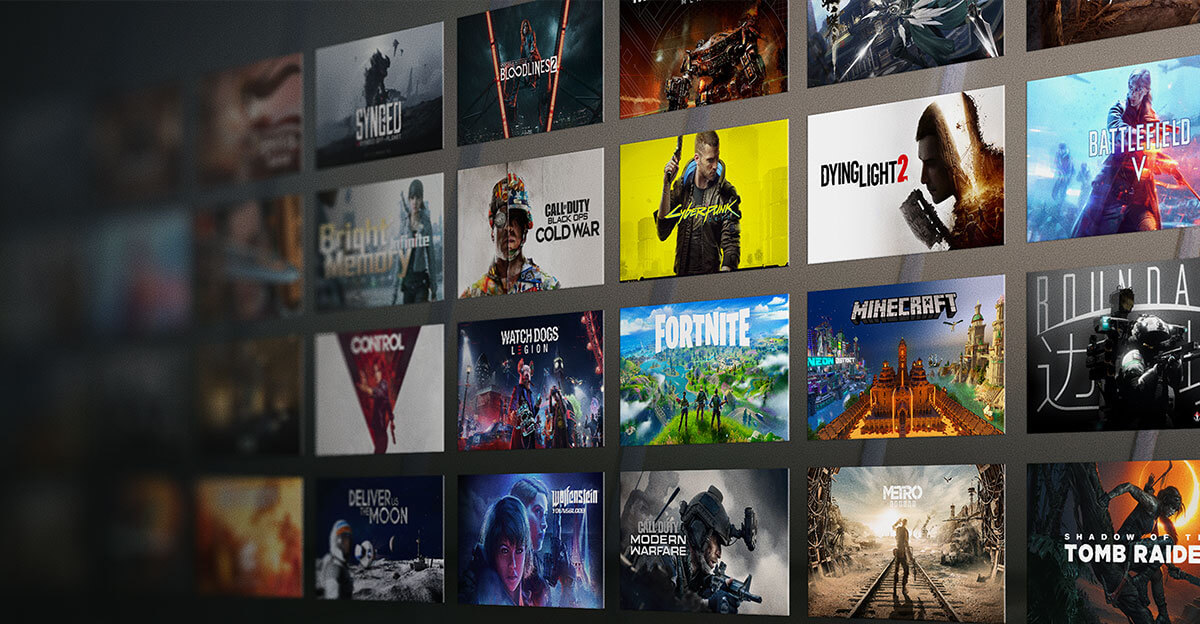 RTX. IT'S ON.
Experience today's biggest blockbusters like never before with the visual fidelity of real-time ray tracing and the ultimate performance of AI-powered DLSS. RTX. It's On.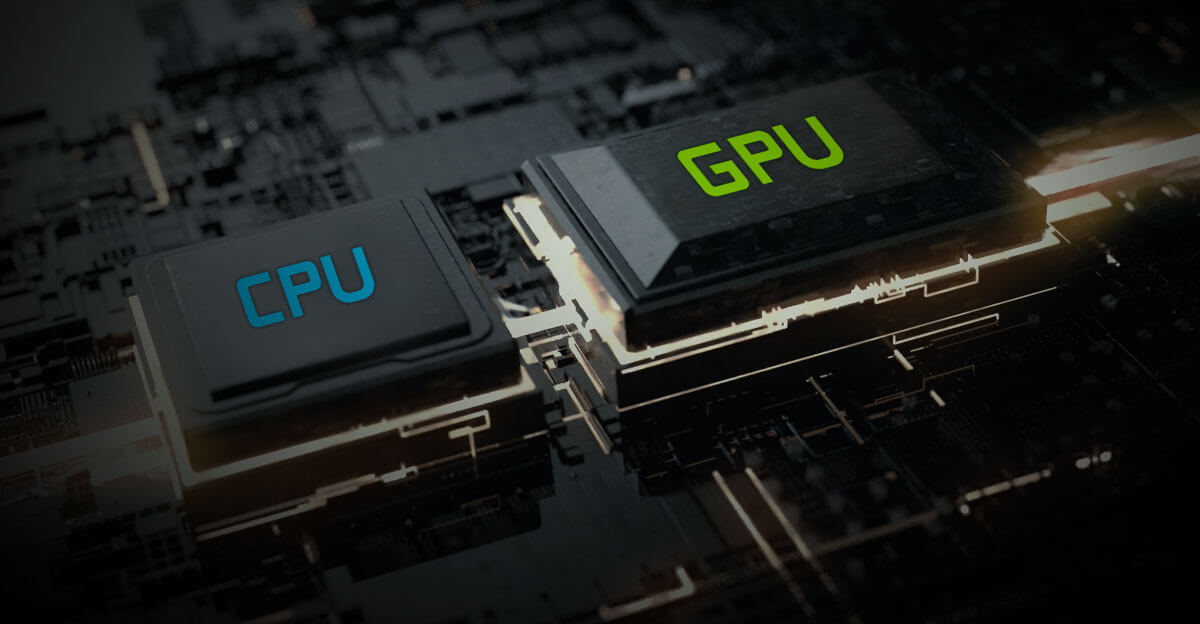 DYNAMIC BOOST 2.0
New AI-powered Dynamic Boost 2.0 automatically delivers the needed power between the GPU, GPU memory, and CPU for a larger performance boost than ever before. The AI networks in Dynamic Boost 2.0 manage power on a per-frame basis, so your laptop is constantly optimizing for maximum performance while you're gaming and creating.
DISCRETE GRAPHICS MODE & OVERCLOCK
SPARE NO PERFORMANCE
Select between "Discrete Graphics Mode" or "MSHybrid Graphics Mode" (NVIDIA Optimus), the switchable graphics technology offers powerful gaming performance and efficiency. Moreover, the graphic power can be further elevated through overclock option with adjustable GPU core clock and VRAM frequency via MSI Center within extreme mode.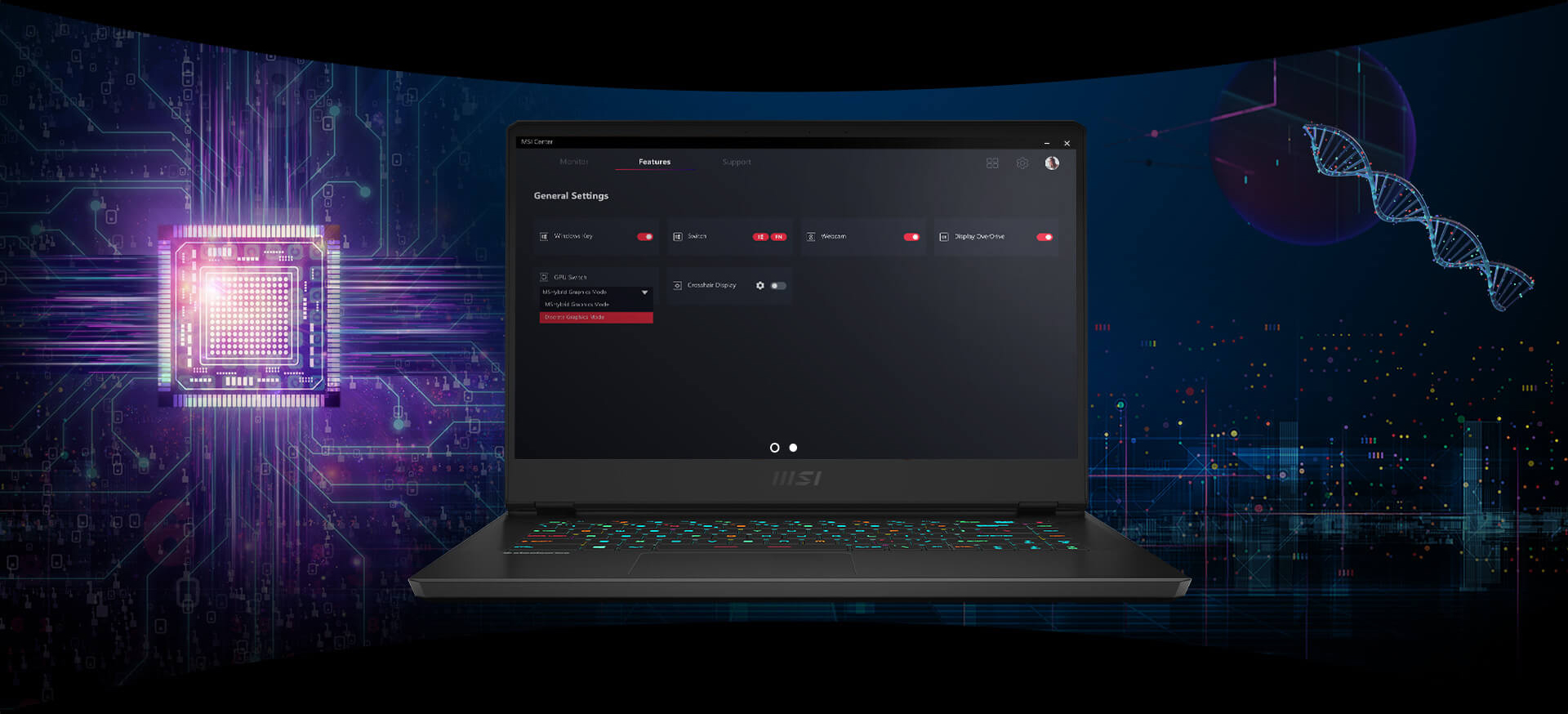 NEXT-GEN PCIE GEN4 LANES
ACCELERATE SYSTEM PERFORMANCE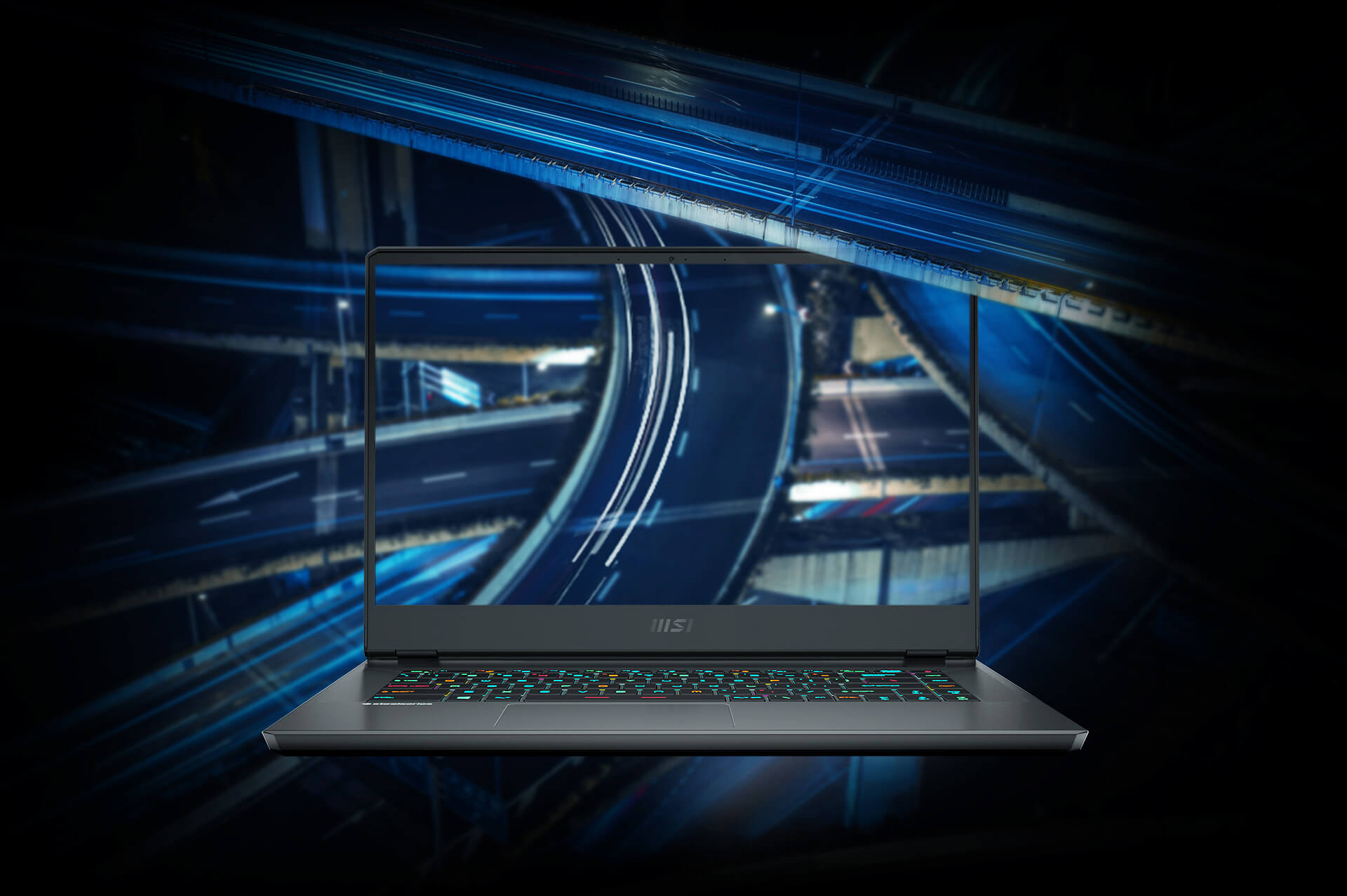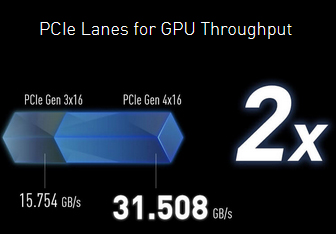 11th Gen. Intel mobile platform offers next-gen PCIe Gen4 x16 bandwidth, maximizing performance for GeForce RTX 30 series graphics for gaming, calculation, and AI data processing.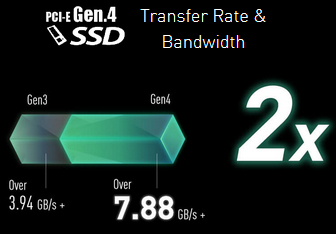 With the latest PCIe Gen4 x4 NVMe M.2 SSD, the reading speed goes beyond 5GB/s. This massively accelerates multimedia loading speed across varies programs and increases multitasking efficiency.
* Optional. Actual specification may vary by configurations.

Per-key RGB Gaming Keyboard By Steelseries
Tailor Your Keyboard
Customize each key to your liking and receive real-time in-game status through keyboard lighting, or even watch the lights dance to your favorite tune!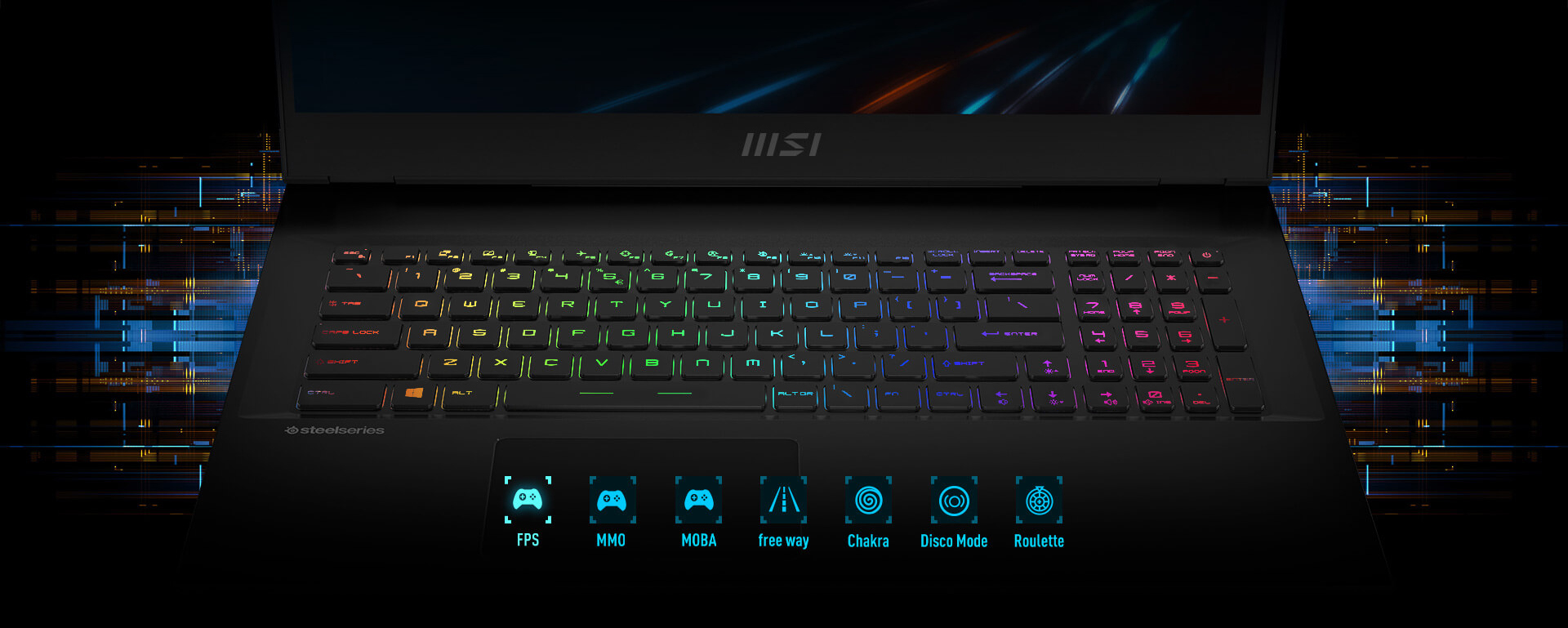 STAY COOL, STAY POWERFUL
Dedicated thermal solutions for both the CPU and GPU with up to 6 heat pipes, work harmoniously by minimizing the heat and maximizing the airflow for smooth gaming performance in a compact chassis.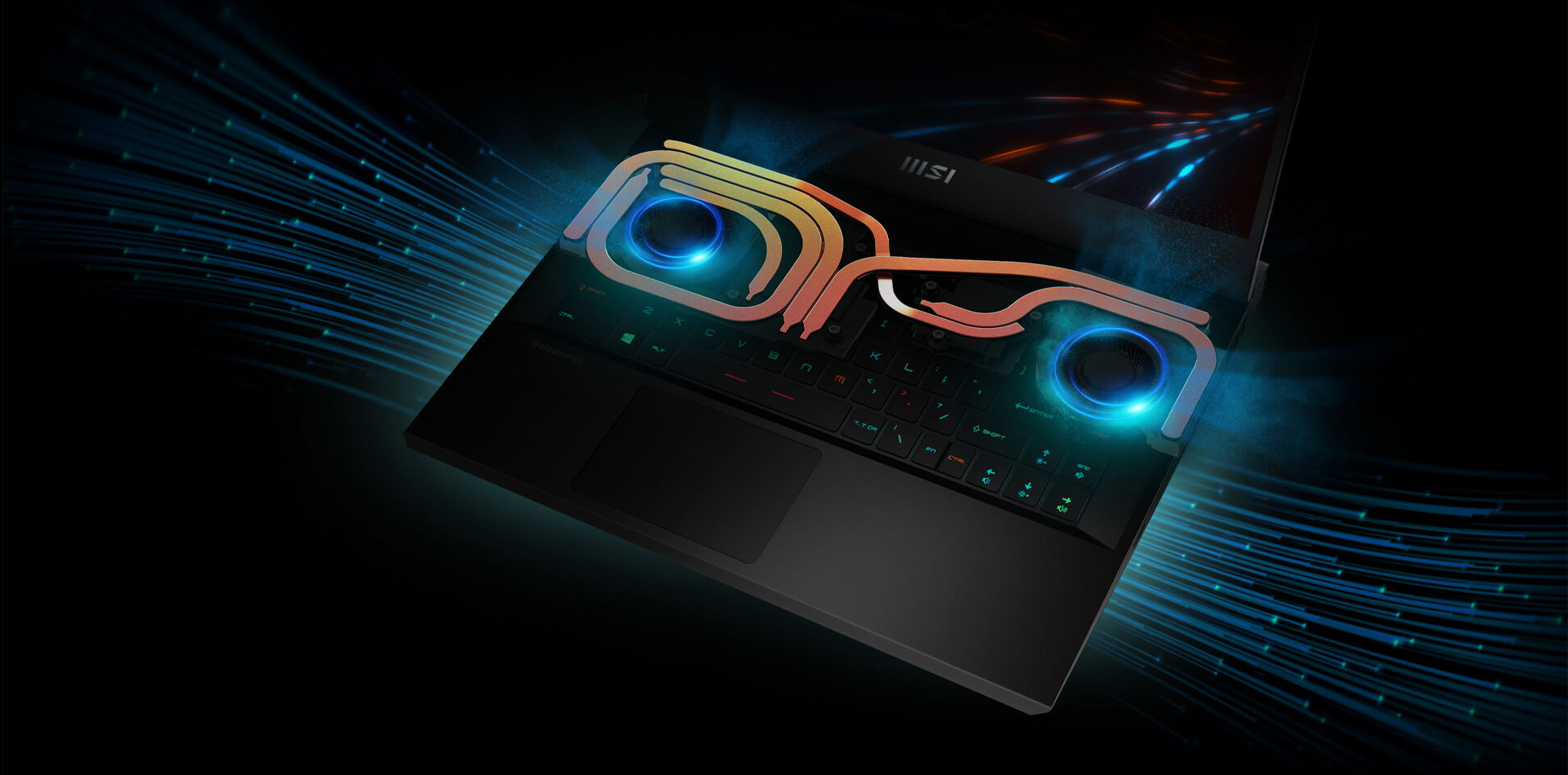 DDR4-3200 MEMORY
POWER THAT LEADS IN THE LATEST STANDARD
Get the mighty performance out of your laptop with support of the latest DDR4-3200 memory. Enjoy the faster system speed and responsiveness, the new standard will take your gaming experience to the next level.
* Dual channel performance test by AIDA64. Performance may vary by system setting and configuration.
** Optional. Actual specification may vary by configurations.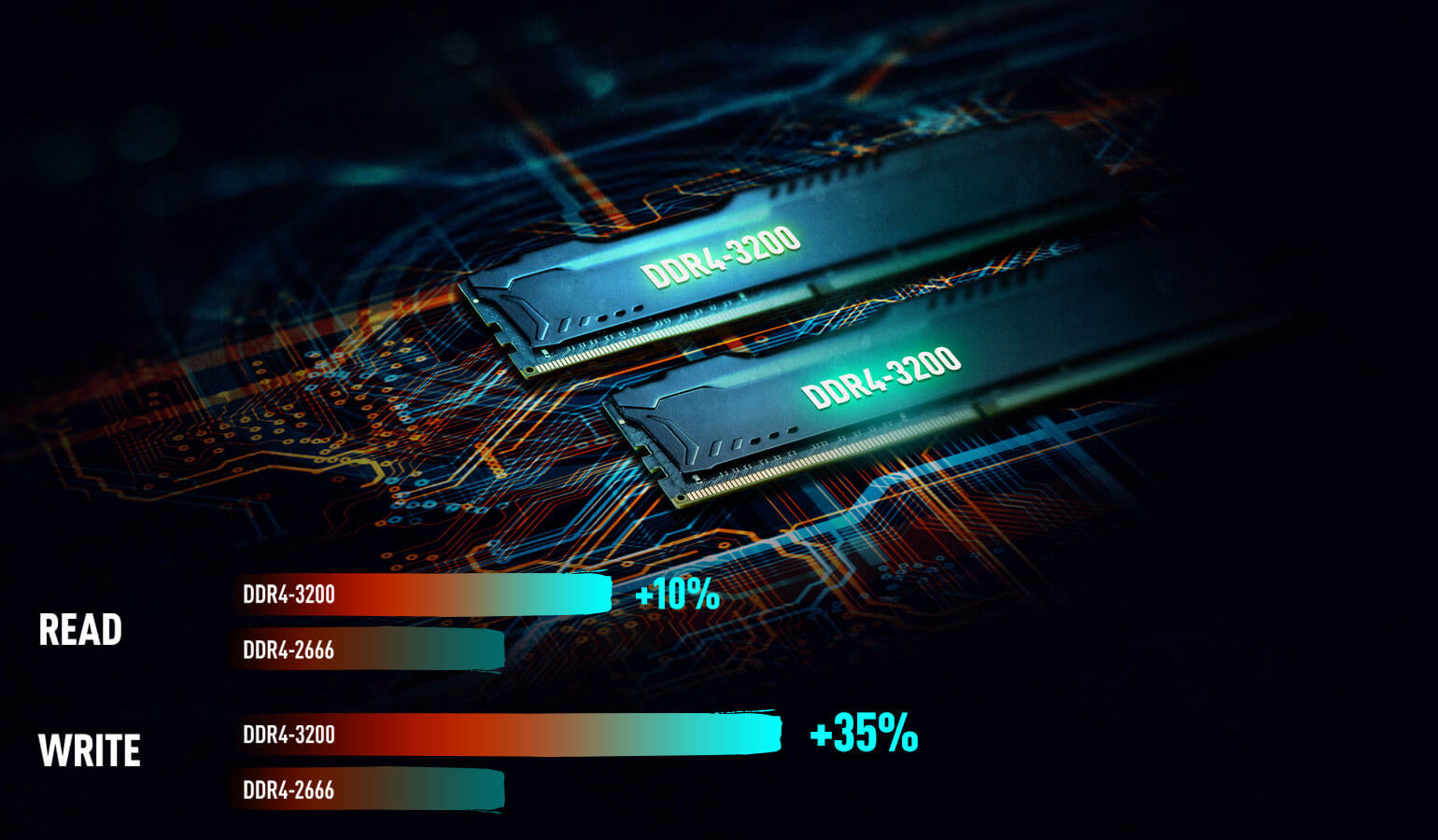 UNPRECEDENTED SPEED AND CLARITY
Enjoy every detail in games at 2560x1440 resolution and the blazing fast 165Hz refresh rate panel. It's time for a more vibrant visual experience.
* Optional. Actual specification may vary by configurations.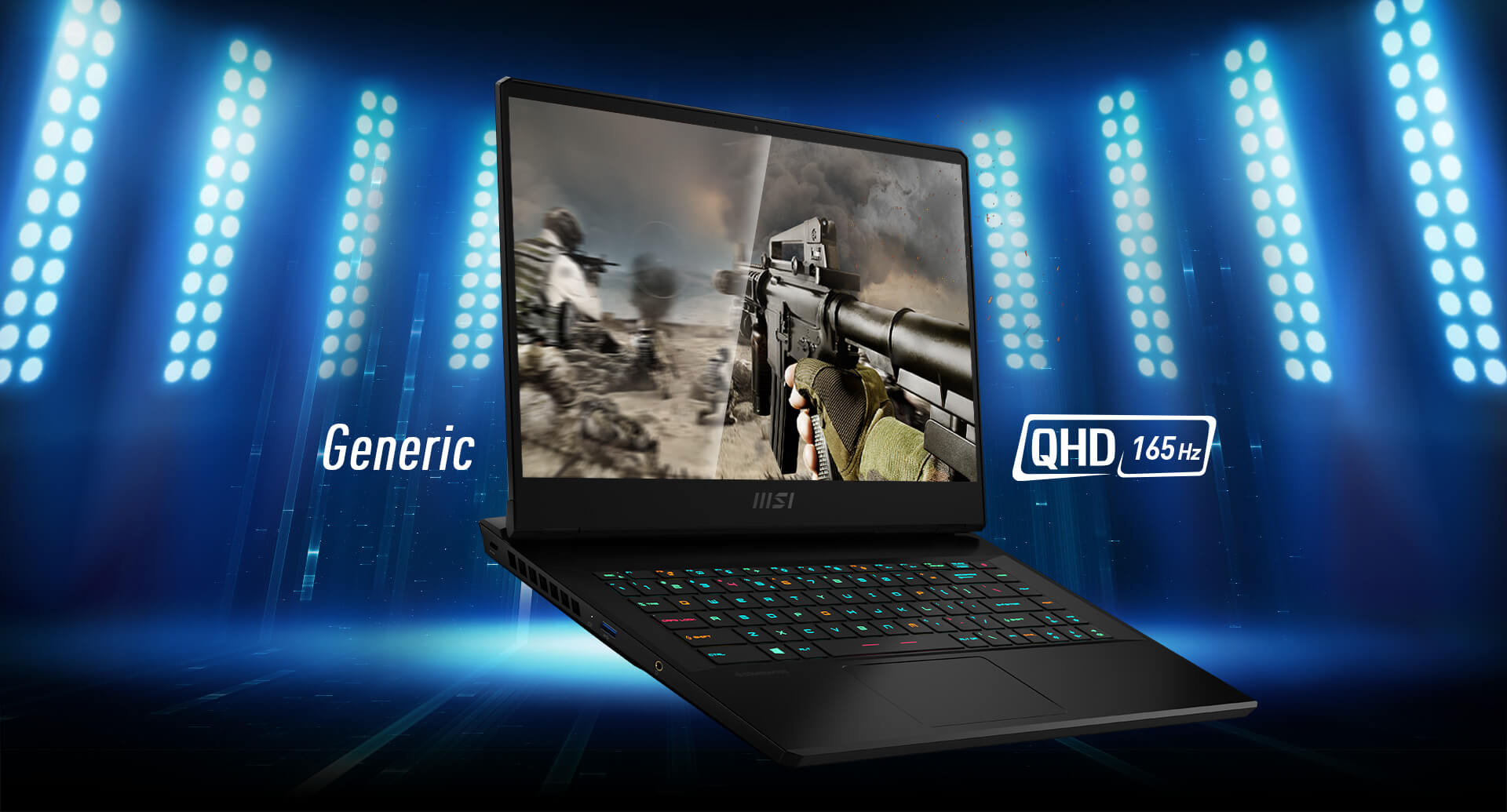 Multi-task with up to 3 Monitors
Expand your vision across multiple display with HDMI and mini DisplayPort, and enjoy up to 4K (3840 x 2160) resolution output for some extra productivity and fun.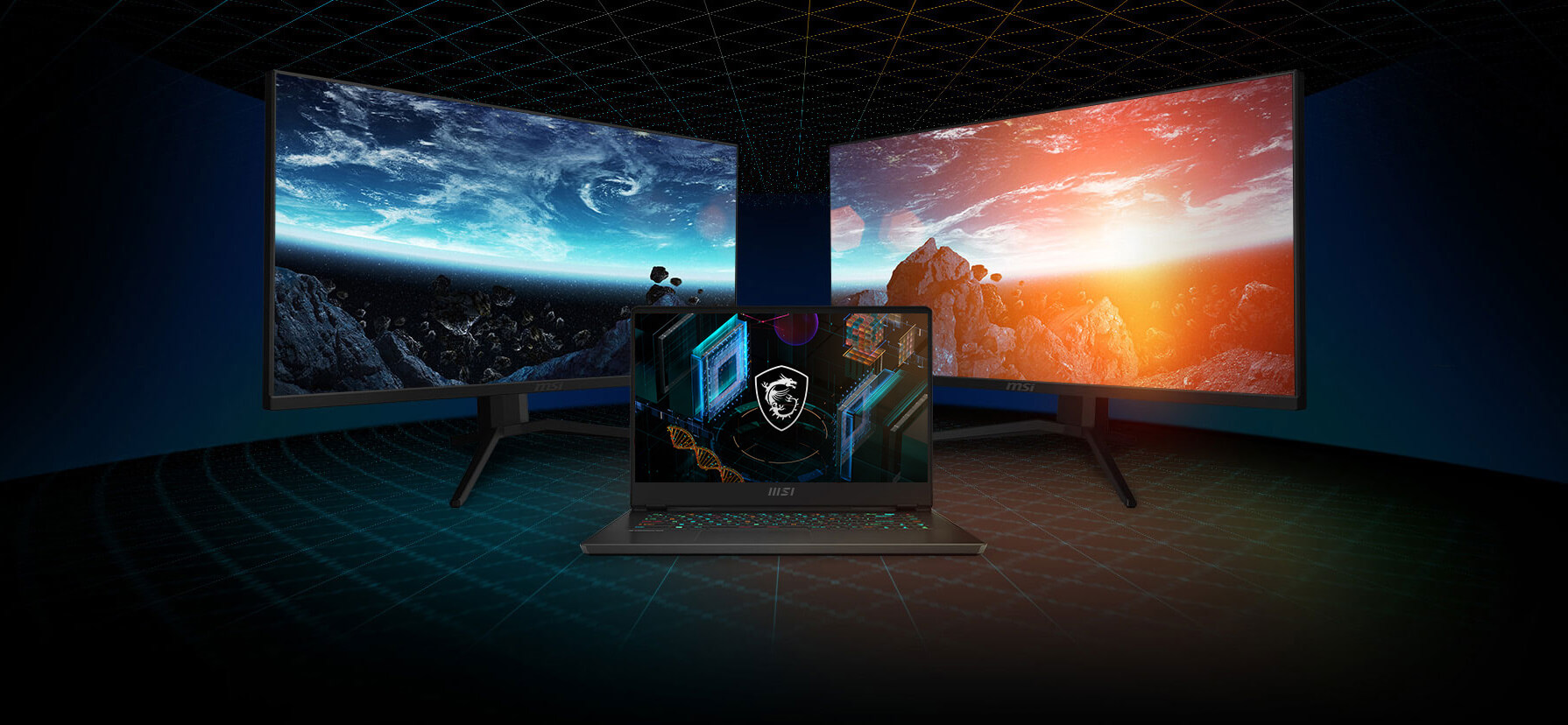 THE WAY MUSIC SHOULD BE
Immerse yourself in lossless music and enjoy the premium sound quality with Hi-Resolution Audio. Experience and listen to audio the way it was intended.


Elevate Your Audio
Experience and listen to audio the way it was intended and share it with Nahimic in-game 3D surround & Sound Sharing via Bluetooth.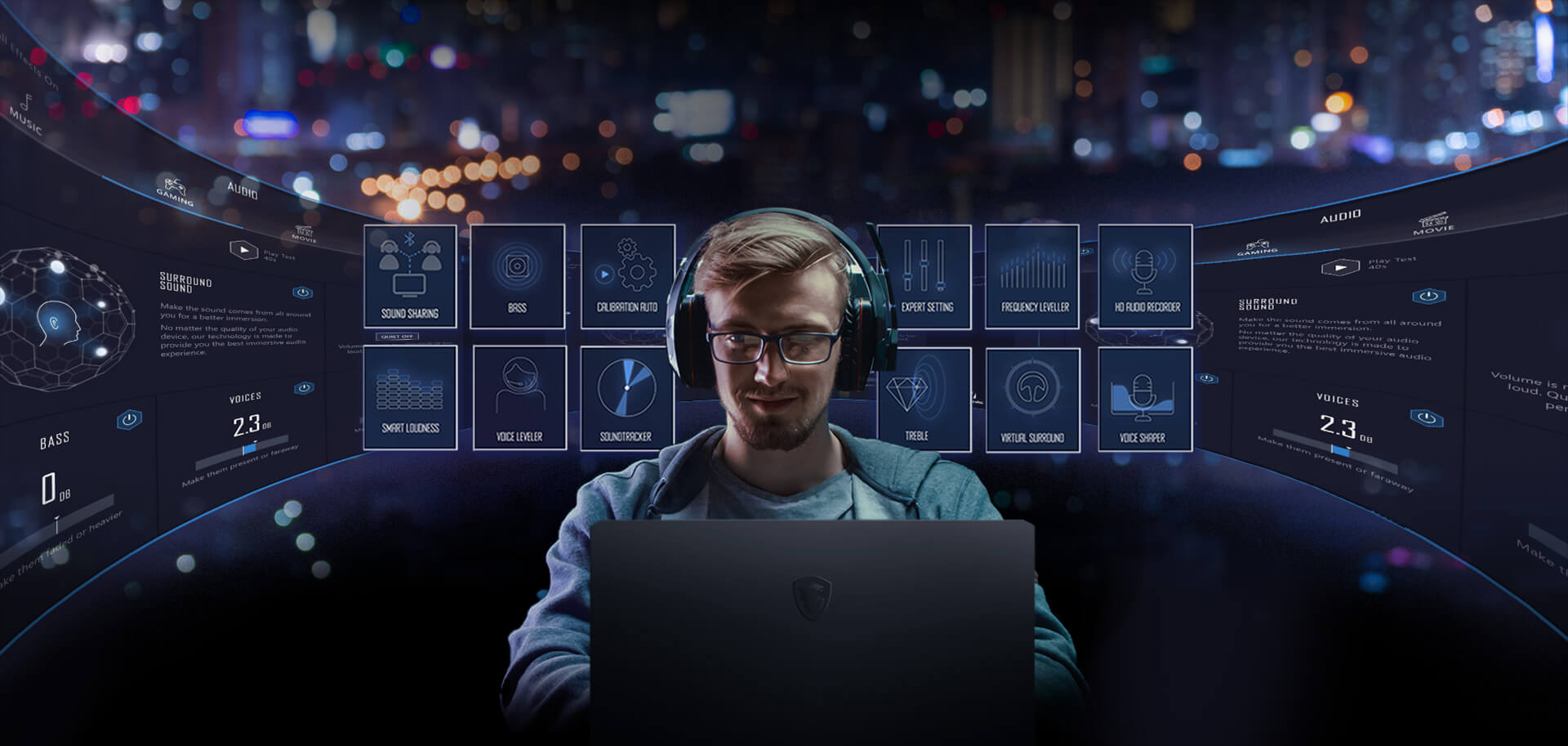 GET ALL THE BUFFS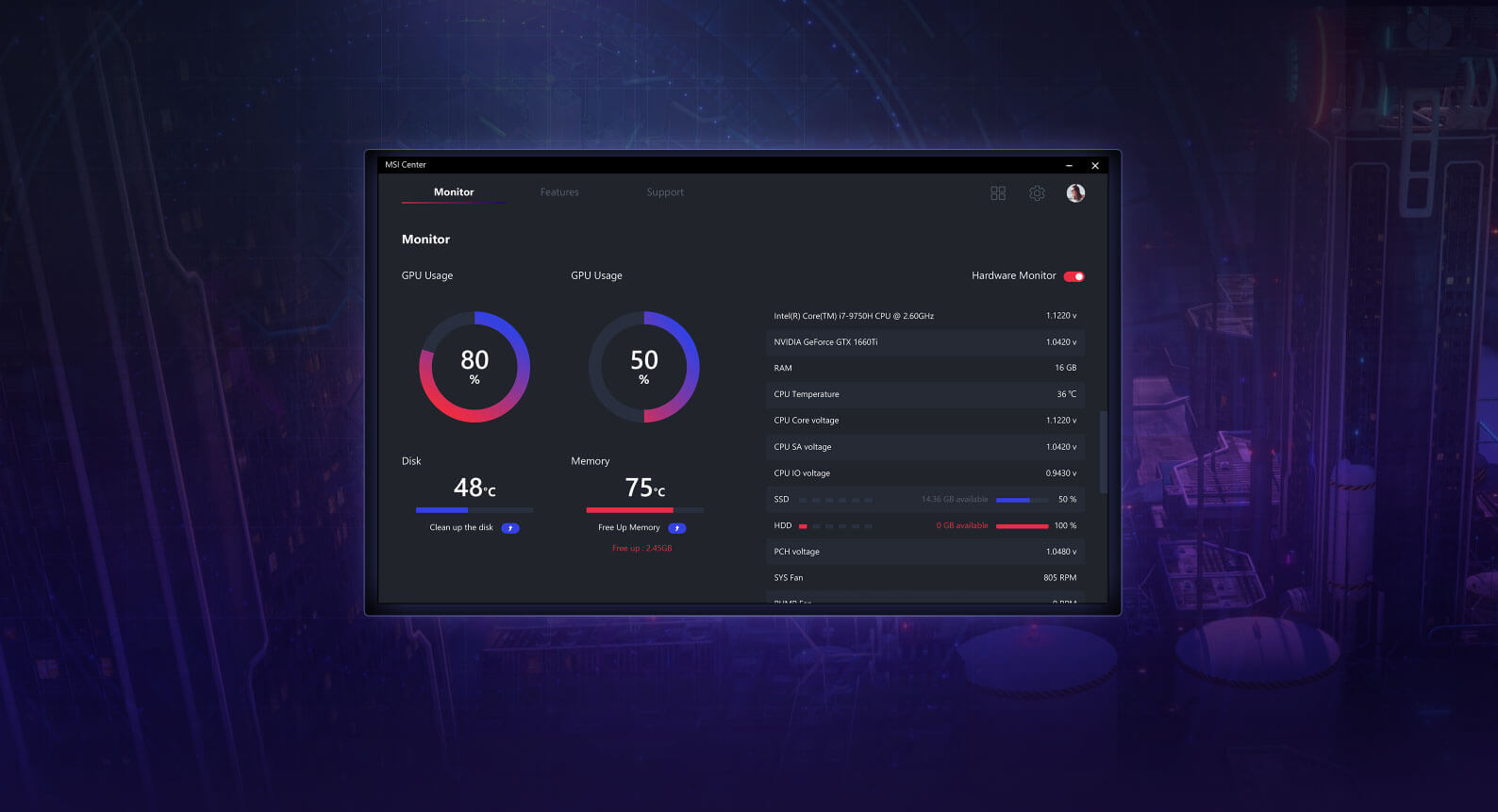 The exclusive MSI Center helps you control and customize your MSI laptop the way you want. Monitor, adjust, optimize and many useful features are built in one unified system. It offers maximum flexibility with new functions such as Smart Image Finder, UI Skin option and more to customize your personal preference.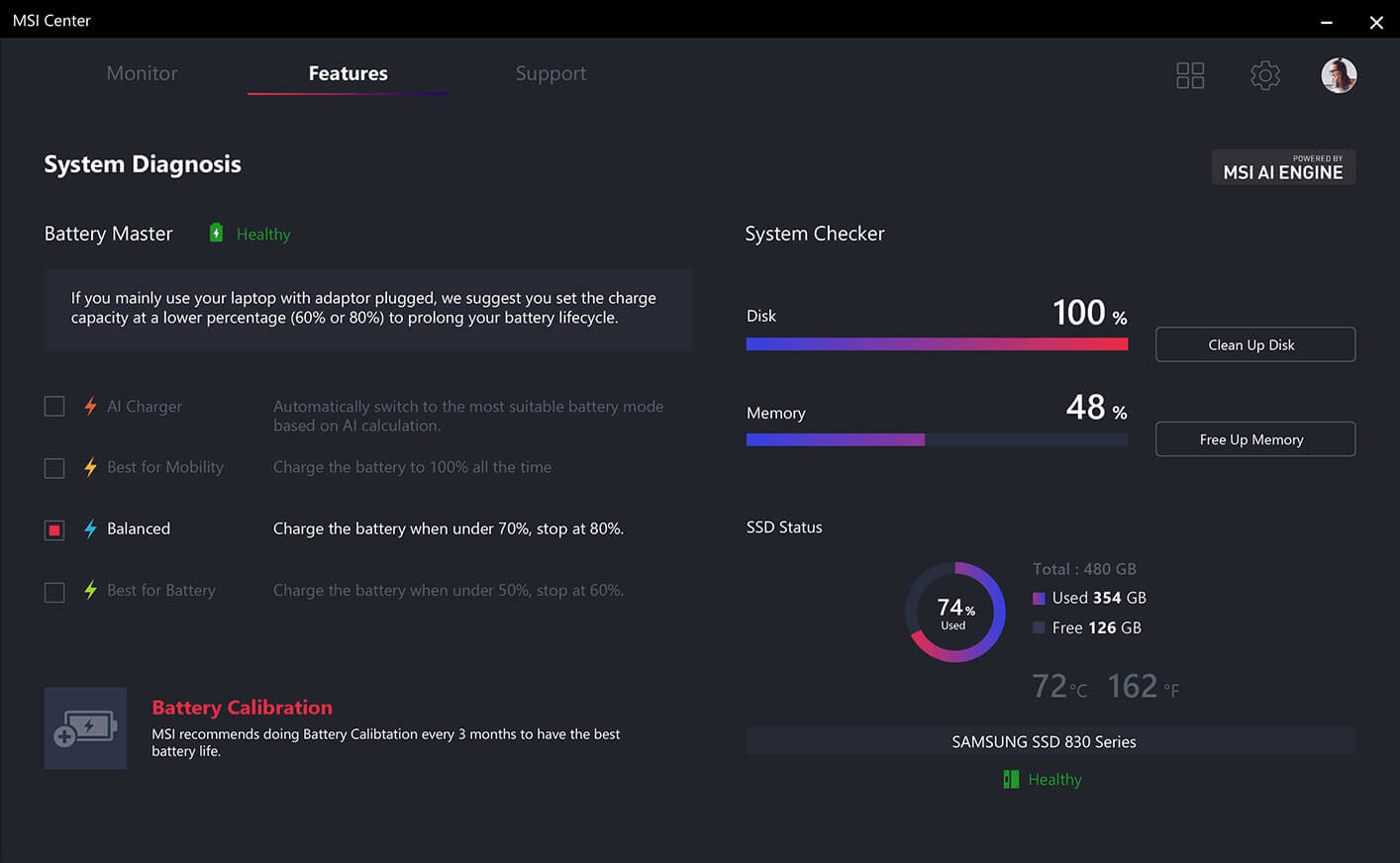 Battery Master
Takes good care of your battery and extends battery cycle.
MSI Companion
Exclusive on-screen-display interface to monitor status and tweak your settings even mid-game.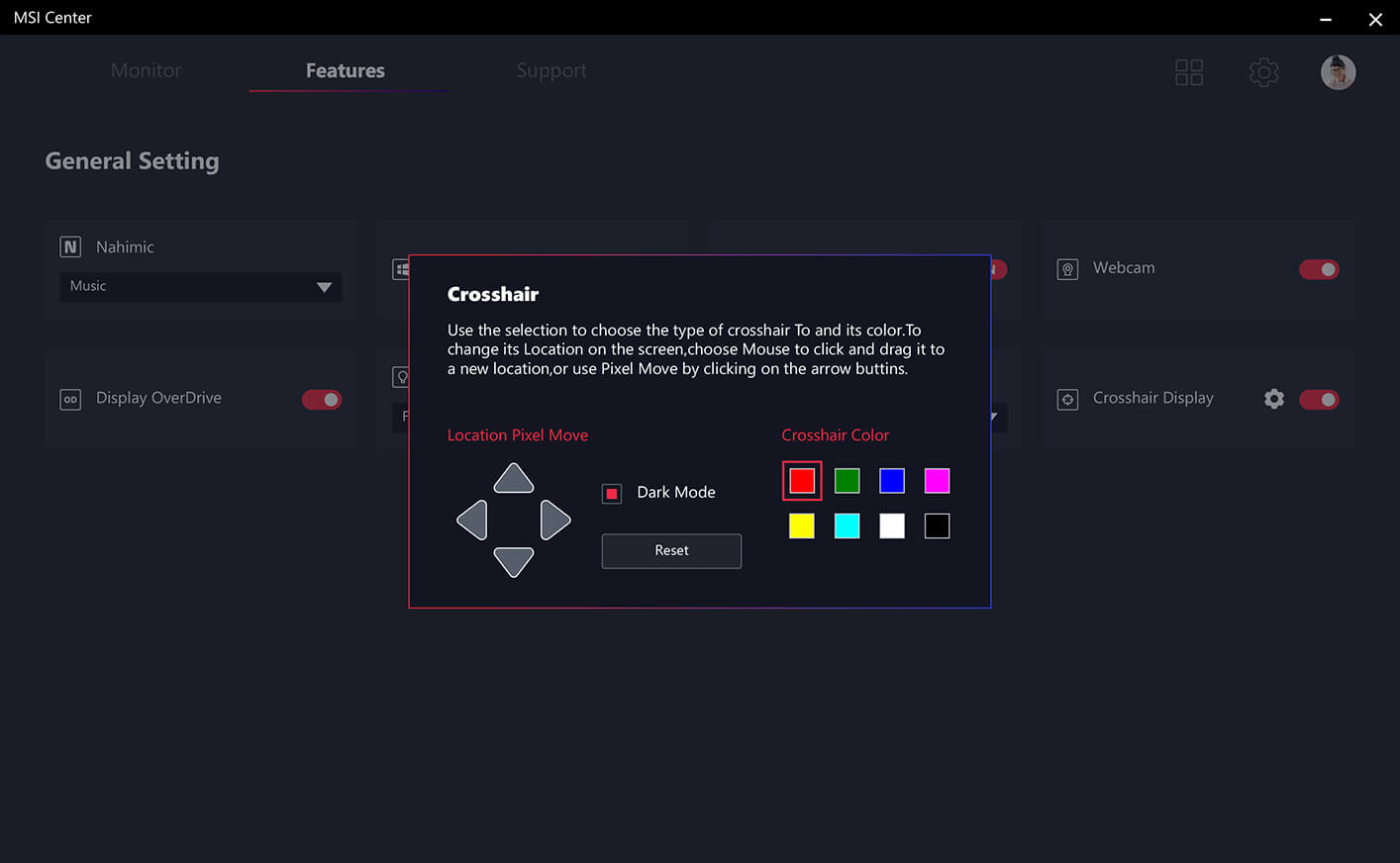 Crosshair
MSI exclusive Crosshair overlay helps you aim better and shoot better.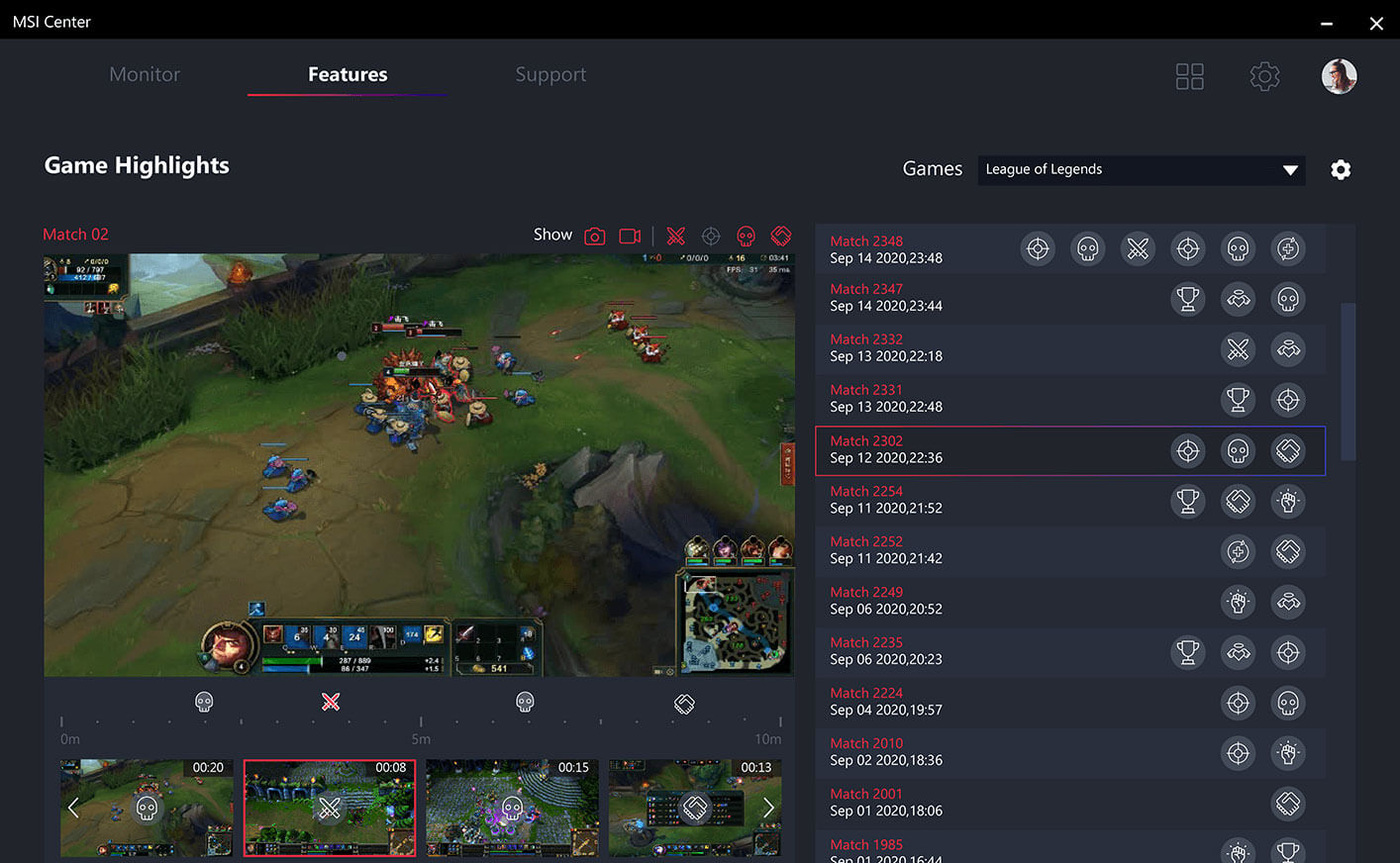 Game Highlights
Capture and record your best moments.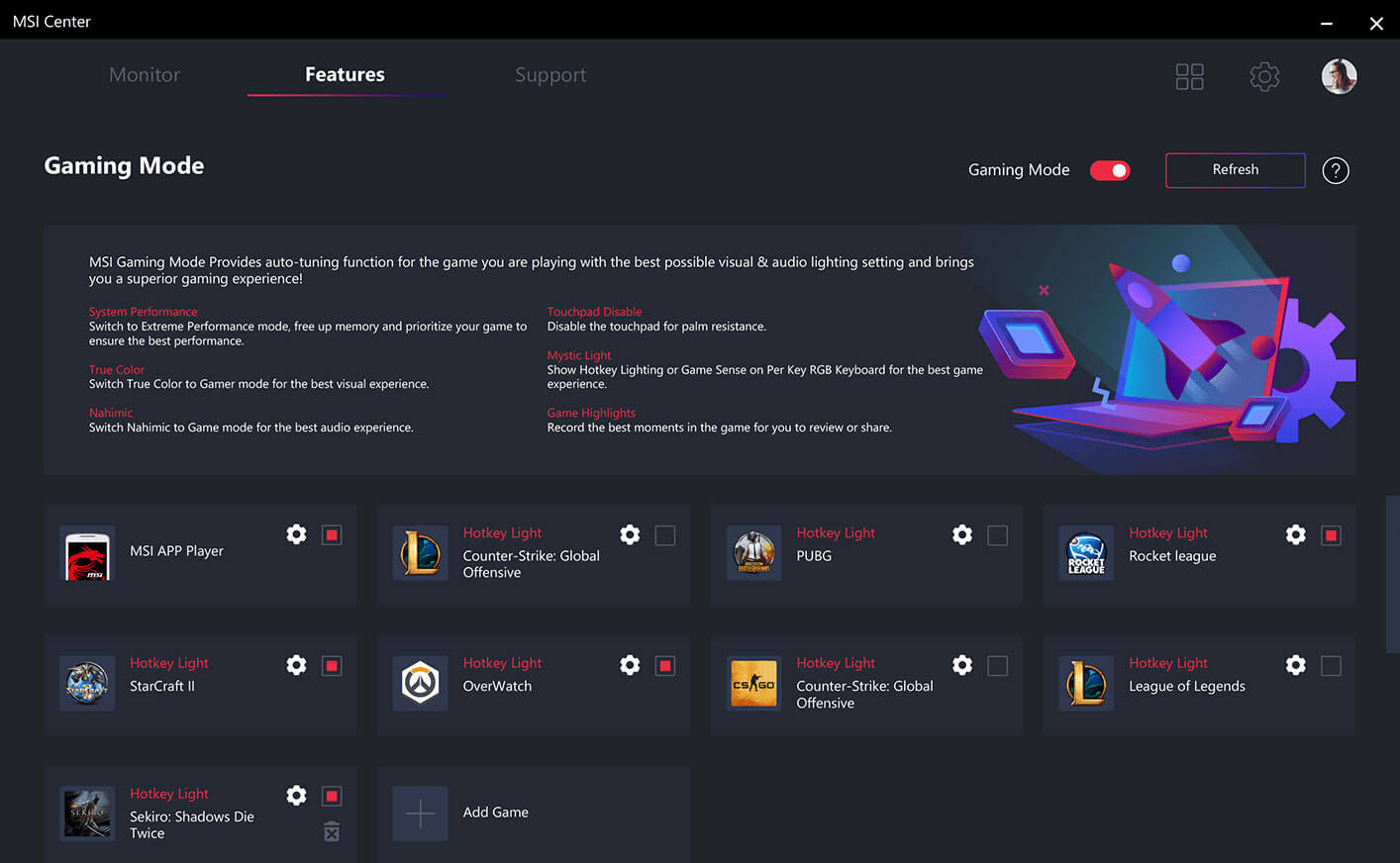 Gaming Mode
One-click optimization for all your games.
AI NOISE CANCELLATION
Eliminate unwanted external noises (like keyboard typing) and suppress ambient background environment.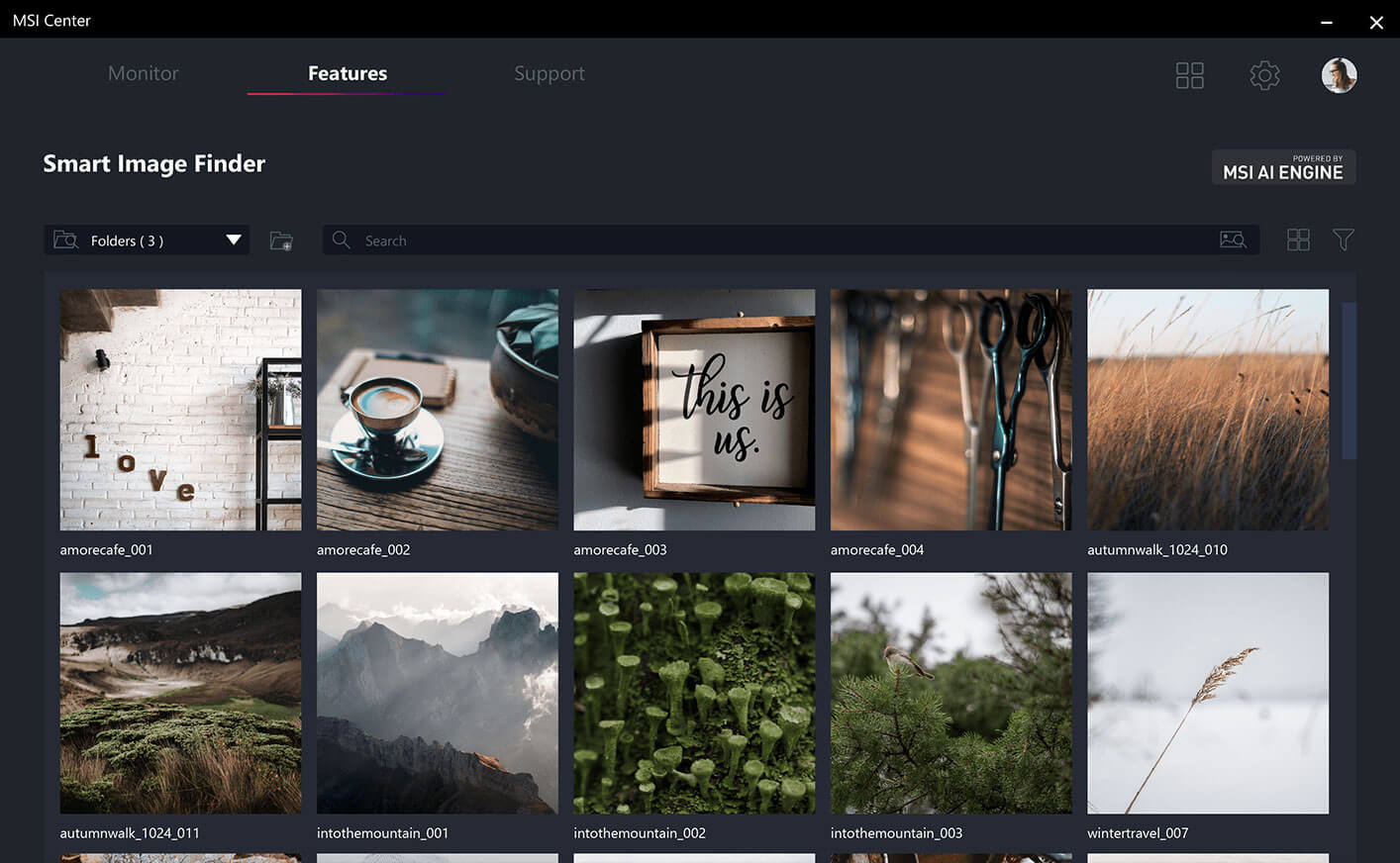 Smart Image Finder
Categorize and browse through your precious memory and creativity with AI-generated smart tags.

MSI APP PLAYER
Developed under an exclusive partnership with BlueStacks and with the latest innovation - Console Mode, the MSI APP Player brings seamless gaming experience between mobile games and PC platform and gamers can experience console-like to laptop with intuitive UI design for mainstream wireless controllers. It also offers hot key customization for hard core mobile gamer to enhance game win rate.
* Hotkey backlighting function only support the models with Per-Key RGB feature.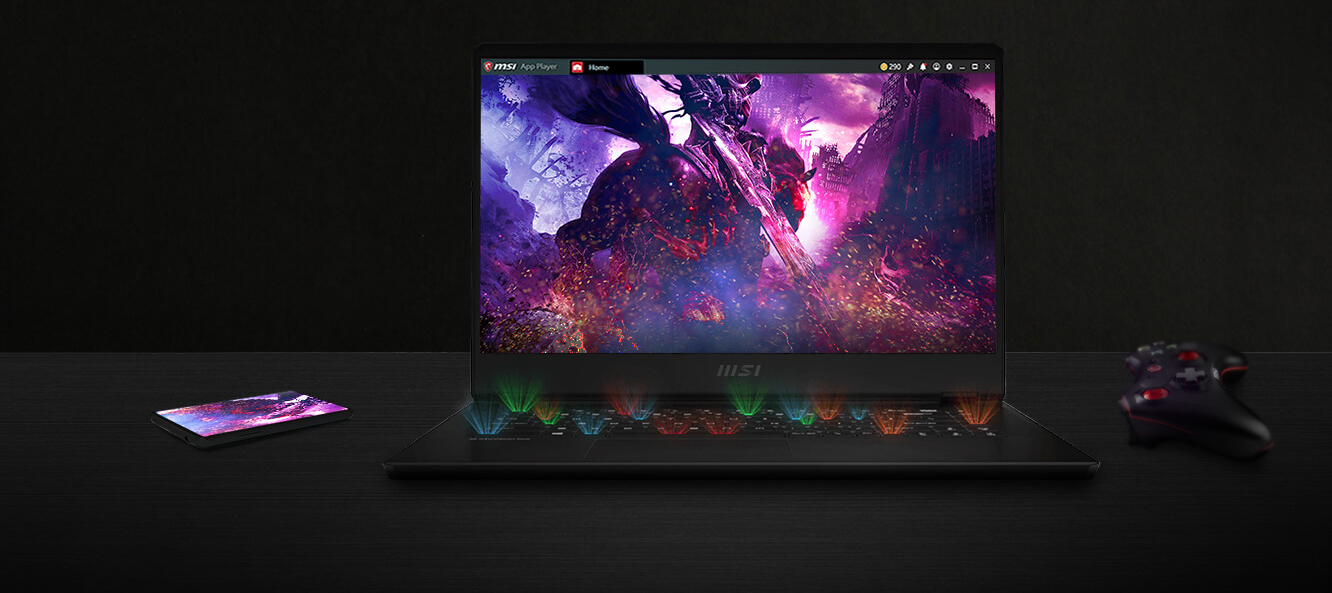 EXTRAORDINARY WIRELESS EXPERIENCE
The latest Wi-Fi 6E delivers stunning speed while keeps the network smooth and stable even when sharing the network with numerous users. With its outstanding throughput and low latency, you just beat others to it.
* Compared to 802.11 ac with based on theoretical maximum speeds in 5 GHz transmission.
* Wi-Fi 6E devices is backward compatible with older 2.4 and 5 GHz Wi-Fi 6 devices.