Black 14.1" / MacBook Pro 15" Urbanite Laptop Vertical Messenger Bag
Model EKS620
The Urbanite is designed to carry a surprising amount of gear without becoming too bulky or overbearing. This fashionable vertical messenger works great as a laptop sling or as your favorite general-use bag. Its construction includes durable, high-quality nylon, stylish leather and metal accents, and tons of useful compartments and other unique features that set the Urbanite apart from the crowd.
This bag easily fits laptops up to 14.1" or a MacBook Pro 15 in a dedicated compartment that opens a full 180 degrees for easy loading. This feature also eases travel by allowing you to pass through airport security checkpoints without having to remove your device from its compartment. The Urbanite fits your laptop snugly inside a separate well-padded and felt-lined slot that protects it from bumps and scratches to give you peace of mind while on-the-go.
The Urbanite's main storage compartment features a felt-lined pocket ideal for your iPad, Kindle, or other Tablet PC with lots of space left over to store and arrange as you please. You'll be pleasantly surprised by just how much this slim, sleek bag can accommodate.
Yet a third compartment offers even more space inside of open, zippered, and see-it-all pockets, and a slim pocket placed under the cover flap allows quick and easy access to folders, travel documents, or reading materials. As if these compartments left you wanting for space, two side pockets, secured with Velcro strips, offer convenient places to stash smaller items like cell phones, keys, or even water bottles where they are easy to reach. Everki rounds out all of these features with a broad cover flap that completely covers all of the bag's compartments and secures snugly using a Velcro strip and quick-release buckles. The flap also contains a zippered pocket suitable for business cards, ID, portable media players, or anything else you need to quickly store and retrieve during business transactions or casual outings.
As with all products in the Everki family, the Urbanite is backed by the company's Limited Lifetime Warranty and world-class customer service.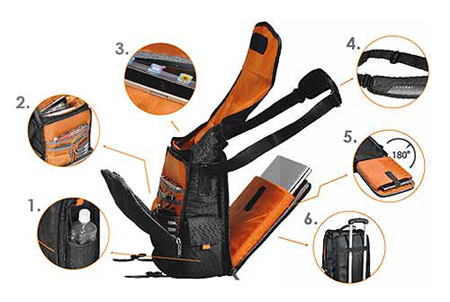 Features
1. Multi-Functional Side Pockets
Side pockets can present a burden and take away from a bag's aesthetic when designed incorrectly. The Urbanite was constructed with this in mind, with discrete side compartments that maintain the flow of its design and hold shut using a convenient Velcro strip under each flap. These pockets are perfect for storing a variety of smaller articles and are appropriately sized to double as water bottle holders to keep your drinks snug and separate from other paper or electronic items.
2. Spacious, Well-Organized Compartments
n addition to its laptop compartment, the Urbanite packs a lot of room under its durable nylon cover flap. A central compartment features a dedicated slot for your iPad/Kindle/Tablet PC as well as space to store your books and magazines or a full change of clothes. An additional zippered compartment contains a range of slots of varying sizes as well as zippered and see-it-all pockets; and an open pocket located just under the flap provides quick and easy access to documents, passports, or any other items you need close at hand.
3. Felt-Lined iPad / Kindle / Tablet Pocket
With a dedicated slot designed to hold your iPad, Kindle, or other Tablet PC, never again will you leave your device vulnerable to the ravages of an ill-fitting compartment. The rising popularity of tablets and their increasing importance in school and industry make this feature a must when purchasing a new laptop bag. This unique and easily accessible pocket is lined with the same soft felt that is found in the laptop compartment, so you can rest assured that your device will stay just as well protected as your computer.
4. Two-Way Adjustable Shoulder Strap
Carrying a laptop and all of its accessories can wear a person out pretty quickly. Luckily for the weary traveler, the Urbanite is designed with a high-quality nylon shoulder strap equipped with dual quick-adjust buckles that give you freedom to set your desired length. The strap's large, non-slip shoulder pad conforms to the contours of its wearer to provide comfort and support and prevent slippage while it maintains the bag's sleek, streamlined design.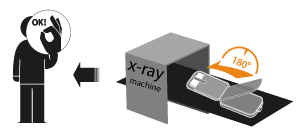 5. Checkpoint Friendly 14.1" Laptop/MacBook Pro 15 Compartment
Everki's Urbanite laptop vertical messenger bag features a dedicated 14.1" laptop/MacBook Pro compartment that goes the extra mile to protect your equipment from the hazards of travel. Its anti-shock foam padding provides extra cushioning and its warm orange felt lining prevents scratches to your device, so you can concentrate on the road. Everki placed this compartment close to the wearer's body to facilitate balance and it is designed to open a full 180 degrees to allow you to breeze through airport security. Simply open the compartment, lay it flat on the conveyor, and watch your laptop go through the x-ray machine without the mess and inconvenience of removing it, and should you for any reason be required to take it out of its slot, you can do so easily, without rearranging the rest of the bag's contents. Fast, simple, and effective.
6. Trolley Handle Pass-Through Strap
Lighten your load, reduce your burden, and ease the stress of travel with the Urbanite's trolley handle pass-through strap. This strap is correctly sized to pass smoothly over luggage handles and allow you to stack your bags for increased mobility. Its low-key presentation blends in tastefully with the bag's overall appearance.
Gallery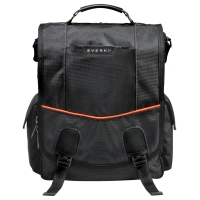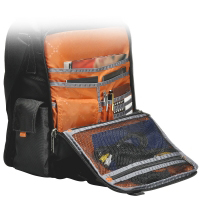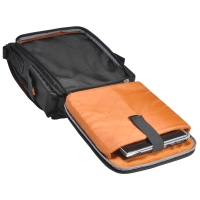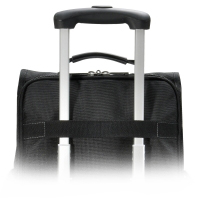 Features
Lifetime Warranty Protection
You can enjoy peace of mind knowing that with any product in the Everki family, you never have to worry about discovering a flaw or defect after the end of the warranty period. Everki's Limited Lifetime Warranty protects your purchase against manufacturing defects over the entire life of the product.
---

Zippered Quick-Stash Flap Pocket
As if this bag left you wanting more room, a small zippered pocket on the bag's cover flap offers quick and convenient access to keys, wallet, mobile phone, or any other smaller item you need to be able to retrieve regularly or quickly on your travels.
---

Front Straps with Speed-Release Buckles
Buckles and straps on the Urbanite's cover flap provide both an extra measure of security and additional support for when the bag is fully loaded. Simply load up the bag, loosen or tighten the straps to the appropriate lengths and then fasten them using discrete easy-clip buckles to firmly secure the bag's contents.
---

Large Zippers and Zipper Pulls
The Urbanite's size 10 zippers are larger and more durable than the hardware found on most other bags in its class. Its strong, all-metal Everki zipper pulls are built to last and the laptop compartment features pulls with lock-holes to help you protect your valuables while you are on-the-go.