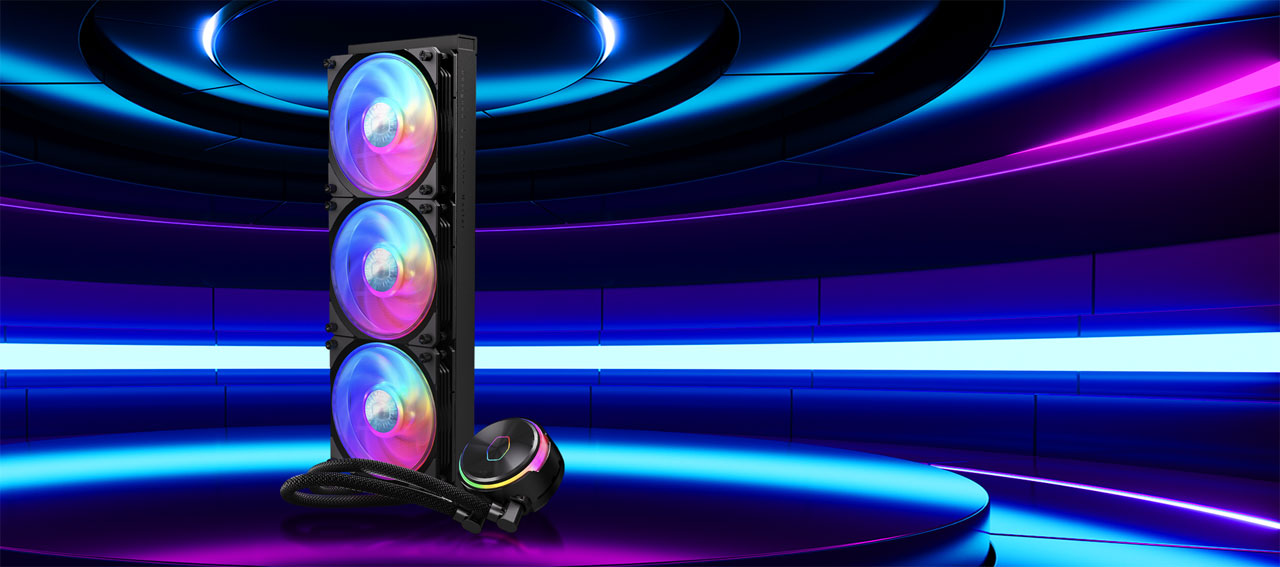 Masterliquid PL360 Flux
Cooler Master's MosterLiquid PL360 Flux is the new embodiment of enhanced performance cooling. The dual chamber pump has further honed flow and pressure to target hot spots for rapid and precise heat dissipation. Surface of the copper base and microchannels have been calculated for a superior heat transfer ratio. Equipped with new Sickleflow fan blades with an interconnecting loop delivering high speed performance, the fan is fine tuned to produce an optimized sound output. It also integrates new Addressable Gen 2 RGB for support with major motherboard manufactures, customizable with both the included Addressable Gen 2 RGB controller and Cooler Master's MosterPlus+ software.

Cooling Uncompromised
Cooler Master's Flux Series is the materialization of revolutionary cooling performance. With enhancements from the pump to the radiator and fans, the Flux Series delivers precisely tuned performance for superior heat dissipation and cooling capabilities.
Premium Dual Chamber Pump
New Dual Chamber Pump is more compact than before while delivering the perfect volume of flow to pressure for impressive cooling performance.

Fine Tuned Performance Ratio
Precision engineered ultra-thin spaded fins maximize microchannels to accurately target heat spots. Enlarged copper base surface area with optimized base thickness further accelerates heat transfer.
Ultimate Heat Exchange
High speed motor utilizing a ceramic bearing impeller forces balanced water flow to and from the radiator for ultimate efficiency of heat exchange.
Slim & Sleek Radiator
Low profile radiator with superior fin density coupled with performance fans dissipates heat rapidly.

Redesigned Flux Series Fan
Unique air balance fan featuring interconnecting blades specifically designed for the Flux Series. Strengthened structure provides better stability for steady high speed operation. Angled inner fan frame rim boosts air intake, with frame gap generating increased air pressure for improved cooling.

Dual Loop ARGB Pump
Dual loop pump ARGB with independent lighting customization showcases your visual creativity without sacrificing cooling capability.

Addressable Gen 2 RGB
Included Addressable Gen 2 RGB controller works with Cooler Master's MasterPlus+ software to customize individual LED colors, effects, brightness and more — all from an intuitive, convenient interface.