Thermaltake Luna 12 Slim 120mm LED Case Fan with Mere 15mm thickness
Power yet Silent Performance with Ultra-Thin Profile
With double-curved nine fan blades for optimal airflow, hydraulic bearing for silent operation, anti-vibration mounting mechanism and attention-getting LED illumination, the Thermaltake 120mm Luna 12 Slim delivers virtually everything you'd expect from a quality Thermaltake case. But most of all, it measures incredible 15mm in thickness, making Luna 12 Slim a great choice for mini chassis or modding situations where space is at a premium. Luna 12 Slim LED series is available in three colors (red/white/blue) to match you case and components.
Interference-free Design
With 15mm thickness, Luna 12 Slim LED fan can be mounted on ultra thick radiator in PC cases with limited space where a normal 25mm thick fan can't be installed.
Hydraulic Bearing Offers Silent Operation and Longer Lifespan
Hydraulic bearing self lubricates with a high quality, friction reducing substance which lowers operating noise and improves efficiency. The seal cap prevents leakage of the lubricant improving on the lifespan of the unit.

Outstanding Performance, Less Noise
Enlarged fan frame opening enhances air flow with a fan speed of up to 1400 RPM. Double-curved nine fan blades deliver exceptional static pressure at a low noise level of 24 dBA.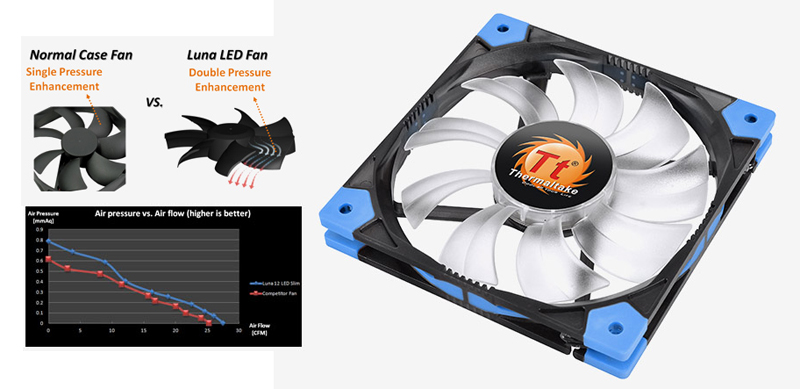 Anti-vibration Mounting System
In-mold injection anti-vibration rubber pads provide hassle-free usage for 80% protection coverage, including all four corners and the frame.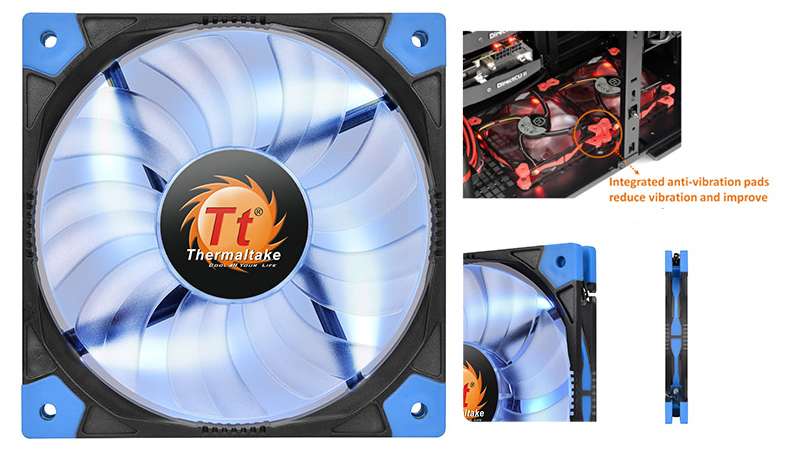 Three Colors of Luminous LED
The Luna 12 Slim LED series is available in three vivid colors: Red, White, and Blue. Embellish the chassis in your own way!