Exclusive Circular LCD Display Modes
All-new RGB LED Design. RGB Fusion 2.0 Software allows users to control the lighting patterns on the AORUS Falcon logo and fan blades and enables lighting synchronization with peripherals so that users can showcase their own style.

Simple Customization with AORUS Engine & RGB FUSION 2.0
LCD Pattern Switch
Through RGB FUSION 2.0 switch up to 7 LCD pattern models including the AORUS Enthusiast mode, function mode, custom image mode, and custom text mode.
Information Display and Heat Dissipation Features
Through the AORUS Engine, users can select CPU model name/clock rates/temps/fan RPM/pump RPM to display on their LCD, giving them full control over the status of each metric. Text and image files can be displayed on the LCD. Fans and pump RPM come with the silent fan function.
Textured Aluminum Extrusion Design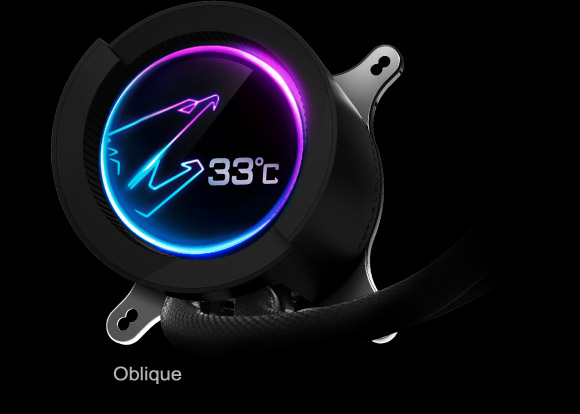 <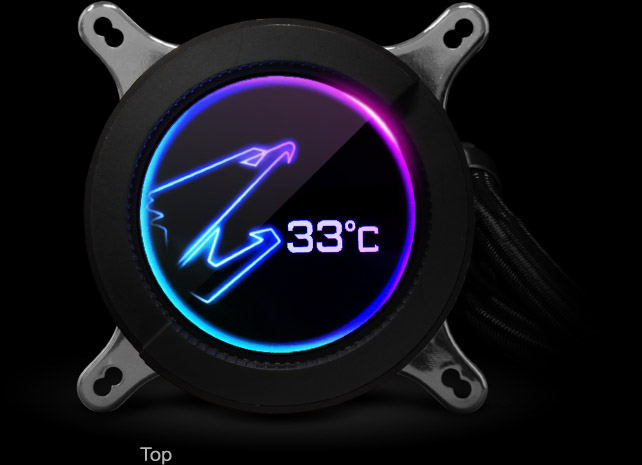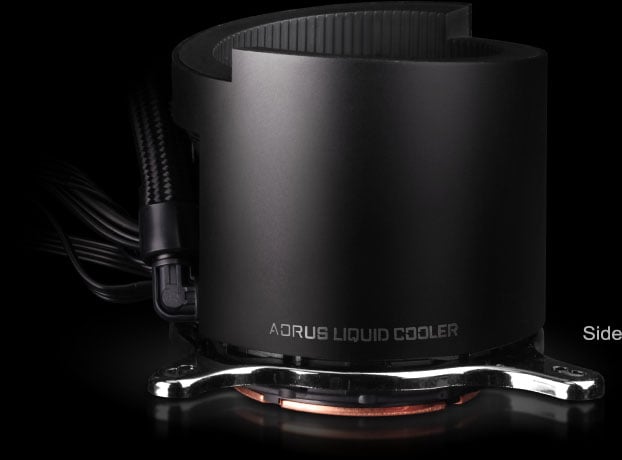 Excellent Performance
Excellent heat dissipation tested with Intel i9 9900K at 8 Cores 5GHz.
* Testing results are from Prime 95 testing. Actual results may vary depending on system setup.

Unique Fan Design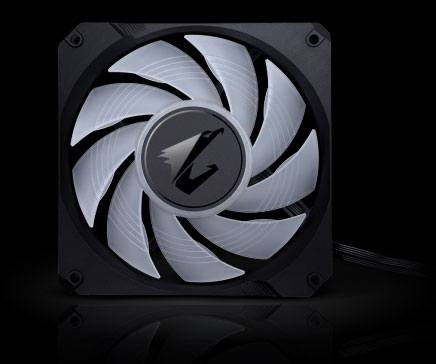 Efficient Heat-Dissipating, Silent AORUS Fans
After extensive testing, AORUS has paired the 140mm fan blade with the 280mm radiator for the best synergy in delivering the most efficient heat dissipation with minimal noise. The fan keeps the noise at a minimum even when running at the highest speed. ARGB Fan type adds the AORUS style to your system by supporting RGB Fusion 2.0 for the coolest looking setups.
Dual-Ball Bearing Structure
The life of the two-ball bearing fan is more than 5 years.
* The double ball bearing structure has better heat endurance and efficiency than sleeve structure. Hence it will provide longer life time.