Prolimatech Basic 68 CPU Cooler
Cool Impressively without Blocking the RAM Slots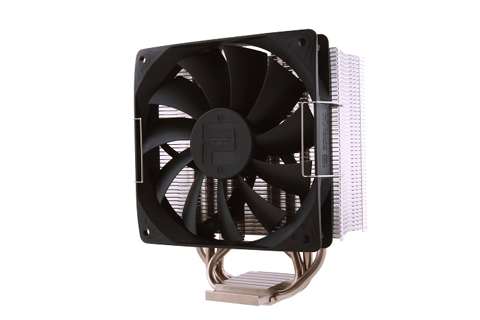 The Prolimatech Basic 68 CPU cooler has a compact design with thin profile to fit most cases without blocking the RAM slots. It offers big cooling capacity, and is affordable in price. It is an ideal option for replacing stock coolers in any system, for improved cooling, quieter operation, and even overclocking. It is compatible with both Intel and AMD platforms.
Compact Design with Thin Profile
The Prolimatech Basic 65 CPU cooler is compact in size, making it perfect for most cases. Its thin profile helps to keep the RAM slots on the motherboard unobstructed.
Four High Quality Heat Pipes
Conduct more heat away, in less time. The four Ø 6mm high quality heat pipes are effective in conducting heat from the CPU to the fins.
Includes a 120mm PWM Fan
The 120mm PWM Double-Ball bearing fan spins at a smart speed in response to the PWM signals from the motherboard. The spinning speed range is 600 to 1600 RPM. Enjoy the best balance between performance and noise.
Easy Installation
The Prolimatech Basic 68 CPU cooler comes with mounting kits for Intel socket LGA 1156/1155/1150/1151/2011 and AMD AM2/2+/3/3+/FM1/FM2. Installation is easy and quick.