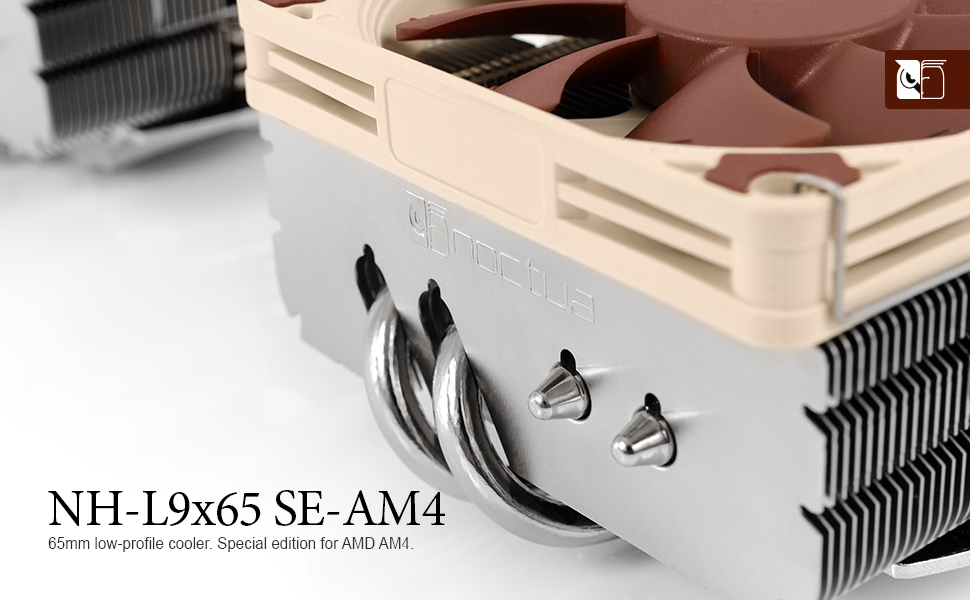 Having received more than 100 awards and recommendations from international hardware websites and magazines, Noctua's compact NH-L9x65 has become a standard choice among 65mm tall low-profile coolers. The SE-AM4 version is a dedicated special edition for AMD's AM4/AM5 (Ryzen) platform featuring the latest SecuFirm2 mounting system for AM4/AM5. Topped off with the renowned quiet NF-A9x14 PWM 92mm fan and Noctua's proven NT-H1 thermal compound, the NH-L9x65 SE-AM4 forms a complete premium-quality solution for AM4/AM5-based ITX builds and HTPC systems.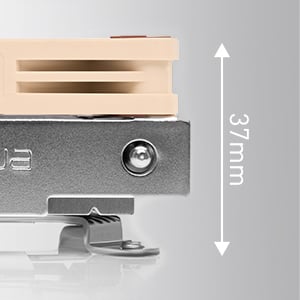 37mm low profile
| | |
| --- | --- |
| Due to the slim 23mm heatsink and the NF-A9x14 low profile fan that measures only 14mm in thickness, the NH-L9 stands a mere 37mm tall, which makes it ideal for use in compact HTPCs or Small Form Factor cases that offer minimum clearance for CPU coolers. | |
100% RAM compatibility
| | |
| --- | --- |
| The NH-L9i has a 95x95mm footprint that complies exactly with the Intel LGA115x/1200 socket keep-out zone. This means that it won't cause issues with chipset coolers and doesn't overhang the RAM slots, so it's fully compatible with tall memory modules. | |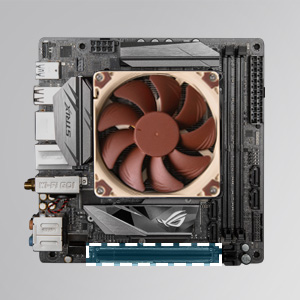 100% compatibility with PCIe cards on mini-ITX
| | |
| --- | --- |
| Most Intel LGA115x/1200 based mini-ITX motherboards have the PCIe slot sitting right next to the 95x95mm socket zone. While larger coolers that exceed this zone are likely to block the PCIe slot, the 95x95xmm sized NH-L9i provides full compatibility with PCIe cards. | |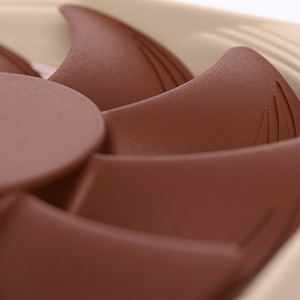 NF-A9x14 PWM premium fan
The highly optimised NF-A9x14 premium fan features Noctua's proprietary AAO frame as well as sophisticated aerodynamic design measures. Supporting PWM for fully automatic speed control, the NF-A9x14 allows the NH-L9i to stay remarkably quiet.

| | | | | | | |
| --- | --- | --- | --- | --- | --- | --- |
| Products | NH-L9i | NH-L9i-17xx | NH-L9a-AM5 | NH-L9i chromax.black | NH-L9i-17xx chromax.black | NH-L9a-AM5 chromax.black |
| LGA2066, LGA2011-0 & LGA2011-3 | - | - | - | - | - | - |
| LGA1700 | - | - | - | - | - | - |
| LGA1200, LGA115x (LGA1150, LGA1151, LGA1155, LGA1156) | | - | - | | - | - |
| LGA775 & LGA1366 | - | - | - | - | - | - |
| Xeon LGA2011 Narrow ILM / Xeon LGA1366 & LGA1356 | - | - | - | - | - | - |
| Xeon LGA3647 | - | - | - | - | - | - |
| Xeon LGA4189 | - | - | - | - | - | - |
| AM4 | with NM-AM4-L9aL9i | - | - | with NM-AM4-L9aL9i | - | - |
| AM5 | with NM-AM5-L9aL9i | - | | with NM-AM5-L9aL9i | - | |
| sTRx4, sWRX8, TR4, SP3 | - | - | - | - | - | - |