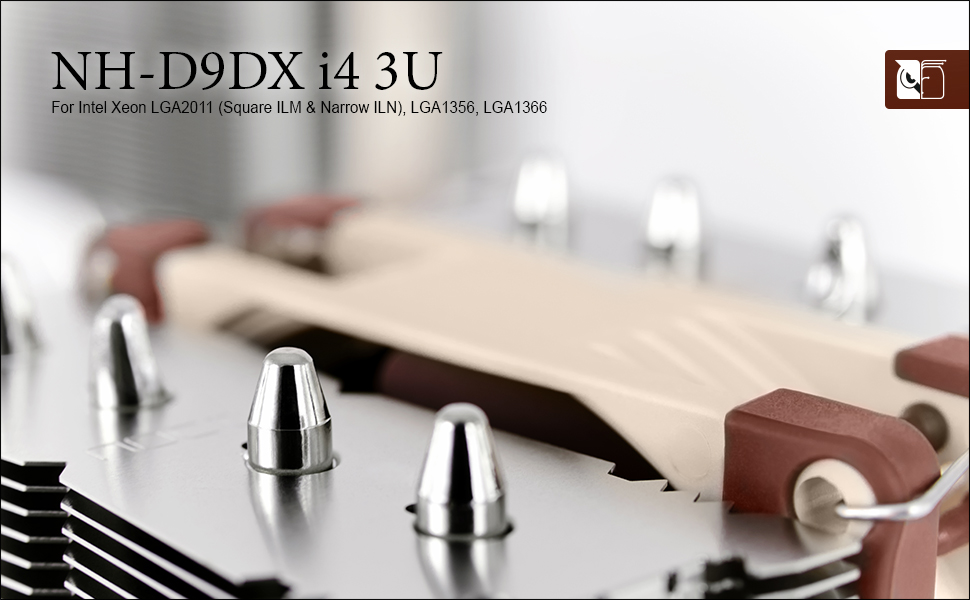 Noctua's DX line of coolers has become a default choice in high performance quiet cooling solutions for Intel Xeon CPUs. The i4 revision supports LGA2011 (both Square ILM and Narrow ILM), LGA1356 and LGA1366 based Xeon platforms and the new D9 model provides better performance and better compatibility than previous 9cm versions: Thanks to its 95x95mm footprint and reduced 110mm height, the NH-D9DX i4 is fully 3U compliant and clears the RAM slots on LGA2011 Square ILM and LGA13xx. At the same time, the dual tower design and the new NF-A9 PWM ensure further improved quiet cooling performance. Fitted with the professional SecuFirm2 mounting system and bundled with Noctua's industrial-grade NT-H1 thermal compound, the NH-D9DX i4 3U forms a complete premium quality package for quietly cooling Xeon based workstations and servers.
3U compatibility
| | |
| --- | --- |
| The NH-D9DX i4 stands only 110mm tall. This is 15mm less than previous 4U compliant 9cm DX-line coolers and allows the NH-D9DX i4 to also fit 3U cases - ideal for noise-sensitive 3U applications in fields such as audio or video processing! | |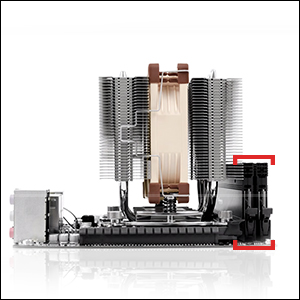 100% RAM compatibility
| | |
| --- | --- |
| With its 95x95mm footprint, the NH-D9DX i4 does not overhang the RAM slots on LGA2011 Square ILM, LGA1366 and LGA1356. This gives the user full access to the memory modules and ensures 100% compatibility with tall heatspreaders or optional memory fans. | |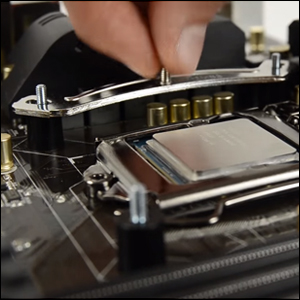 SecuFirm2 mounting system
| | |
| --- | --- |
| Noctua's SecuFirm2 mounting systems have become synonymous with quality, safety and ease of use. Supporting Intel's LGA2011 (both Square and Narrow ILM), LGA2066, LGA1356 and LGA1366 Xeon platforms, the SecuFirm2 mounting included with the NH-D9DX i4 ensures perfect contact pressure and maximum convenience on all sockets. | |
NF-A9 premium fan
The highly optimised features Noctua's proprietary AAO frame as well as sophisticated aerodynamic design measures such as Flow Acceleration Channels, which allows it to further improve the renowned efficiency of Noctua's previous 92mm models and contributes to the NH-D9DX i4' superior cooling performance.

| | | | | |
| --- | --- | --- | --- | --- |
| Products | NH-D9L | NH-D9DX i4 3U | NH-D9 DX-3647 4U | NH-D9 DX-4189 4U |
| LGA2066, LGA2011-0 & LGA2011-3 | | | - | - |
| LGA1700 | | upgrade kit available on request | - | - |
| LGA1200, LGA115x (LGA1150, LGA1151, LGA1155, LGA1156) | | with NM-i115x-1200 | - | - |
| LGA775 & LGA1366 | with NM-I3 | - | - | - |
| Xeon LGA2011 Narrow ILM / Xeon LGA1366 & LGA1356 | - | | - | - |
| Xeon LGA3647 | - | - | | - |
| Xeon LGA4189 | - | - | with NM-i4189 | |
| AM5 | - | upgrade kit available on request | - | - |
| AM4 | | upgrade kit available on request | - | - |
| sTRx4, sWRX8, TR4, SP3 | - | - | - | - |