Phanteks Glacier One All-in-One Liquid CPU Cooler
The new Glacier One AiO liquid CPU coolers are capable of cooling powerful CPUs while operating silently. The included 120/140 MP PWM fans with its pressure optimized fan blades offer high airflow, low noise, and excellent cooling performance. The magnetically attached pump cap has a tempered glass infinitiy mirror, and integrated D-RGB lighting that can be synced with compatible motherboards. Installation is a breeze thanks to the pre-filled all-in-one solution, flexible braided tubing and tube clips that help route tubing and fan cables for a clean PC interior.
Glacier One AiOs are available in a variety of form factors including 240mm, 280mm, and 360mm radiator sizes, plus a 240mm and a 360mm white editions. The white edition also incorporates RGB lighting on the fans, in addition to the pump cap.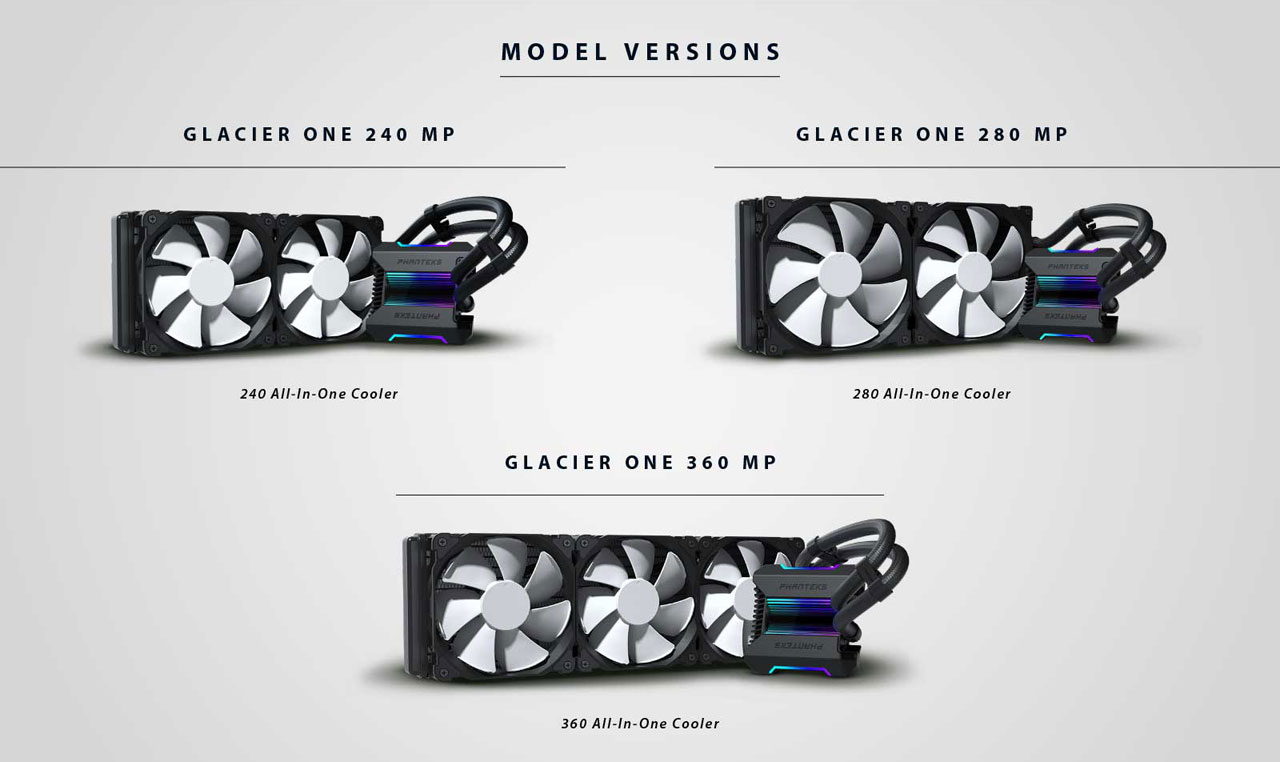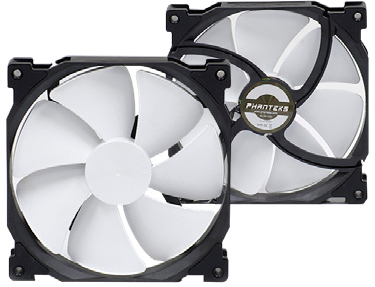 UPDATED SILENT MP PWM FANS
With the release of the Glacier One models, the Phanteks MP fans also received an update to a newer version with higher maximum RPM (2000 - 2200 RPM).
The Phanteks 120/140mm MP PWM Fan is a premium cooling fan designed with radiators and heatsinks in mind.
large blades offer high static pressure to overcome any resistance from a highdensity fin stack
Aerodynamically optimized fan blades creates a perfect balance between performance and silence.
Easy installation with a Daisy-Chain cable design
Premium materials: glass fiber reinforced PBT plastic for the frame and blades, Rubber dampeners and mesh fabric sleeved cables.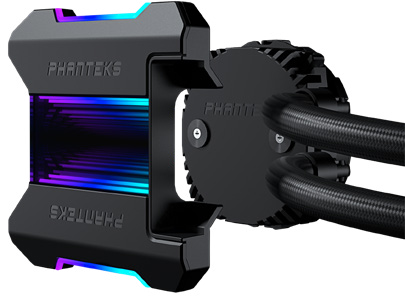 FULL COVER INFINITY MIRROR CAP
The Glacier One comes with an Infinity Mirror Cap that mounts magnetically to the pump module. It features a tempered glass window to show the infinity mirror effect and smooth D-RGB lighting effects with 14 D-RGB LED chips inside.
The low-profile full cover design covers all mounting parts to create a clean and integrated look with the motherboard.
The Infinity Mirror Cap can be directly connected to:
D-RGB equipped Phanteks chassis
Phanteks D-RGB Controller
D-RGB equipped motherboard with the included adapter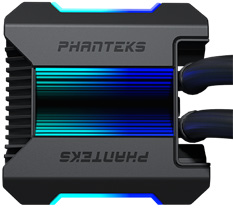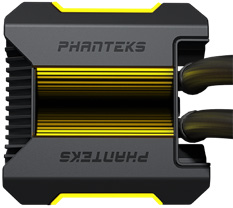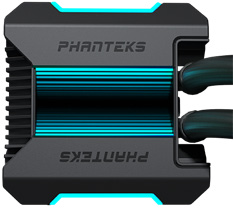 COOLED BY ASETEK
The Phanteks Glacier One is powered by the highly reliable gen7 pump from Asetek. With the technical expertise and many years of experience from Asetek, the gen7 pump ensures reliable operation and cooling performance for the Glacier One AIO coolers.
OPTIMIZED PERFORMANCE
The Glacier One is optimized to offer a noise-performance ratio that is best in class. It is a true high performance CPU cooler with plenty of thermal cooling capacity. This extra thermal cooling capacity enables higher overclocking and stability and/or a quieter running system.
The 3 different radiator sizes offer a perfect option based on chassis size, CPU model and performance/noise preference.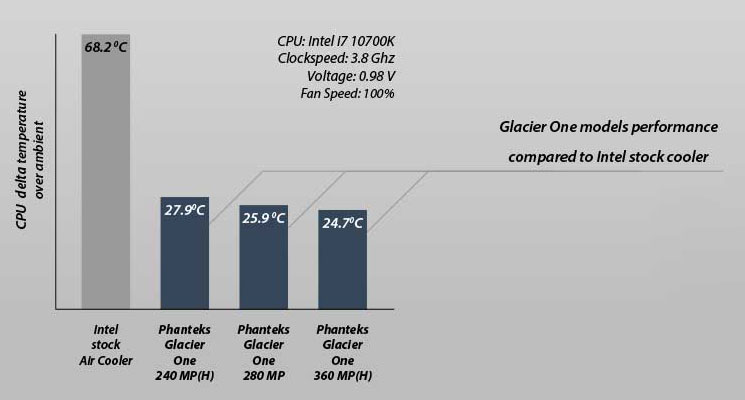 MAXIMUM CLEARANCE
The Glacier One pump module and Infinity Mirror Cap are designed to offer maximum motherboard component clearance such as RAM and heatsinks. Its low profile design also gives maximum flexibility for height restricted (ITX) cases.
SOCKET CLEARANCE — The Infinity Mirror Cap stays clear of any objects on both Intel and AMD sockets while still having the full-cover look.
HEIGHT CLEARANCE — The Glacier One is perfect for slim ITX chassis thanks to the low-profile cap design of only 39.5mm.
RAM CLEARANCE — The rotary fittings are located close to the pump to ensure the best clearance for the cooler without conflict with RAM. (7mm more clearance compared to competitors such as NZXT X53/X63/X73)
INTUITIVE INSTALLATION
Several unique design elements make the Glacier One installation process easy and secure: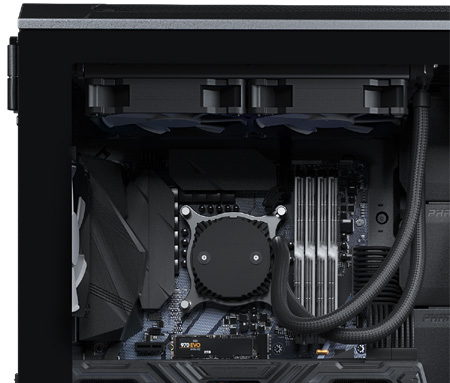 A secure mounting system for both Intel and AMD platforms with 4x thumb screws.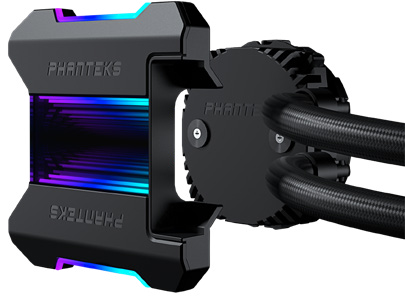 The Infinity Mirror Cap mounts securely with strong magnets.
Extra PH-NDC thermal compound included and pre-applied to the copper coldplate.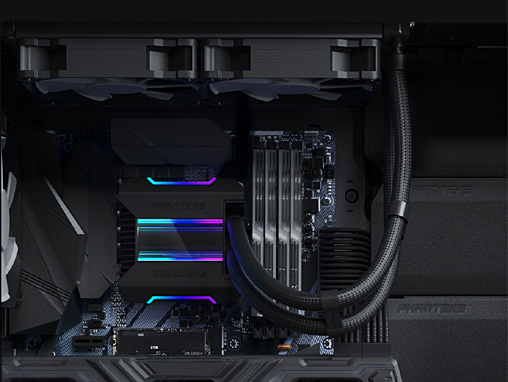 Flexible tubing with durable braided sleeving.
3x Tube Clips included to guide the tubing and fan cables.