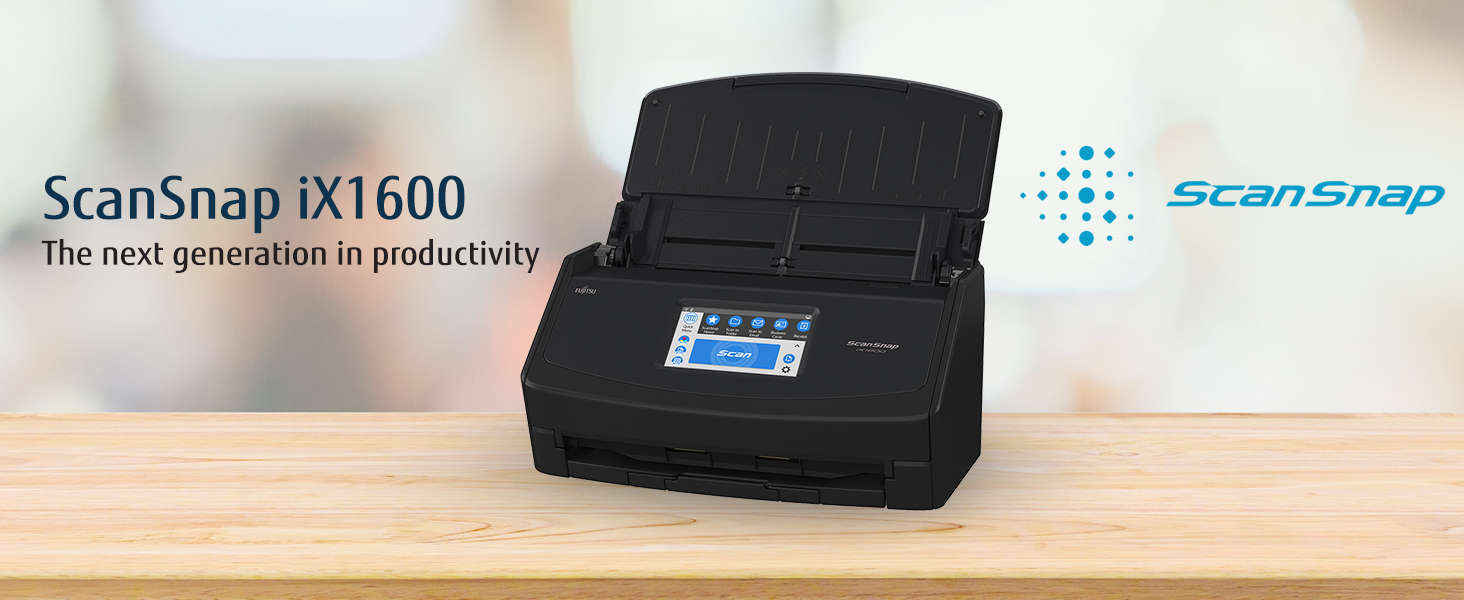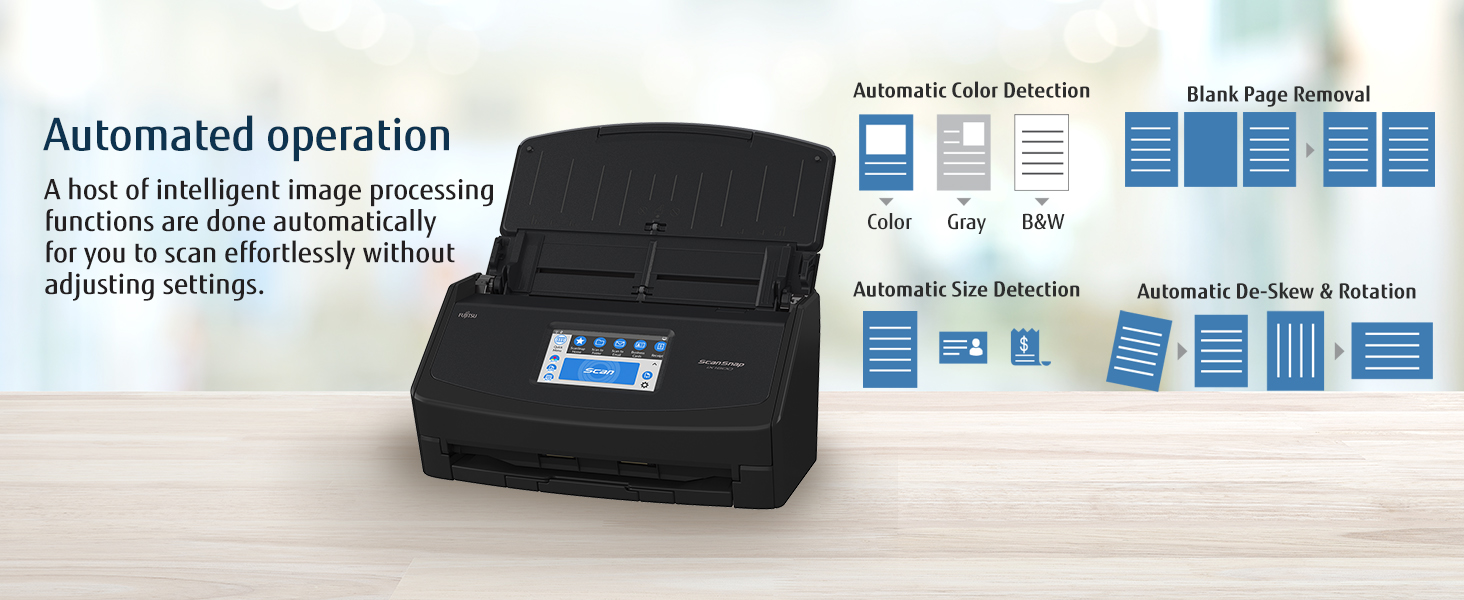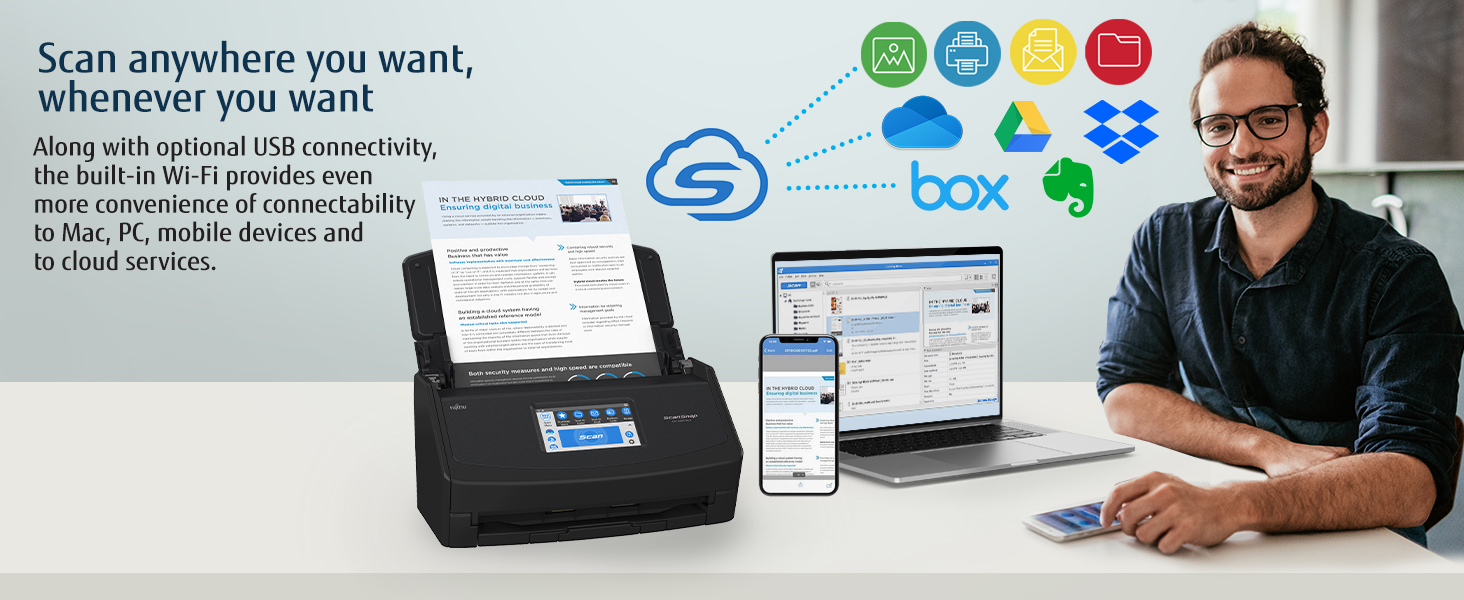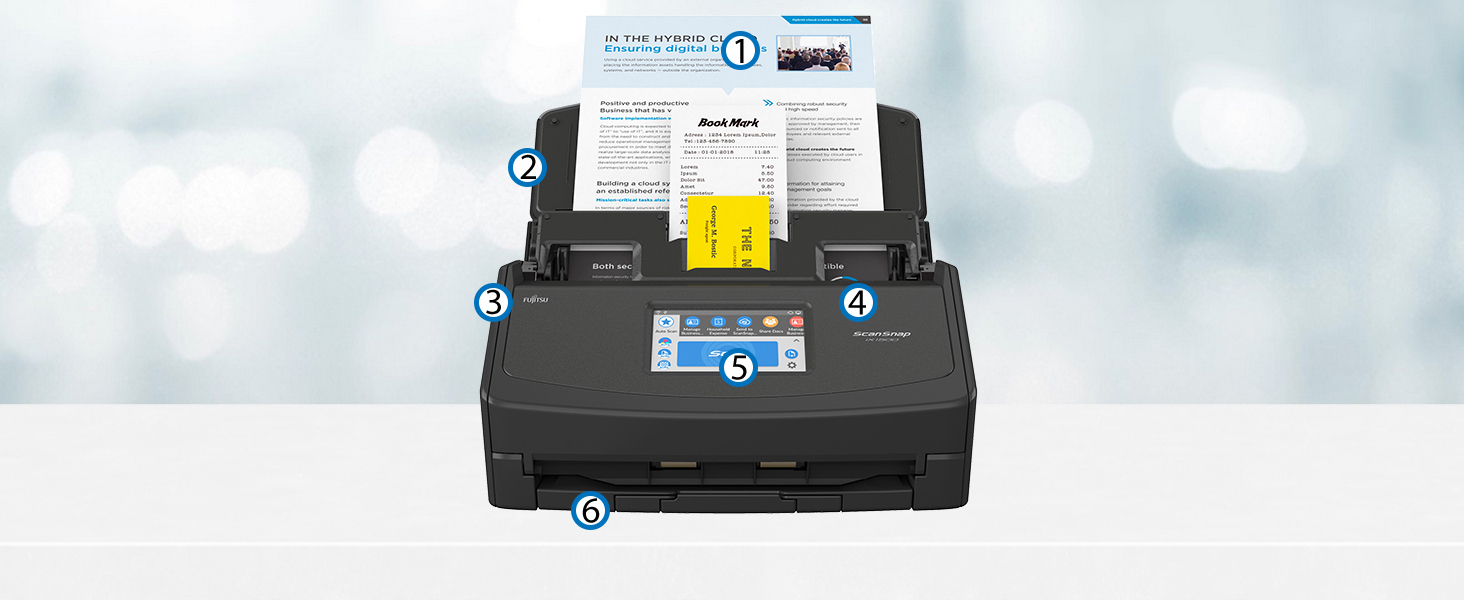 1. Scan a range of document types such as standard paper, receipts, ID cards, business cards and photos
2. Scan to PDF, Searchable PDF & JPEG. You can even convert them automatically to fully editable Word, Excel or PowerPoint files
3. For mobile device users, operators can use the free ScanSnap Connect app with their compatible iOS, Android, or Chrome OS device
4. ScanSnap Cloud is optional and free, providing operators a quick and seamless way to send scans directly to popular cloud services without even powering on a computer
5. Large 4.3" Color LCD touch screen
6. Fast scanning of up to 40 double-sided pages per minute to help you stay productive!
Q

Is ScanSnap iX1600 duplex?

A Yes; the automatic document feeder will scan both sides of each document simultaneously.
Q

What is the benefit of a touch panel?

A ScanSnap iX1600 lets users tell ScanSnap what to do and how to do it directly from the scanner. This allows one user to easily choose different tasks, or multiple users to select their own unique profile.
Q

Do I have to use ScanSnap Cloud to use ScanSnap iX1600?

A No, ScanSnap Cloud is optional and free. ScanSnap Cloud allows users the choice to operate ScanSnap without a computer or mobile device and send their scans wirelessly through their router to ScanSnap Cloud.
Q

Can ScanSnap iX1600 scan to applications not included with ScanSnap?

A ScanSnap iX1600 does not come with a TWAIN driver but can be configured to scan into many 3rd party applications that support the viewing of PDF and JPEG files natively such as Adobe Acrobat and others.
Q

Can ScanSnap iX1600 scan photographs?

A Yes. Photographs may be stacked in the automatic document feeder and will be scanned in color at 600 dpi.
| | | | | | | |
| --- | --- | --- | --- | --- | --- | --- |
| | | | | | | |
| Scan Speed | 40ppm / 80ipm | 40ppm / 80ipm | 40ppm / 80ipm | 40ppm / 80ipm | 30ppm / 60ipm | 30ppm / 60ipm |
| Wi-Fi Connectivity | ✓ | ✓ | ✓ | ✘ | ✓ | ✘ |
| USB Connectivity | ✓ | ✓ | ✓ | ✓ | ✓ | USB/Ethernet |
| Scan to/from Mobile Devices | ✓ | ✓ | ✓ | ✘ | ✓ | ✘ |
| Color Touch Panel | 4.3" Panel | 4.3" Panel | 4.3" Panel | ✘ | ✘ | ✘ |
| Auto Feeder Capacity | 50 sheets | 50 sheets | 50 sheets | 50 sheets | 20 sheets | 50 sheets |
| U-turn & Return Paper Feeding | ✘ | ✘ | ✘ | ✘ | ✓ | ✘ |
| Two-Sided Scanning | ✓ | ✓ | ✓ | ✓ | ✓ | ✓ |
| Windows & Mac Compatible | ✓ | ✓ | ✓ | ✓ | ✓ | Windows |
| Adobe Acrobat Pro DC | ✘ | ✘ | 1-year subscription | ✘ | ✘ | ✘ |
| TWAIN Driver | ✘ | ✘ | ✘ | ✘ | ✘ | ✓ |
| Depot Protection Plan | ✘ | 4-Year | ✘ | ✘ | ✘ | ✘ |