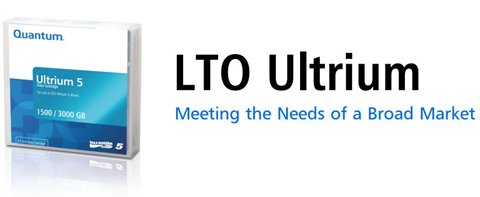 Archive your data with confidence using the high-quality Quantum LTO Ultrium 5 Data Cartridge. It's manufactured to industry standards for quality and reliability, ensuring low error rates, high performance and long-term durability. Owing to the advantages in high storage capacity, fast throughput rate, security features and long-lasting archival life, it's the ideal solution for archive and long-term data retention.
Key Features and Benefits
High Storage Capacity

One source for all your data storage; the LTO Ultrium 5 Data Cartridge can store up to 1.5TB of native data or up to 3.0TB of compressed data.

Fast Transfer Rate

This data backup tape cartridge delivers a super-fast data transfer rate of up to 280MB per sec for quicker backup and improved cost efficiency.

Long Archival Life

Up to 30 years estimated archival life means data will remain accessible far into the future.

WORM (Write-Once-Read-Many)

This write-once- read-many data cartridge addresses today's tough regulatory and compliance needs.

High-Performance

A high-durability noncontact IC memory chip up to 8KB is built-in, which contributes to significant improvement in tape library access and health reporting.
Why Choose Quantum LTO Ultrium Media

AES 256-bit Encryption
LTO Ultrium WORM (Write-Once-Read-Many) media cartridges are available to meet today's stringent regulatory and compliance requirements. Combined with native AES 256-bit encryption on LTO-5 drives, WORM cartridges physically prevent data from being overwritten or tampered with, providing a reliable, accurate and scalable data integrity solution.
Compatibility with Quantum and Other Brand LTO Drivers & Libraries
Quantum's comprehensive media quality monitoring and extensive interoperability testing ensures crossplatform compatibility, optimal performance, and reliability whether you're using a Quantum tape drive, library, or other LTO compatible hardware.
Compliant with All Media Integrity Analysis Utilities
Quantum's LTO Ultrium media is compliant with all Media Integrity Analysis utilities, including Quantum's iLayer Advanced Reporting and Extended Data Life Management, to provide ongoing trend data to evaluate and protect the integrity of the media pool, helping administrators improve overall backup reliability and reduce costs. When your critical data is involved, it's important have a complete health record of your media.
Industry-leading Quality and Reliability
Quantum's LTO Ultrium media is manufactured to the highest industry standards for quality and reliability, ensuring high-performance and durability, whether utilized for primary backup or long-term archive.
Over 30 Years of Experience
Quantum's LTO media offering supports your comprehensive, "edge to core" backup, recovery and archive strategy. When you use Quantum media and hardware, you get the added assurance of over 30 years of storage experience and service behind the entire solution.
Complimentary Value Added Service
Quantum offers complimentary value added services to save you time and money managing your media. Bar code labeling and library packaging available to quickly load automation slots/trays.