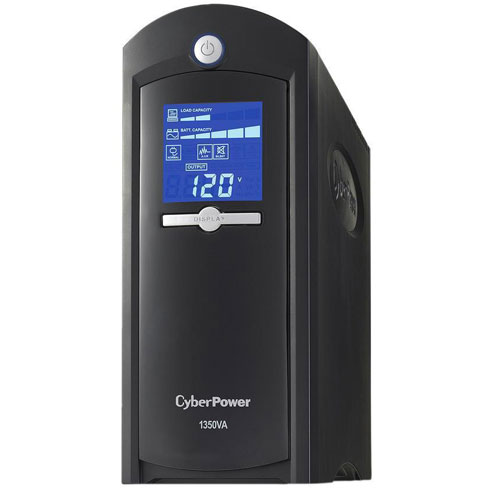 CyberPower C1350LA UPS
Protect SOHO networks, desktop computers, workstations and peripherals
The C1350LA is an affordable yet feature-rich UPS that provides battery backup and up to 1,500J of surge protection for computers, monitors, printers and home entertainment systems, in a tower, space-saving form factor. It uses Automatic Voltage Regulation to maintain the voltage at a staple level when minor fluctuations occur—without having to switch batteries.
The C1350LA has eight AC outlets, four with surge protection + battery backup and four with surge protection only. It also comes with a pair of RJ11/RJ45 combo ports (one in, one out) for networking devices, as well as a pair of coaxial connectors (one in, one out) for your A/V equipment. A backlit, easy-to-read LCD displays critical parameters like voltage and battery level. The free downloadable PowerPanel Personal software lets you control and monitor your UPS in an intuitive and user-friendly interface.
Battery Backup
Supplies power long enough for equipment to properly shut down when utility power fails. Helps prevent loss of data and minimizes the component stress caused by a hard shutdown.
Surge Protection
Diverts excess voltage away from sensitive electronic equipment during an AC power surge or power spike to prevent damage.
Data Line Protection
Prevents power surges that travel through telephone, coaxial and Ethernet lines and cause damage to electronics.
Line Interactive Topology
Exists when a line interactive UPS has an autotransformer that regulates low voltages (e.g., brownouts) and over voltages (e.g., spikes) without having to switch to battery.
Automatic Voltage Regulation (AVR)
Provides clean, consistent AC power by automatically regulating low voltages and over voltages, within defined tolerances, when incoming utility power has minor fluctuations.
Simulated Sine-Wave Output
Uses pulse-wave modulation to generate a stepped, approximated sine wave to supply cost-effective battery backup power for equipment that does not require sine-wave output.
GreenPower UPS Bypass Design
An exclusive design that allows utility power to bypass the UPS transformer, when AC power is stable, which reduces energy consumption, noise and heat buildup.
Multifunction LCD Panel
Displays immediate, detailed information on the UPS battery and power conditions, alerting users to potential problems before they can affect critical equipment and cause downtime.
Ultra-Quiet Design
Minimizes noise during operation for a quieter work environment.
PowerPanel Personal Software
Provides a user-friendly dashboard interface for controlling and monitoring the UPS. Available as a free software download.