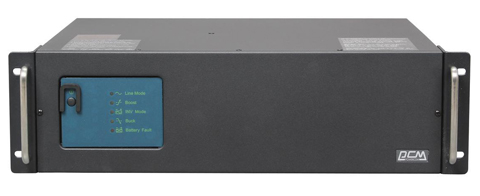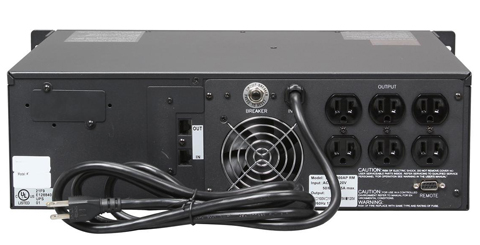 PCM Powercom KING RM KIN-2200APRM 2200 VA 6 Outlets UPS
The Powercom KIN-2200APRM UPS is the perfect solution for your battery backup and power protection needs. It features six three-prong outlets to charge multiple electronic devices simultaneously. It delivers pure, reliable power to keep your electronic equipment running during power outages, while providing comprehensive power protection against power surges & spikes, EMI/RFI interferences, overload, short circuit, etc. The advanced AVR adjusts and filters power fluctuations continuously and automatically, ensuring that all connected devices operate with constancy and stability.
Additionally, the built-in LED indicators and audible alarms instantly inform you of the status of the UPS and battery conditions, giving you the ultimate convenience. The 3U rack-mountable design allows for easy, space-saving installation. Power Management Software is also included.

1320W/2200VA Watts Output Power
The Powercom KIN-2200APRM provides a whopping 1320 Watts / 2200 VA of maximum output capacity, enough to keep even the most power-hungry system running during power outages.

Impressive Battery Run Time
With a sealed, maintenance-free lead acid battery, the Powercom KIN-2200APRM provides seven minutes* of battery runtime at full load, so you can properly shut down your equipment in the case of sudden power outages.
* Up to 15 minutes of battery runtime at half load.

Automatic Voltage Regulation (AVR)
AVR intelligently adjusts voltages to safe levels without using the battery, so you can work indefinitely during brownouts and overvoltage situations, saving the battery for power outages when you need it most.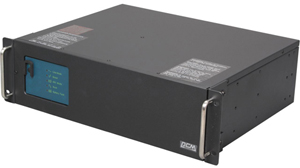 Comprehensive Power Protection
The Powercom KIN-2200APRM provides comprehensive power protection against any damage, so juice up your PCs, peripherals, and more with full confidence.
Protection Spike: Rated to withstand a power surge of 320 joules, the UPS protects your sensitive electronics from damaging power surges, and spikes.
Protection EMI/RFI:The UPS filters EMI/RFI noise up to 50 dB reduction for reliable power delivery.
Protection Overload: The UPS automatically shuts down if overload exceeds 110% nominal at 60 sec and 130% at 3 second.
Protection Unit: The built-in fuse allows for overload & short circuit protection.
Short Protection:The UPS output cuts off immediately. Input fuse protection is also offered.
Protection 10 BaseT: Network (UTP, RJ-45) compatible jacks are included.

User-friendly Designs
The LED status indicators let you quickly understand the unit and power status. The audible alarms inform you whether the UPS is using backup battery, the battery is low, or if there is an overload condition.
Power Management Software Included
The intelligent UPSMON Power Management Software automatically saves data in open files, closes open application and gracefully shuts down the operating system in a power outage, without any user attendance.
Package Content