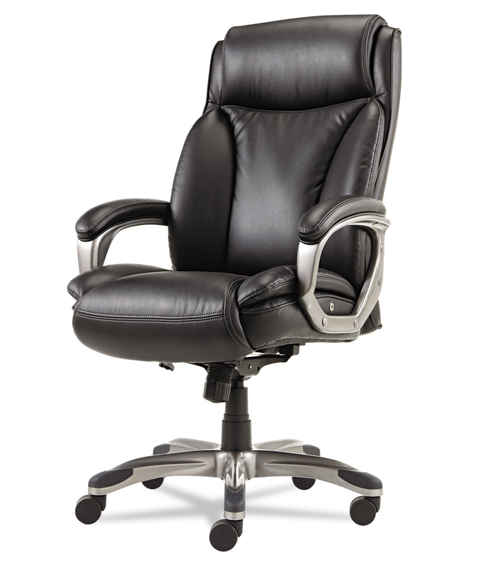 Alera Veon Series Executive High-Back Leather Chair with Coil Spring Cushioning
Combining ergonomic comfort design with fully adjustable features, the Alera ALEVN4119 is perfect for the busy executive who works long hours behind a desk.
Modern Ergonomic Executive Chair
Coil spring cushioned seat provides long-lasting, mattress-like comfort.
The generously cushioned high-back design provides the perfect level of support for your back to help relieve back-strain.
Adjustable lumbar support allows for optimal back positioning.
Ergonomic side bolsters provide added support.
Generously cushioned waterfall seat reduces pressure points at the back of the knee.
Five-star base with protective foot zones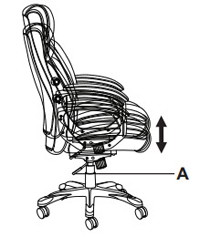 Seat Height Adjustment
To raise the seat height, stand up from the chair while lifting the lever (A) under the right side of the seat. To lower the seat height, lift the lever (A) while sitting in the chair.
Tilt Tension
Knob underneath seat adjusts angle and ease with which chair reclines to the different weights and strengths for different users. To increase tension, turn knob to the right. To release tension (loosen), turn knob to the left.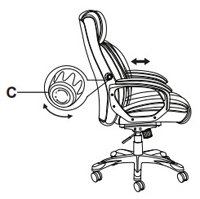 Lumbar Support Adjustment
Turn this knob towards the arrow labeled "+" to increase lumbar support. Turn this knob towards the arrow labeled "-" to decrease lumbar support.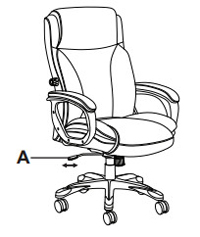 Tilt Lock
Pull the lever, "A", on the right side of the seat away from the chair to recline. To lock the chair in the right position, push the lever in towards the chair.