Packed with speedy dual-core A5 chip, two stunning cameras, gorgeous 9.7" IPS touchscreen and fast wireless … all in a thin, light footprint, the Apple iPad 2 (model # MC769LLA) creates the best possible iPad experience for you.
Appealing Features
Thinner and Lighter
Once you pick up iPad 2, it'll be hard to put down. That's the idea behind the all-new design. It's 33 percent thinner and up to 15 percent lighter, so it feels even more comfortable in your hands. And it makes surfing the web, checking email, watching movies, and reading books so natural, you might forget there's incredible technology under your fingers.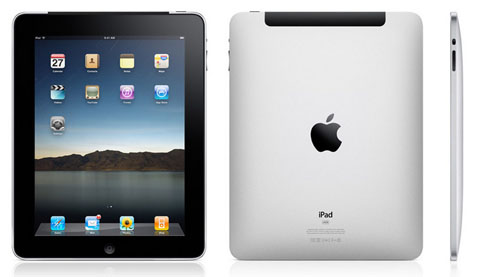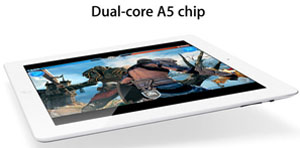 Dual-core A5 Chip
Two powerful cores in one A5 chip mean iPad can do twice the work at once. You'll notice the difference when you're surfing the web, watching movies, making FaceTime video calls, gaming, and going from app to app to app. Multitasking is smoother, apps load faster, and everything just works better.
Superfast Graphics
With up to nine times the graphics performance, gameplay on iPad is even smoother and more realistic. And faster graphics help apps perform better — especially those with video. You'll see it when you're scrolling through your photo library, editing video with iMovie, and viewing animations in Keynote.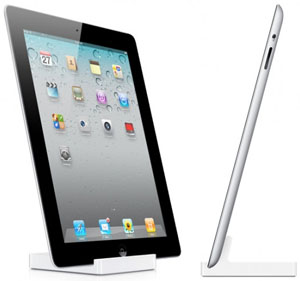 Stunning 9.7" LED-backlit IPS Display
Everything you do with iPad, you do through its large, beautiful display. When the display is better, the entire iPad experience is better. The 9.7" LED-backlit display delivers clear, crisp images with vivid, accurate colors. It utilizes advanced IPS technology, so you can see all the full-color action, even from wide viewing angles. Also, the display features a fingerprint-resistant oleophobic coating for increased resolution during use.
Two Cameras
You'll see two cameras on iPad — one on the front and one on the back. They may be tiny, but they're a big deal. They're designed for FaceTime video calling, and they work together so you can talk to your favorite people and see them smile and laugh back at you. The front camera puts you and your friend face-to-face. Switch to the back camera during your video call to share where you are, who you're with, or what's going on around you. When you're not using FaceTime, let the back camera roll if you see something movie-worthy. It's HD, so whatever you shoot is a mini-masterpiece. And you can take wacky snapshots in Photo Booth. It's the most fun a face can have.
Battery Life Keeps On Going
Even with the new thinner and lighter design, iPad has the same amazing 10-hour battery life. That's enough juice for one flight across the ocean, or one movie-watching all-nighter, or a week's commute across town. The power-efficient A5 chip and iOS keep battery life from fading away, so you can get carried away.