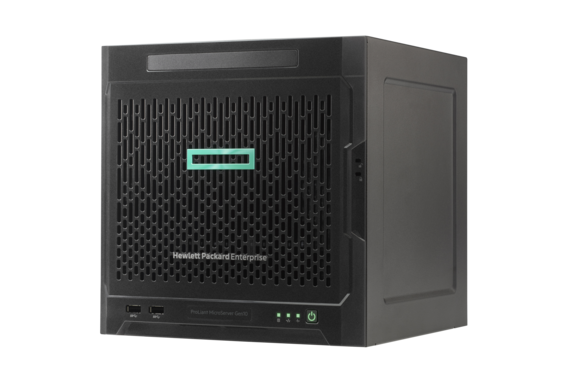 HPE ProLiant MicroServer Gen10
Featuring a compact design that can be placed almost anywhere, the HPE ProLiant MicroServer Gen10 is a budget-friendly, entry-level server that's ideal for small business and home use. Powered by an AMD Opteron X3421 processor with embedded graphics cores, it delivers above-decent performance for data-intensive tasks. Enjoy simple access to hard drives and easy management, installation and upgrades. The ClearOS Software will greatly improve your productivity by allowing you to add only the applications you need.
Be Productive and Customize with ClearOS Software from HPE
The HPE ProLiant MicroServer Gen10 can be configured with ClearOS Software from HPE, an operating system with an intuitive web-based GUI and application marketplace that can be factory pre-loaded for your convenience. The ClearOS software from HPE is a no-cost operating system that lets you decide what applications you want to configure while only paying for the applications and support you require.
Unique Server Design with Worry-Free Serviceability
The HPE ProLiant MicroServer Gen10 is available with easy access to hard drives, memory and PCIe slots for simple installations or upgrades. Simply put, these towers are compact, easy to use and can be placed in almost any location with their compact design.
Graphics Performance
HPE ProLiant MicroServer Gen10 supports the AMD accelerated processing unit (APU) with the graphics core embedded to aid customers with graphics-related workloads without installing an additional graphics card. Dual display ports capable of 4K-resolution video displays provide increased flexibility.