Samsung Galaxy S4 I9500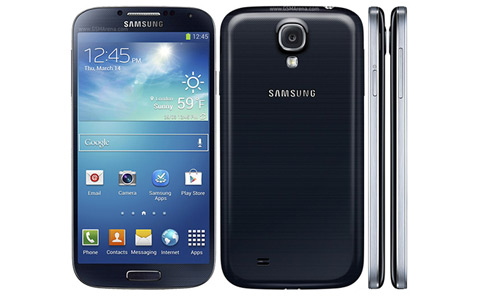 ---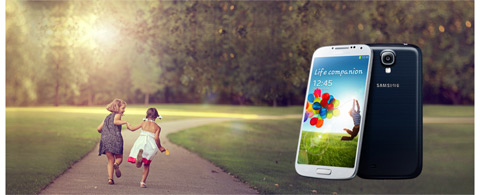 Life Companion
Make your life richer, simpler, and more fun. As a real life companion, the new Samsung Galaxy S4 helps bring us closer and captures those fun moments when we are together. Each feature was designed to simplify our daily lives. Furthermore, it cares enough to monitor our health and well-being. To put it simply, the Samsung Galaxy S4 is there for you.
---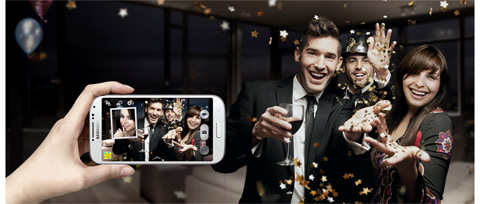 Dual Shot
See both sides of the story.
Two cameras, one extraordinary photo. Capture the 'I was there' moments of your life by simultaneously shooting with the front and rear cameras. Get the shot you want with more variety of styles to choose from. With Dual Shot, friends and family can experience everything with you, no matter how far they may be.
---

Group Play - Share Music
Share the enjoyment with friends.
Get your friends together and let them enjoy your music simultaneously. Wirelessly connect multiple Samsung Galaxy S4 phones to play games and share photos and documents. Get all Samsung Galaxy S4 phones together and create a powerful sound system that enhances the sound quality and keeps the party going.
---

Story Album
Create an album for every occasion.
Have the Samsung Galaxy S4 organize your photos and create albums based on specific events or customize them the way you want. You can even apply themes and choose various layouts. Then print the photos and hold the memories in your hand.
---

S Translator
No more language barriers.
Say or text what you need translated into your new Samsung Galaxy S4 and it'll read or text back the translation. The Samsung Galaxy S4 is a handy companion while traveling abroad, allowing you to easily communicate with locals, discover exotic foreign dishes, and explore hidden hangouts around the world.
Support: English, German, French, Chinese, Spanish, Italian, Japanese and Korean.
* S Translator relies on a data connection and available languages are limited. Additional terms and/or charges may apply. Results will vary by circumstance.
---

Air View
Find a simple and new approach from the ordinary touch.
Save time by having a quick preview without having to open up the entire content.
Air View makes it super-convenient to enlarge content and photos, preview emails, and speed dial all with your finger barely hovering over the screen.
Supported features: Information Preview, Progress Preview, Speed Dial Preview, Webpage Magnifier.
---

Samsung Smart Pause
It's a phone that follows your every move.
Building off of the Galaxy S3's Smart Stay, the Samsung Galaxy S4 knows what you're doing and intuitively moves along with you – automatically scrolling up or down emails or websites when you tilt the phone from one side to another. Whenever you look away, the Samsung Galaxy S4 makes sure to pause whatever you're watching, so you don't miss anything. Amazingly, Smart Pause resumes where you left off when you look back at the screen again.
---

Samsung WatchON
The ultimate TV remote is here.
Connect your Samsung Galaxy S4 with your home entertainment system and let it be your TV expert. It suggests different programs based on your preferences, provides program schedules, and does the channel surfing for you. The Samsung Galaxy S4 even allows you to remotely control the TV or set top boxes. So sit back, relax and let the Samsung Galaxy S4 take the work and hassle out of TV for you.
---

S Health
Achieve more for your health.
Stay active and fit with the Samsung Galaxy S4. It will track your workouts, daily intake, and weight levels. Get the current status of your surroundings for your activities with the Samsung Galaxy S4's Comfort Level. It shows your comfort level based on temperature and humidity. Monitor your progress with both Health Board and various charts. Together with the Samsung Galaxy S4, being motivated for better health has never been so easy.
---

Live in a world of infinite possibilities.
The design of the Samsung Galaxy S4 defies what's possible.
The incredibly-wide Full HD Super AMOLED screen fits perfectly within an extraordinarily slim bezel that's encased in a special polycarbonate body, making this the lightest and most sophisticated Galaxy yet.