Fremo C510 11000 mAh High Capacity Power Bank
Never again experience the wrath of a dead phone battery while you're on-the-go. The high-quality Fremo C510 Power Bank offers a fast, easy, and safe way to charge your Apple / Android devices - and can also be quickly recharged. It also comes with a built-in LED flashlight and an easy-to-read LCD screen, giving you extra convenience.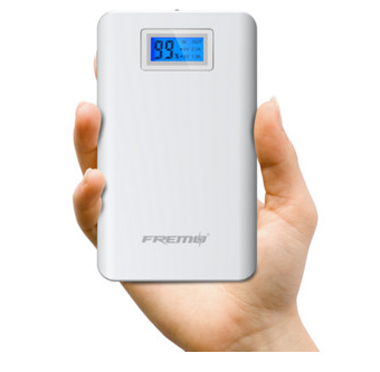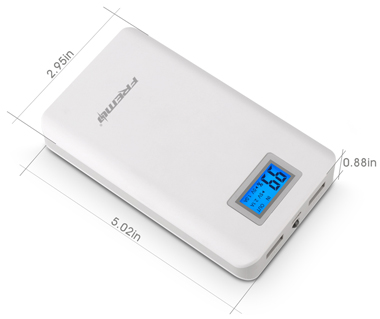 Enormous Battery Capacity
With a huge battery capacity of up to 11000 mAh, the Fremo C510 multiplies your battery life to keep you powering on for days. When it's fully charged, it's able to charge an iPhone 5s almost 6 times and an iPhone6 Plus 2.5 times, and offers the longest standby time of up to 6 months. The recharging cycles can reach more than 500 plus.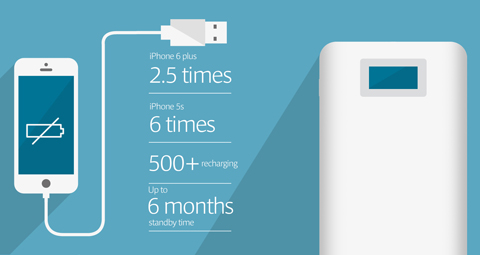 Charge Your Mobile Devices and Be Recharged - Both Quickly.
The included dual USB outputs allow you to simultaneously charge two devices at full speed, saving charging time. One USB port can output power of 5.1V / 1A, while the other one can output power of 5.1V / 2.1A.
Plus, one USB input port offers a current of 5V / 1A for quick recharging of the power bank itself.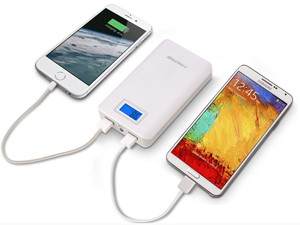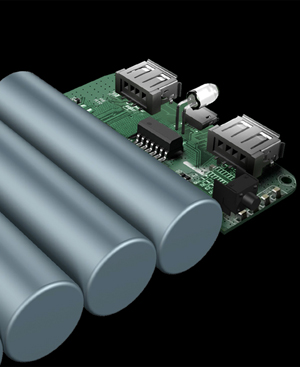 Quality-built for the Maximum Safety
The Fremo C510 uses the premium Grade A battery cell and high-quality microchip, providing instinctive protection from shot circuit, over-charging and over-discharging.
The heat-sensitive and temperature control mechanisms ensure the batteries operate within a safe range.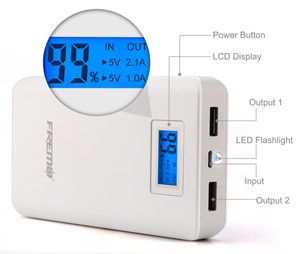 Clever Designs
Functional built-in LED flashlight comes to your rescue in an emergency situation by pressing the power button twice.
The eye-catching LCD screen alters your as to how much capacity you've got left.
The slim, compact footprint rests nicely in your palm. Simply slip it into your pocket or bag, and take it with you anywhere you go.
The sturdy, durable enclosure is able to withstand bumps, drops and other daily wear and tear.
Packing List
Fremo Window x 1
Charging cable x1
Warranty card x 1
User manual x 1