With performance, features and design, the Samsung Galaxy S4 is a great companion that makes your life richer, simpler, and more fun. Power through your daily tasks and games with the Qualcomm APQ8064T Snapdragon 600 quad-core chip. See all your content come to life on a stunning 5" Full HD Super AMOLED display. Capture amazing photos with the 13MP autofocus rear camera, or take dual shot by using the front- and rear-facing cameras simultaneously. Stay fit, keep track of your workout progress and achieve your goal with apps that are designed to retain your health. The Galaxy S4 also comes with Air Gesture, a Samsung innovation that allows you to interact with your phone by waving hand over the screen, without actually touching it. The Group Play enhances your entertainment by pairing up to eight phones wirelessly to play games and share your favorite tunes, photos, and documents – no Wi-Fi needed. Plus, with thin profile, slim screen bezel and a special polycarbonate body, the Galaxy S4 is light and strong enough to go wherever life takes you.
This item comes with FreedomPop Service - save up to $1000 every year with the nation's first 100% FREE mobile phone service with free voice, text, and data.
FreedomPop Service
100% Free Basic Plan - 500 texts, 200 minutes, and 500MB each month
Premium unlimited talk & text plan at up to 80% off other carriers
Unlimited Talk, Text, and 1GB Data - $19.99/mo
No contract. No commitment. Cancel anytime
WiFi calling and texting from anywhere
Free unlimited calling & texting between FreedomPop Phones
Free international calling from over 60 countries
Get a new phone number or keep your own
Earn additional free data every month by adding friends
Earn unlimited free data by completing partner offers
Coverage
To ensure the best FreedomPop experience, click HERE (or visit freedompop.com/coverage3g4g) to check if coverage is available in your area. Be sure to check the 4G LTE and 3G boxes only.
Activation
After you receive your FreedomPop device, activate it HERE (or visit freedompop.com/activate) to take advantage of FreedomPop's 100% free talk, text, and LTE data services.
Hardware Excellence
View all your content on a stunning 5-inch Full HD Super AMOLED display that's powered by a robust 1.9GHz quad-core processor — all in a light 0.29LB smartphone.
Slow and Fast Motion
Capture every moment with Slow Motion video recording – no video editing tools necessary. Slow down or speed up all the action using the Galaxy S 4 Slow Motion and Fast Motion camera modes. Simply choose your mode, select your speed and start recording.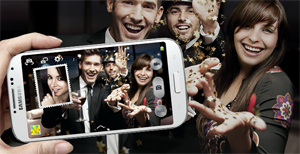 Shoot like a Pro
Capture moments with the 13MP autofocus camera. Take simultaneous front and back photos with Dual Camera, edit them right on your phone with Eraser Shot and relive the memories in brilliant clarity with Story Album.
Touch Free
Experience a whole new way to interact with your smartphone. Wave your hand at the screen to accept calls with Air Gesture, read content by tilting your head or phone with Smart Scroll and preview content by barely touching the screen with Air View.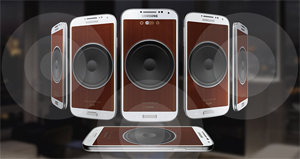 Group Play
It's easy to connect, work or play with the Galaxy S 4. With Group Play, you can connect up to 8 phones wirelessly to play games and share your favorite tunes, photos, and documents — no Wi-Fi necessary.
Take it at Your Own Pace
Easy Mode is a setting you can use to simplify your home screen with bigger icons and your favorite apps, so you can take your time to discover the amazing world of your new Galaxy S4.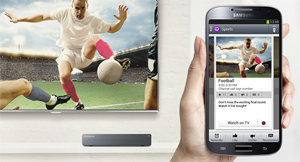 A Smartphone That Makes TV Better
With WatchON you can change the TV channel from your phone. Also, get a custom TV guide that shows what you like to watch.