GOgroove 3.5mm Groove Pal Polar Bear Portable Rechargeable Speaker

GOgroove Groove Pal - A Cute Speaker that Sounds as Good as it Looks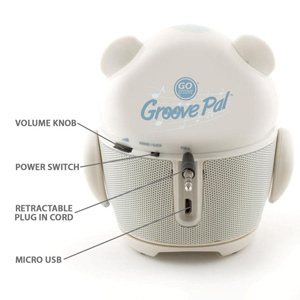 Perfect for the kid in all of us, the Groove Pal Polar Bear speaker offers high-quality sound at a reasonable price

Dual stereo drivers are paired with a passive woofer on the bottom of the speaker to deliver high quality audio to your ears

The cutest music buddy for all occasions

The Groove Pal Polar Bear fits in the palm of your hand
Ultra portable design means you can take him anywhere
Makes the ultimate desk mate or travel companion or children

Universal 3.5mm Aux. cable retracts into the back of the speaker so you don't have to worry about the mess and hassle of wires

Works with any device housing a headphone jack
Use with electronics like smartphones, tablets, MP3 players, portable gaming consoles, laptops, desktops and more

Equipped with a long lasting rechargeable battery

6 hours of use per charge with continuous audio playback at maximum volume output
At lower levels, the speaker can last as long as 24 hours or more

Design also features a glowing LED indicator

LED glows blue when the speaker is powered on and fully charged
LED glows red when the speaker is off and charging
If the red light is flashing, it means your new friend is tired and needs to recharge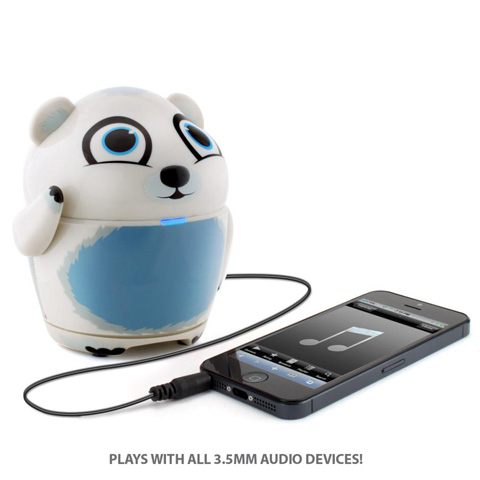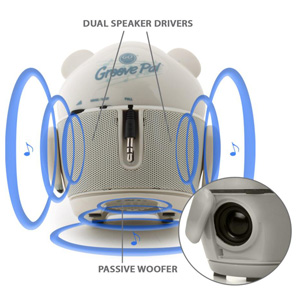 Rich, Hi-Def Sound
Meet the Groove Pal. It's a cute, user-friendly speaker that loves to share its sound with everybody! In exchange for a little power, it'll give you hours of crisp, clear audio with nearly any popular media device! Featuring stereo drivers and a passive woofer, the Groove Pal can deliver powerful audio for any listening experience. Simply grab the retractable 3.5mm cord from its back, plug it into your media device's headphone port, switch it on, and you're ready to play!
Long-Lasting Battery
The Groove Pal is built with a rechargeable battery that lasts up to 6 hours at max output. Allow the speaker 2-3 hours to fully charge via the included Micro-USB cable, or play while you charge! Its LED glows blue when it's on and fully charged, and red when it's off and charging. If the red LED is flashing, it means your Pal is tired and needs to recharge.
A Fun, Smart Design That's Great for Kids!
The Groove Pal is packed with a host of great features like movable arms, a glowing LED indicator, a volume toggle, a durable molded plastic shell, an ON/OFF switch, and a universal 3.5mm audio plug. It's also extremely portable, so you can share the fun with your friends! Store it in bags, purses, and much more.

The Groove Pal is universally compatible with any and all devices housing a 3.5mm Aux. connection port.
Kid's Tablets
Kurio Kids Tablet / LeapFrog LeapPad2, Ultra, Power / Samsung Galaxy Tab 3 Kids Edition / Smart Bears Kids Pad / VTech Inno Tab 3 / NeuTab / NORIA Junior / Fuhu Nabi 2 / PlayMG MG / ClickN KIDS / Tabeo e2 / Tesco Hudl / XO Tablet / Polaroid HD / Lexibook Kids Tablet One / Ematic FunTab / Supersonic Munchkinz / Vinci Tab III / MEEP! / InnoTab 3, 3S / MobiGo 2, Touch / LeapsterGS, Explorer
Kid's Laptops
PeeWee Pivot / Kids Classmate / Kids Rugged Netbook / WolVol / OLPC XO / VTech Tote & Go, Brilliant Creations / Lexibook / Winfun Elite
Laptop and Desktop Computers
Acer / Apple / Asus / CyberpowerPC / Dell / Gateway / Google / HP / Lenovo / Samsung / Sony / Toshiba / Alienware / iBuyPower / Origin / MSI / Razer Blade / Cybertron PC
Smartphones
Samsung - Galaxy S5, S4, S3, S2 / Note 3, 2, 1, 10.1 / Skyrocket / Nexus / Blaze / Attain / Rugby Smart / Exhilarate / Brightside / DoubleTime / Transfix / Captivate Glide / Stratosphere / Focus / Dart / Fascinate / Captivate
Apple - iPhone 5, 5S, 5C / 4S, 4 / 3GS, 3G
HTC - One Max, One, One Mini / Desire 816, 610, 230 / Droid DNA / 8XT / Evo 4G LTE / Incredible / X, S, V / Titan / Rezound / Vivid / Design 4G, 3D, Shift / Sensation / Hero / Rhyme / Radar / Amaze / Status / Trophy / Wildefire / Thuderbolt
Motorola - Droid Moto X, G / Maxx / Ultra / Mini / RAZR / RAZR M / Bionic, Pro / Atrix, 2 / Defy, + / Triumph / Titanium / Milestone / Glam / Clutch / Quench / XT5 / Theory / Cliq, 2.
LG - G Flex / G2 / Nexus D820 / Enact / Rumor Reflex S / Optimus / Lucid / Mach / Freedom / Venice / Escape / Spectrum / Nitro
Sony - Xperia Z2 / M2 / Z1S / Z1 / Z Ultra / M / ZR, Z / SP / L / ZL / E / TX / T / E / J / SL / U / P / S / Miro / Tipo / Advance
Nokia - 220 / X, X+, XL / Lumia 1520, 2520, 1020, 925
Tablets
Acer - Iconia
Apple - iPad 4, 3, 2, Air, Mini
Archos - 101 XS 2, 101 XS, 80 XS, Elements - Platinum, Titanium, Neon, Cobalt, Xenon, Carbon, GamePad 2, FamilyPad 2
Asus - Vivotab / Transformer Pad, MeMO Pad, Fonepad
Google - Nexus 7 FHD, Nexus 10
Blackberry - Playbook
Coby Kyros - MID1065, MID8065, MID7065, MID4331, MID9742, MID9740, MID8048, MID7048, MID7047, MID1048
Dell - Venue 8 Pro, 11 Pro, Venue 7, 8
Huawei - MediaPad 7 Vogue, 7 Youth, 10 FHD, 10 Link, 7 Lite, 7 Youth 2
HP - ElitePad 1000, ProPad 6000
Lenovo - A7-50, A8, A10 / Yoga Tablet 10 HD+, Flex, IdeaPad Yoga, Miix, ThinkPad, IdeaTab
LG - G Pad, Optimus Pad, Optimus LTE
Microsoft - Surface Pro 2, Surface 2, Surface RT
Motorola - Xoom, Xyboard
Panasonic - Thoughpad, Touchpad, Toughbook
Samsung - Galaxy Note Pro 12.2, 10.1 2014 Edition, Tab 3 7.0, Tab 3 8.0, Tab 3 10.1, Note 8.0, Note 10.1, Tab 2 7.0, Tab 2 10.1, A TIV Smart PC, Galaxy Tab 7.7, Tab 7.0
Sony - Xperia Tablet Z, S
Toshiba - Excite, Encore, Excite Pure, Excite Write, Excite Pro, Thrive
MP3 Players
Apple - iPod Touch, Nano, Shuffle, Classic ( All Generations )
Samsung - Galaxy Media Player 5.0, 4.0, 4.2, 3.6
Coby - MP620, MP828
SanDisk - Sansa Clip Zip, Clip+, Fuze+, Fuze
Sony - Walkman Z Series, F Series / NWZE465BLK, NWZS545BLK, NWZS764BLK
Creative Labs - Zen Mozaic EZ100, EZ300, Zen Style 100
Degen - DE1127, DE1126 Audio Recorder & Player
Cowon - Z2-16WH, Z2-32BL
Neewer - Pink Q Key Mini, C Shape Mini
Stepfly - Lightahead Mini Clip
Mach Speed - Trio V2, V218, Eclipse T180
Philips - GoGEAR Vibe, SoundDot, Raga, Mix
RCA - M6316RD-A
HDE - Mini
Zune - HD, 4GB, 8GB, 16GB, 30GB, 80GB, 120GB
Pyrus - Electronics
Handheld Gaming Consoles
Nintendo - 3DS, Dsi, XL, Lite
Sony - PSP Go, 3000,PS Vita, Ericcson Xperia PLAY
NVIDIA - SHIELD
Razer - Edge Pro, Blade Pro