Rediscover the pleasure of phone conversation with the Swissvoice ePure CH05 corded handset. This ePure corded handset utilizes innovative technologies for high quality mobile phone conversation, ideal for the office, home, and traveling use!
This ePure corded handset works with mobile phones, tablets, and PCs via a standard 3.5mm plug. Use it to take calls from your mobile phones, tablets, or PCs. The innovative HD Voice technology ensures superior audio quality for crystal-clear conversation. The Fulleco technology helps reduce the amount of electromagnetic waves, wile the ergonomic design ensures the maximum comfort. The Swissvoice ePure CH05 corded handset comes in five vigorous colors and features a neo-retro design, making it a great addition to any living space.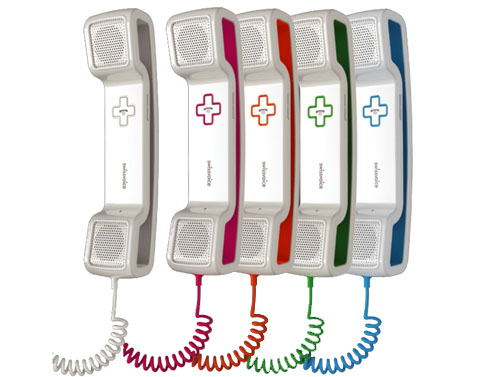 "Made for iPhone" Switch
A hard switch on the CH05's handset lets you switch between conventional mode and Apple Mode, giving you broad compatibility with any smartphone or iPhone (including latest version), along with support for many different types of features – including Siri and easy volume controls.
Use with Smartphones, PC, Tablets, and More
The ePure handset uses a 3.5mm standard stereo plug, allowing you to plug it into many devices. Plug it directly into your smartphone for mobile and video calls, or into your PC, laptop, or tablet to chat via Skype, Google Talk, FaceTime, or any VoIP computer telephony.

HD Voice
The ePure handset has built-in the latest wideband audio technology, making your conversation experience unlike any before. Fully compatible with iPhone 5 and mobile phones with HD voice enabled, the ePure handset's voice quality is richer and more natural than using the phone on its own. Now callers can feel closer to each other, better at sharing feelings and emotions. The HD voice acoustic spectrum ranges from 50 Hz to 7,000 Hz, compared to 400-4,000 Hz for the traditional acoustic spectrum. ePure products are built from the ground up using HD microphones, receivers, speakers, codecs, and a HD speech processing algorithm to achieve the best sound quality.
Fulleco Technology
There is evidence that radiation absorbed by the brain is reduced by 400 percent when the distance between the body and the mobile phone user increases. By using a handset equipped with Fulleco technology, Swissvoice can drastically reduce the body's exposure to potentially harmful radiations without forgoing mobile functionality.

Ergonomics
Swissvoice implements a variety of expertise to increase user comfort, and improve the overall voice experience. The ergonomic design of this classic device allows the user to restfully hold the handset between the hand and the ear. The positioning of the ePure phone on the body can also moderate back pain normally associated with trying to hold small and slim handsets using the shoulder. The shape of the handset is a perfect match to the human ear, improving the overall sound quality and reducing acoustic leakage.