"
The stable THRUSTMASTER® T.Flight Hotas X joystick works with both PC and PS3™ gaming systems to create a more comfortable and immersive experience. This joystick features a trigger that allows for braking or rapid fire. You can adjust the throttle handle resistance and rudder function to tailor the joystick for user preferences or to better suit different gaming titles.
Multiple Joystick Customization Options
Handle resistance can be set to highly sensitive so it will react to the slightest touch or you can adjust it for a firmer setting. Users can turn off the handle rotation function by adjusting a screw at the base of the joystick when the rudder feature is not in use. When using this joystick, you can combine it with other PC game controllers, such as eye trackers and switch panels for a more immersive gaming experience.
Stable Game Play With Thrustmaster T.Flight Hotas X Joystick
The Thrustmaster T.Flight Hotas X joystick features a weighted base to improve stability during gameplay. You can attach the throttle to the joystick to enhance stability and save space. Detaching the throttle provides a more realistic piloting experience.
Fast Plug-and-Play Installation
This Thrustmaster Hotas joystick features plug-and-play functionality as a default configuration for quick installation on a variety of popular PC and PS3 titles. The plug-and-play function saves users time and allows them to start gaming right away. An internal memory card also provides personalized programmable options.
"
Thrustmaster T.Flight Hotas X Joystick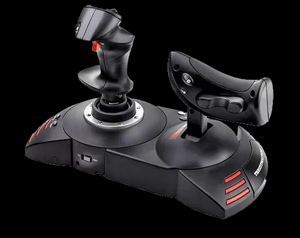 Enjoy games to the fullest with the high-precision, ergonomic Thrustmaster T.Flight Hotas X Joystick. It comes with detachable, real-size throttle control and direct configuration* for immediate takeoff. Just plug it in and get ready to play. An array of gaming-optimized features – including dual-system aerodynamic control, programmable buttons & axles, exclusive "PRESET" &"MAPPING" buttons, and more – gives you the high-quality controls you need for thrilling airborne action, elevating your gaming experience to a new level.
The T.Flight Hotas X Joystick is compatible with both PCs and PS3 systems.
Configurations by Default:
PC: Flight Simulator X* Microsoft, the most popular flight simulator
PC: Microsoft Flight
PS3: Afterburner Climax * by Sega
PS3: Blazing Angels 2 * by Ubisoft
PS3: Birds of Steel * by Konami
PS3: IL-2 Sturmovik Birds of prey * 505 Games
PS3 & PC: Tom Clancy's H.A.W.X* Ubisoft
PS3 & PC: Tom Clancy's H.A.W.X.2 * Ubisoft

Note: *This joystick is not distributed under license or with the approval of Microsoft Corporation / Ubisoft / 505 Games / Sega.
Key Features

Dual-system Aerodynamic Control
With dual-system aerodynamic control, this joystick provides advanced control by rotating the handle with integrated blocking system, or by progressive tilting lever.

Highly Precise & Programmable
The T.Flight Hotas X is a high-precision joystick with adjustable resistance. It features up to 12 buttons and five axles that are entirely programmable.

Internal Memory
The internal memory saves all of your programming, even with the joystick disconnected.

Trigger
The T.Flight Hotas X includes a trigger for brakes (civil flight), or for rapid fire (military flight) & multi-directional hat (panoramic view).

Exclusive "PRESET" Button
Exclusive "PRESET" button: to switch, while playing, instantly from one programmer to another.

Exclusive "MAPPING" Button
Exclusive "MAPPING" button: all functions may be instantly switched around between each other.

Ergonomic Design
The ergonomic design with wide hand-rest provides the ultimate comfort, even for long-lasting gaming session. Plus, the weighted base makes for great stability.

Plug & Play Support
The T.Flight Hotas X supports plug- and- play function, allowing for ultra-simple and fast installation with all functions pre-configured for immediate takeoff (without worrying about configuration).