The Moki BassBurger is a powerful, palm-sized boombox that creates sound way beyond its tiny size. With Moki exclusive vacuum bass design, it provides unrivaled sound, bringing life to your music. The ultra-compact, durable housing endows it with the maximum portability, while the chic hollow pattern on the top surface combines with vibrant and fun color* to make a bold and stylish statement every time you take it out. You'll also appreciate its long-lasting rechargeable battery, and 3.5mm (1/8?) headphone jack.
Note: *Moki BassBurger Boom-box is available in your choice of three finishes: Black, Silver, and Red.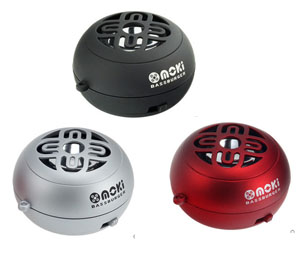 Perfectly Portable
Wherever you go, the Moki BassBurger Boombox goes with you. Only 5cm in diameter, it's small enough to clip on your bag, keys or carry in your pocket. Constructed from tough, soft-feel material, it's extremely durable to withstand heavy duty use.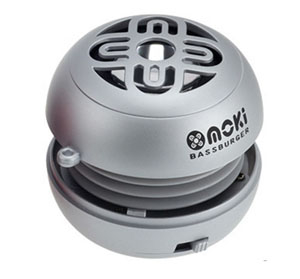 Size Defying Sound
Don't underestimate the audio prowess of the palm-sized Moki BassBurger Boombox. It comes equipped with a large 36mm driver unit, and features unique vacuum bass design to increase its internal resonance for deep bass. Simply twist to expand, and it delivers crystal- clear, robust, and rich dynamic sound with deep bass to please your ears incredibly.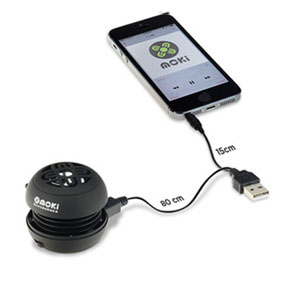 Great Compatibility
With a standard 3.5mm (1/8?) headphone socket, the Moki BassBurger can be connected to any audio devices, such as iPods, MP3 and media players, laptops and more.
Long-lasting Rechargeable Battery
The in-built rechargeable lithium battery allows up to eight hours of continuous play. It will not drain power from play device. It can be recharged up to 500 times via USB.