The Coboc HS-6 HDMI cable allows you to broadcast quality digital video, digital audio, and intercomponent control signals all in one compact, high-performance connection. It supports multiple audio formats from stereo to multi-channel sound, as well as multiple video formats such as high-definition video and standard video. The HDMI cable is constructed to ensure all signals are transferred faithfully. With support for rich HDMI features, the Coboc HS-6 HDMI cable fit any home theater applications you can think of.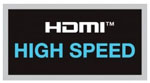 HDMI High Speed Compliant
The Coboc HDMI cable complies with the HDMI High Speed specification for up to 10.2Gbps speed. It supports high definition video and multi-channel surround sound transfer as well as intercomponent control signals transfer via a single cable. Even uncompressed audio/video signals can be smoothly transferred. It also supports 3D in full 1080p resolution and resolutions up to 4K/2K (3840/2160p).
High Quality Signal Transfer
Fully HDCP compliance and gold plated connectors provide the highest level of signal quality. It is also shielded for maximum protection from RFI and EMI interface.

Audio Return Channel
The Audio Return Channel enables a TV, via a single HDMI cable, to send audio data "upstream" to an A/V receiver or surround audio controller. This increases user flexibility and eliminates the need for any separate S/PDIF audio connection.
Broad Compatibility
The HDMI cable is compatible with various High Definition devices, such as DVD Players, Satellite Boxes, LCD Projectors, Plasma TV and HDTV. With support for common photographic color standards including sYCC601, Adobe RGB and Adobe YCC601, it delivers better compatibility with digital still cameras.