ULTIMATE MOBILE DESKTOP
MODERN SOLUTION FOR THE CLASSIC COMPUTER
THIN


Only 14mm thick. As thin as a package of post-it notes

LIGHT WEIGHT


The lightest desktop you've ever felt in the palm of your hand

OS LINX


Use Windows 10 on any iOS device

POWERFUL


Using the latest Intel Atom x5 14nm technology featuring a fan less design - ultra-quiet performance & 4 hrs of battery life

WIN 10


Full 64-bit Windows 10 that enables both desktop or tablet mode

VERSATILE


Ability to use as a battery pack or external hard drive
Use It Anywhere
The most portable mobile desktop you have ever seen. It's truly the most versatile, sexiest computer. Ever.
Mobile
Mobile Desktop in your pocket
You can truly take your mobile desktop where you are. It's small enough to fit in your pocket
Home
Home Entertainment
You're able to enjoy all what windows 10 has to offer by watching your own video collection or stream your favorite online movies
Work
Any Monitor
Kangaroo has ability to collect it to any monitor that you already have
* Additionl USB wired, wireless and/or bluetooth keyboard & mouse is required
SMALL THINGS COMES WITH BIG BENEFITS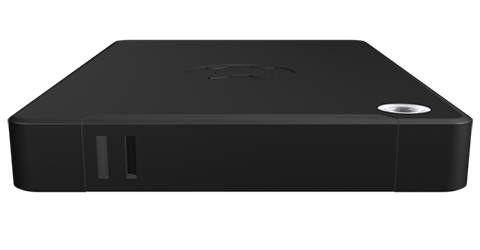 Elegance meets durability. There is nothing quite like the Kangaroo with the aluminum finish. It is not only the most durable mobile desktop that you'll ever experience, but the most versatile mini-PC you can imagine. It truly is the beginning of something special.
SECURITY IS ONLY A SWIPE AWAY
The built-in fingerprint reader not only adds another layer of protection to your online life, it was designed specifically to take advantage of Windows 10 to it's maximum potential. Run Windows, Office, your desktop apps and browsers with ease as well as thousands of other essential programs for business and creativity.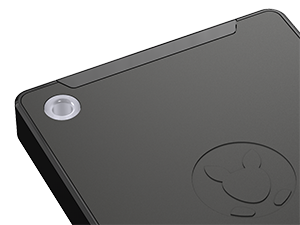 STUNNING DESIGN AND VERSATILITY
About the 1/3 of the weight of typical tablets and as thin as a package of post-it notes. Not only can you use it as your personal mobile desktop, it has the versatility of a battery pack, extra storage (microSD), or using windows 10 on your iOS device.
YOUR CONTENT. ANYTIME. ANYWHERE
Specifically designed with Windows 10 in mind. The ability to use it with any screen, Retrieve that document you forgot to take to the meeting using Onenote. Access your photos. Collaborate on a project. With Onedrive, you won't forget where you put your documents anymore.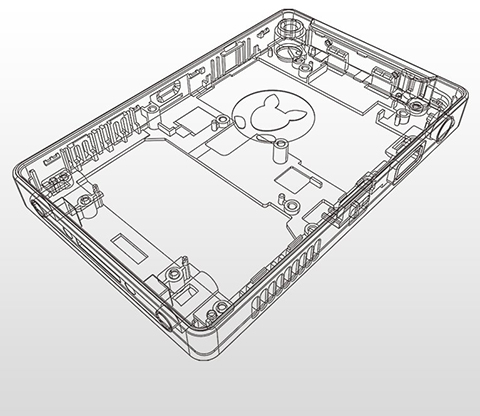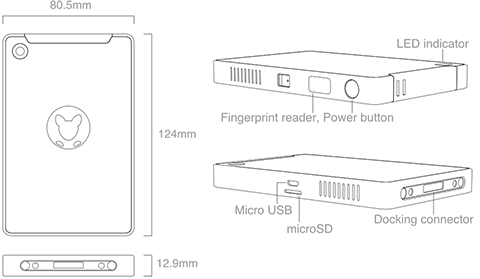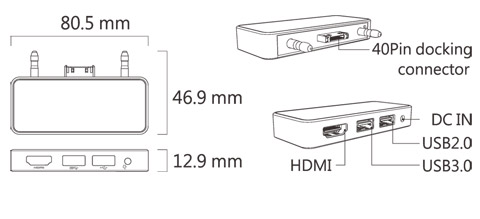 TECHNICAL SPECIFICATION
OS
Windows 10 - Home edition
CPU
Intel Atom x5-Z8500 Processor (2M Cache, up to 2.24 GHz)
Graphics
Intel® Processor Graphics Gen8
Video Memory
Sharing System Memory
Memory
2GB LPDDR3
Hard Drive
32GB eMMC
Wireless
Wi-Fi 802.11 A/C (Dual Band) / Bluetooth 4.0
Expansion Slot
microSD
Security
Fingerprint reader
Battery Life
4 hours (casual use)
Dimensions
Computing module : 80.5 x 124 x 12.9mm / Base : 80.5 x 46.9 x 12.9mm
Weight
200g (without adapter & power cord) / 470g (including adapter & power cord)
Ports
Computing module: microSD, Micro USB (charge only)
Base: USB 2.0 x 1, USB 3.0 x 1, HDMI x 1, DC-IN
Audio
Supported through HDMI
Cloud
OneDrive
Power Adapter
Input: 100V-220V ~ 1A, 50-60Hz / Output: 12V/3A
Accessories included
Software - OSLinx (requires USB cable), dock, power supply, cables