BIG PERFORMANCE, SMALL FOOTPRINT.
Lenovo ThinkCentre M92p SFF Desktop offers impressive performance, enterprise-class manageability and security, tool-less expandability, and unparalleled reliability in a slim, small footprint. It gives you the competitive edge to stay highly productive in the office while taking up a minimal amount of space.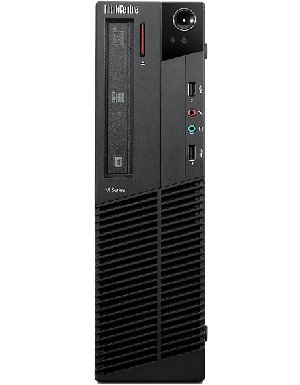 Small Form Factor
The small form factor (SFF) desktop weighs 16.5 lbs. / 7.5 kg and is compact enough to neatly fit into tight spaces. It can be placed horizontally and vertically.
High Performance for Demanding Jobs
Boost productivity with speedy 3rd Gen Intel Core i processor
Easily run multiple applications simultaneously with large-capacity high-bandwidth memory.
Store plenty of data and access it quickly with hard disk drive.
Multiple Monitor Display
Maximize productivity with independent display support for up to three monitors. The expanded work area and easier navigation between applications help reduce errors and improve productivity as you extend your desktop across four monitors. (Requires optional second DisplayPort connector.)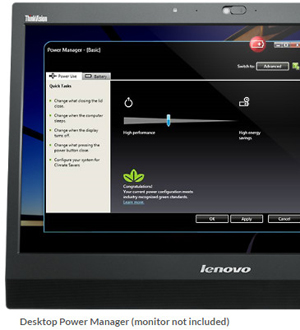 Solid Security & Manageability
The M92p desktops include some of the best security tools available in the industry, including USB ports disablement to help prevent data theft and network security risks against unauthorized use of storage devices. Trusted Platform Module (TPM) encrypts data and key information like passwords and digital certificates, further securing applications, electronic transactions, and online communication. Plus the M92p desktop includes a chassis intrusion switch, which alerts against any unauthorized access attempts.
Intel vPro & Active Management Technology
The M92p includes Intel vPro technology with up to Active Management Technology (AMT) 8.0 support to make enterprise-level manageability even more convenient and cost-saving.
Tool-Less Expandability
Upgrades are a cinch for IT staff, with convenient tool-free access to hardware. Especially beneficial when multiplied by multiple desktops.
Advanced Thermal Design
The Lenovo's Intelligent Cooling Engine (ICE) 2 is designed to provide a balance between thermals and acoustics resulting in long desktop life. With two optimized settings, you choose the performance mode that best suits your work environment, prioritizing temperature or sound. Plus, ICE 2 allows for working in hotter temperatures and enables system monitoring with thermal alerts that preempt overheating possibilities.
Note:
Since the image display or configuration may be different on each model. Please refer to the specifications.