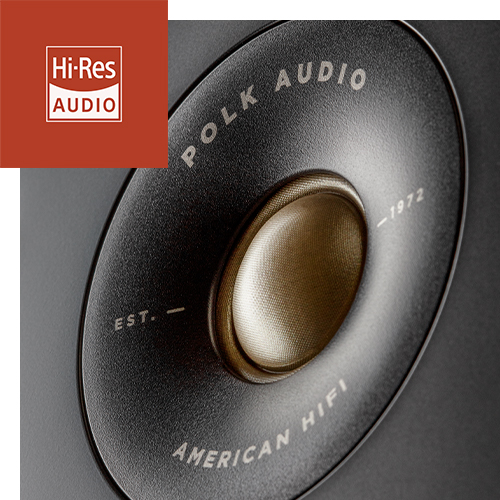 Hi-Res Certified Audio Performance
Maximize your experience of soundtracks found in the latest high-resolution movie formats along with music streamed over services like Apple Music. Tidal. Amazon Music HD, Qobuz, and Spotify HiFi. Signature Elite's Hi-Res Audio certified. Terylene dome tweeter features curvilinear formers that extend response beyond the range of human hearing (40kHz*) — The tweeter's ultra-high frequency response combined with its powerful, low resonance ceramic motor structure. enables the Signature Elite ES15 to deliver crystal-clear, highly detailed sound with the energy of live music.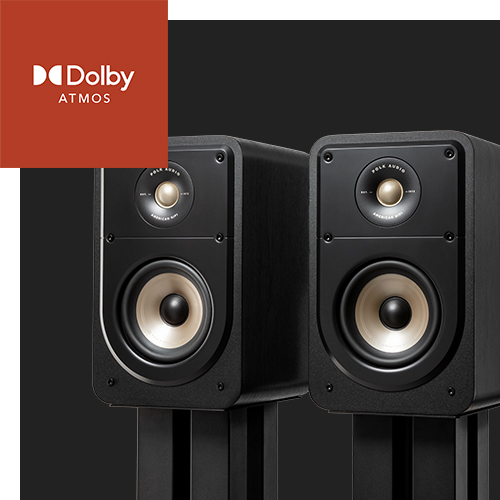 From Vintage Hi-Fi to Dolby Atmos and DTS:X
Signature Elite loudspeakers deliver spacious, clear, enveloping and realistic sound reproduction from nearly any amplifier or receiver—whether 4 or 8 ohm, vintage audiophile or the latest Dolby Atmos or DTS:X surround sound AVRs.
Dynamic Balance Acoustic Array with Phase-Optimized Precision Crossovers
Whether upgrading your home theater setup with an advanced atoms configuration or wanting to enjoy music from the latest hi-res streaming services, Signature Elite ES15's Dynamically Balanced acoustic array with precision crossovers ensures a seamless, lifelike soundstage and wide sweet spot—no matter what you're listening to or where you're sitting in the room.
Exclusive Polk Power Port for Effortless Bass
Power Port is a Polk-patented design that smoothly transitions the air flow from the speaker's port into your listening area. It also extends the overall bass port, providing greater surface area to eliminate turbulence and distortion for louder, deeper, more musical bass impact. On average, Power Port provides 3dB louder bass output than conventional ported loudspeakers.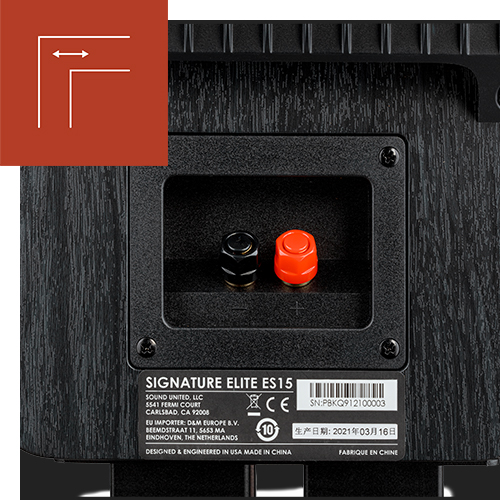 Built for Pure Sound
Gold-plated five-way binding posts ensure the most direct, efficient, and lossless connection possible. Their strong, rigid and acoustically inert enclosures reduce unwanted internal standing waves for less audible coloration. Non-resonant, critically damped Mediate MDF construction ensures low distortion for a more lifelike sound. Plus, the ES15's anti-diffraction, magnetic grille minimizes sonic interference.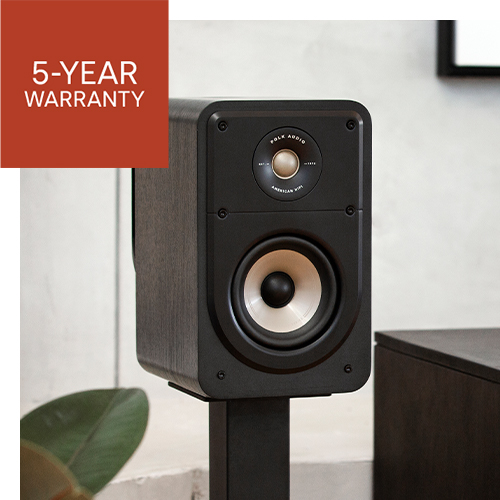 Five Decades of Speaker Engineering, Backed by a Five-Year Limited Warranty
Designed and engineered at our original facility outside of Baltimore, MD, Polk uses a patented Dynamic Balance Array process to pinpoint and eliminate electro-acoustic and mechanical issues before they become a part of the finished speaker. We're so confident of this process, that we back the Signature Elite SE15 with a limited five-year warranty to ensure you years of listening pleasure.