The Link Depot HDMI-6-4K 6-ft HDMI 2.0 cable features male to male connectors that support resolutions up to 4K. Featuring copper conductors in size 28 AWG with triple shielding, the cable also has gold plating for corrosion resistance and durability. It is compatible with all HDMI 2.0 functions, including data transfer speeds up to 18Gbps.
Durable Link Depot High-Speed HDMI Cable Construction
The size 28 AWG copper conductors on this HDMI cable feature a polyvinyl chloride cable jacket for endurance. Gold plating on the Link Depot high-speed HDMI cable improves the metal's resistance to corrosion, enhancing durability. Triple shielding protects the signal from interference to provide high-quality data transfers.
Connects Multiple Devices
This HDMI audio return cable is capable of connecting all HDMI-compatible devices. Use this cable to connect laptops, Blu-ray™ and DVD players, cable boxes and gaming consoles with HD-capable TVs, projectors or monitors. It is also suitable for connecting cable, Roku® and Apple® TV boxes.
High-Resolution Display
As a male to male HDMI cable, it supports all 2.0 HDMI functions including 18Gbps data transfers, Ultra HD, 48-bit deep color, 3D video and audio return channels. The cable is capable of working with high-resolution devices that have up to 4K display and a refresh rate of 120Hz. The range of capabilities that this cable supports makes it suitable for use with new technologies.
The cable features two gold-plated HDMI male connectors to provide a dependable HDMI to HDMI connection, while the unique cable length makes it perfect for watching videos from your laptop on your HDMI TV or for boardroom presentations when connecting your laptop to an HDMI-enabled projector.
This high quality HDMI cable fully supports 1080p+ resolutions at up to 120Hz refresh rate, with life-like color. To accommodate the demands of future high definition devices, such as increased resolutions and higher frame rates, our HDMI cables can support bandwidth up to 340 MHz (10.2 Gbps) and display resolutions of up to 1440p.
About Link Depot HDMI 2.0 Ultra HD 4K cables:
Link Depot HDMI 2.0 Ultra HD 4K cables are expertly designed and constructed of only top quality materials to ensure high quality, high definition performance. The HDMI standard combines high bandwidth video and multi-channel digital audio into a single cable, and provides crystal clear image resolution.
Applications
Connecting high-definition A/V devices such as Blu-Ray DiscTM players, HDTVs, DVD Players, DVRs, game consoles, projectors etc.
---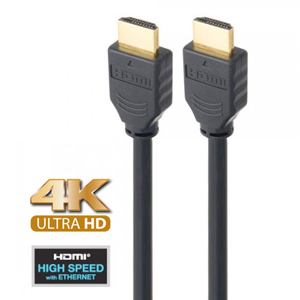 Features
Connect your Blu-Ray player, Cable Box, Apple TV, Roku, PS4, XBox One, Computer or other HDMI-compatible device to your HDTV, display or projector.
Supports all HDMI 2.0 functions including 18Gbps transfer speed, 4K, UHD, 3D, 48-Bit Deep Color and Audio Return Channel (ARC).
Premium construction: 28AWG Pure Copper Conductors, Triple Shielding and Gold-Plated Full Metal Jacket Connectors.
2x HDMI male connectors
Offers 5' in cable length Gold-plated HDMI connectors High quality construction
Supports Resolutions up to 4k x 2k
Lengths Available: 1 ft. | 3 ft. | 6 ft. | 10 ft. | 15 ft. | 25 ft. | 50 ft.
Product Part Number(s) | UPC(s):
HDMI-1-4K (1 ft.) | 849937001922
HDMI-3-4K (3 ft.) | 849937001939
HDMI-6-4K (6 ft.) | 849937001946
HDMI-10-4K (10 ft.) | 849937001953
HDMI-15-4K (15 ft.) | 849937001960
HDMI-25-4K (25 ft.) | 849937001977
HDMI-50-4K (50 ft.) | 849937001984
---
Technical Specifications
Warranty: Lifetime
Cable Jacket Type: PVC - Polyvinyl Chloride
Cable Shield Type: Aluminum-Mylar Foil with Braid
Connector Plating: Gold
Connector A: 1 - HDMI (19 pin) Male
Connector B: 1 - HDMI (19 pin) Male
Color: Black
Connector Style: Straight
Wire Gauge: 28 AWG