Introducing a brand-new way to stay connected. Samsung Galaxy Gear™ keeps you updated with glance notifications, so you can keep up with calls, texts and emails.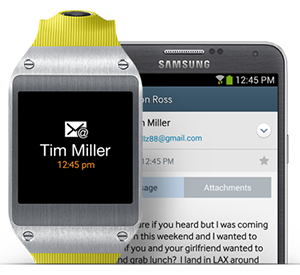 Smart Relay with Quick Glance Notifications
Now you can receive Quick Glance notifications, such as texts, emails and phone calls, all on your wrist. And when you want to respond to one of your messages on your Samsung Galaxy device, Smart Relay automatically displays the same message for you on your phone, so you don't waste any time searching or opening applications.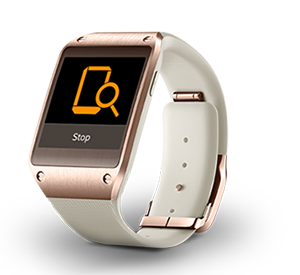 Find My Device
Never lose track of your phone again. Now, if your phone gets stuck in the couch cushions, you can use Galaxy Gear from the next room to remotely activate sounds or vibrations to make it easy to locate. You can also use your phone to help you find your Galaxy Gear—peace of mind goes both ways.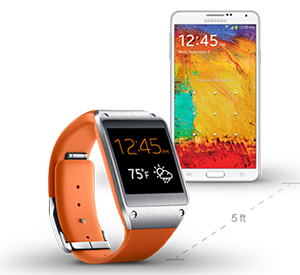 Auto Lock/Unlock
Keep your phone's content secure. Auto Lock senses when you've walked more than five feet away from your Galaxy device and automatically secures it. And when you return, Gear tells your phone that it's you and automatically unlocks –– no PIN entering or thumbprints required.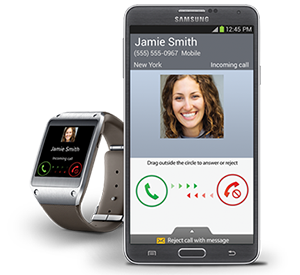 Hands-Free Calls
Making calls on the move has never been easier. Now you can place calls and answer them directly from your Galaxy Gear. It's the simple way to keep up when you have a lot going on.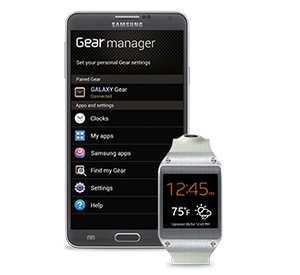 Personal Touch
Use the Gear Manager app on your Galaxy device to totally customize your experience. Change your camera settings, customize and add new watch faces, enable or disable features, organize your apps and more.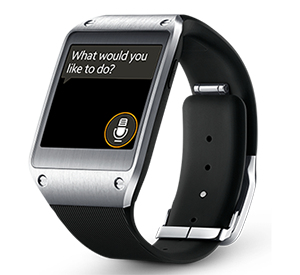 S Voice
Enjoy a personal assistant right on your wrist. Use simple voice commands to place calls, compose messages, activate key features like the alarm and camera, schedule an event, check the weather, and more! With access the Samsung's robust S Voice right from Galaxy Gear, you'll enjoy hands-free convenience.
Use the Gear Manager app on your Galaxy Note 3 to totally customize your experience. Change your camera settings, customize and add new watch faces, enable or disable features, organize your apps and more. © 2013 Samsung Telecommunications America, LLC. Samsung, Galaxy Note, Galaxy Gear, Smart Relay, and Super AMOLED are trademarks of Samsung Electronics Co., Ltd. All other company names, product names and marks are the property of their respective owners and may be trademarks or registered trademarks. Screen images simulated. Appearance of the device may vary. Galaxy Gear is a companion device for the Samsung Note 3, sold separately.

Features and specifications are subject to change without prior notification