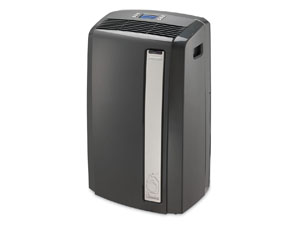 Versatility Prevails
A Portable Air Conditioner That Can Work Year-round
DeLonghi PINGUINO AIR-TO-AIR PAC AN125HPEKC Portable Air Conditioner can be used to cool your room in summer, heat your room in winter, and dehumidify your room anytime you like. It offers three modes: Dehumidifying while conditioning, dehumidifying only, and fan only (three fan speeds are available). With handles and casters, you can move the Air Conditioner from room to room easily. The Air Conditioner supports remote control, eliminating the hassle and fuss of being present to control it.
Big Cooling Capacity
Gigantic 12,500 BTU cooling capacity helps cool you room down quickly.
Built-in Heat Pump
Built-in Heat Pump produces 3810 watts of heating power. Use the air conditioner to heat in the winter.
Tune to Your Preferences
Set the air conditioner to work as you wish. It offers three modes:
Dehumidifies while conditioning (removes 54,95 pints/24h of excess moisture)
Dehumidifying only function (removes 86,65 pints/24h of excess moisture)
Fan only function
Three fan speeds are available, including QUIET mode to ensure the maximum quietness. 24h digital timer and thermostat drive ease of use a step further.
No Drip Technology
Exclusive condensate recirculation system with NO DRIP TECHNOLOGY makes the air conditioner more efficient and more user friendly (never empty a bucket again). The washable filter is also easy to access.
Easy-to-use Control Panel
The control panel with high resolution display is located on the top of the air conditioner. Enjoy easy access to the large-sized buttons, and customize to your preferred settings.
Remote Control
The fully featured large LCD remote control helps to easily control all settings remotely.
Eco Friendly
The R410A refrigerant is ecological, respecting the environment while ensuring user comfort and energy efficiency.
Note:
Refurbished items may not have all accessories.