Braun. No. 1 brand among doctors*

NEW Braun ThermoScan® 5 IRT6020 The ear thermometer doctors recommend the most

When it comes to accurately taking a child's temperature, doctors trust the precise Braun ThermoScan® ear thermometer above all others*, thanks to its patented, pre-warmed soft tip. The tip on other thermometers can cool the area where the reading is taken, which can lead to inaccurate readings. The tip on the ThermoScan® is warmed before use to prevent this and ensure professional accuracy. In addition, the ExacTemp® guidance system confirms the correct position and accurate reading with a light and a beep. You will also appreciate disposable Braun certified lens filters that help prevent the spread of germs between uses. And now with the new large screen and ergonomic design, Braun ThermoScan® is even simpler to use. Discover why the Braun ThermoScan® is the No. 1 brand among doctors.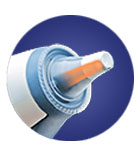 Pre-warmed tip
Braun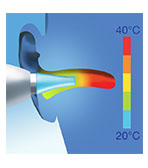 Other Thermometers
Thanks to Braun's patented pre-warmed tip and ExacTemp® technology, Braun ThermoScan® is widely regarded as a benchmark for accuracy and reliability. That's why most health professionals choose Braun ThermoScan®*. In fact, Braun ThermoScan® is the number one brand among doctors*.
Key product features for the new Braun ThermoScan® 5 IRT6020

No.1 brand used and recommended by doctors*
Patented pre-warmed tip ensures accuracy
ExacTemp® guidance system function: light & beep alert for accurate positioning

Fast, gentle and easy to use

Last reading recall to track temperature
Hygienic disposable lens filters. BPA and Latex free