The portable, three-in-one SOLEUS AIR KY-80E9 air conditioner is ideal for a small dorm room or a workshop. It offers cooling, dehumidification, and fan only for year-round conditioning and comfort. It boasts clever designs – the auto cool & sleep mode functions and the 24-hour on/off timer function, and includes a convenient control panel as well as an LED remote control, giving you the ultimate convenience.
Key Features
8,000 BTU Cooling Power
With 8,000 BTU cooling capacity, the KY-80E9 is ideal for cooling small bedrooms or office cubicles.
Dehumidifier Function
Thanks to its built-in 38-pint evaporative dehumidifier, this air conditioner effectively removes extra moisture from the air, for the ultimate comfort.
Fan Mode Only
The KY-80E9 can be used in fan mode only as an oscillating cooling fan on warm days. And, it gives you four fan speeds, letting you customize the level of cooling airflow according to your preference.
Clever Designs
This air conditioner features the auto cool & sleep mode functions for a great convenience. Moreover, the 24-hour on/off timer function enables the unit to be automatically turned on/off at your desired time.
Puts control at Your Fingertip
This air conditioner provides you with a flexible control solution. The convenient control panel on the top of the conditioner offers different control buttons – including Mode Selection, Temperature, Bucket Full, and Louver Direction, ect. With just a simple press of a button, you can easily adjust the air conditioner. For the ultimate convenience, the included LED remote control allows you to effortlessly control the air conditioner without having to leave your comfortable sofa.
Perfectly Portable
With a compact and lightweight footprint, it can be easily moved from room to room.
Appearance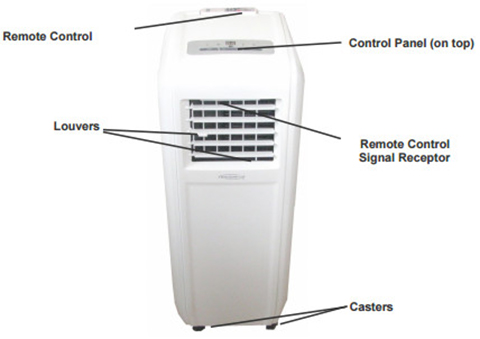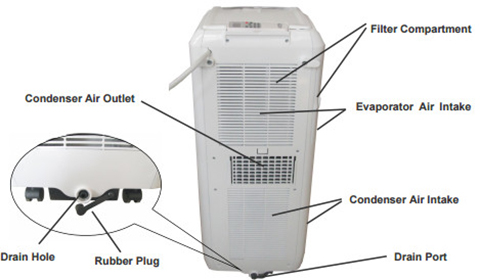 The Control Panel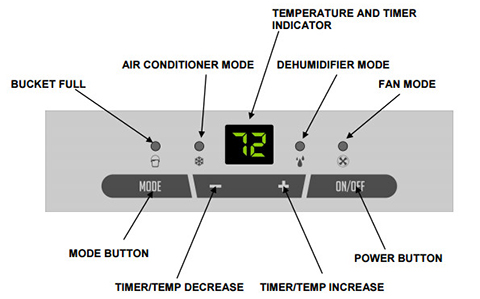 The Remote Control